Building a single-storey house is the solution favored by all those who want an individual and modern house that is easy to live with. As José Longo, Commercial and General Manager of Maisons SIC already explained to us in our article on the 8 types of houses to build, today, in the South-West, the single-storey house remains the number 1 solution preferred by customers of SIC houses, for its practicality but also its price competitiveness. Let's go back to the undeniable advantages of building a single-storey house.
1. Building a single-storey house: equality within the family
When you have a family and more particularly children, the first small concern that arises when you decide to buy a house is: who will have which room and how to make everyone happy?
A problem that does not arise when you decide to build a house, which is moreover a one-storey house because it is up to you to choose the layout of the rooms, as for all models of single-storey houses to be built with Maisons SIC. And in a single-storey house, each member of the family is on the same level, so equity is perfect. The best ally for serene household peace.
2. Prioritize community life with a modern house
Always within the framework of a family, it is essential to be able to easily separate the living spaces, so that each member feels comfortable. When you decide to build a house on one level, all the rooms being on the same level, it is community life that is privileged.
This makes it easier for the family to get together and communicate. The little ones are not afraid, for example, of feeling alone when they go to sleep upstairs. And the older ones are reassured to hear them if they ever have a nightmare in the middle of the night.
3. The possibility of integrating day/night spaces in the construction of a detached house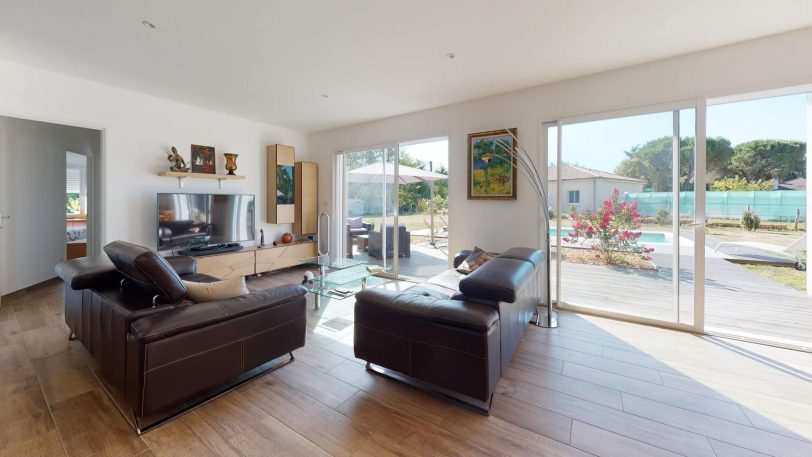 Photo : SIC house in Bergerac
If you want more privacy and the tribal side is not in your family plan, you should know that it is quite possible to separate the spaces well in a single-storey house. You just have to think carefully about the rooms before construction and you can completely create perfectly delimited day and night spaces.
For example, you can decide to put the living room / kitchen area in the middle of your house and put the children's bedrooms on one side and the master suite on the other. Or, you can opt for the realization of a particular form of house (in U or in L, like the contemporary Performance 12 house of 120m2 from Maisons SIC) and thus distance the master bedroom even more easily from the other bedrooms, or even the entire sleeping area from the rest of the house.
4. A safer and more secure home for the whole family
Whether you are a family, a couple or retired people, day-to-day safety is essential. Choosing to build a single-storey house means choosing safety. Indeed, the multiple domestic accidents due to the stairs are thus completely avoided. Whether for young children or for parents who have to carry their little ones in their arms up the stairs. The elderly are also very concerned by this problem of risk of falling. In effect, each year, falls lead to some 12 deaths in France. And the repercussions of falls are all the more dramatic in the elderly (dependency, fracture, psychological trauma, etc.).
No more risk of falling but also better circulation, safer, for people in wheelchairs or with reduced mobility.
5. A greener home…
Heating a one-storey house is much more helpful than heating it in a two-storey house. For what ? Because the heat diffuses more easily on a single level and is distributed more quickly between the rooms. A two-storey house will require, for the same surface on the ground, to heat more. The heat will rise, of course, but there will be strong temperature differences between the different levels, which will have to be compensated for.
The problem also arises for air conditioning. A one-storey house will cool down much faster in summer than a one-storey or multi-storey house. Thus, you operate energy savings in this greener house.
6. …and more economical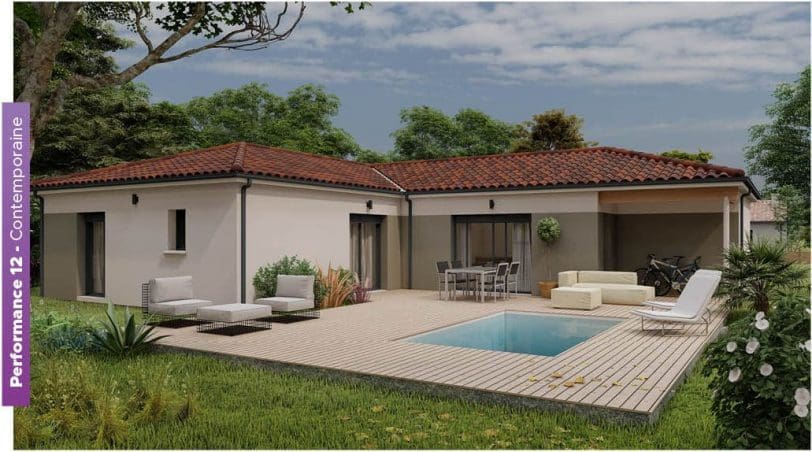 If you save energy thanks to heating and air conditioning, which are easier here, you therefore save money. You can also optimize its cost reductions by ensuring the correct exposure of the rooms in your home. By choosing to put bedrooms and bathrooms to the east and west, windowless passage rooms to the north and living rooms to the south, you will benefit from natural sunshine (or shade) conditions to play on your heating and air conditioning.
7. A house easier to resell
As we saw above, a single-storey house will appeal to everyone: couples, families, single people... But above all, older people or people with reduced mobility will systematically choose a single-storey house, which is essential for daily well-being. And reselling this type of property, even if there are many on the market, will thus become much easier than for a two-storey house with stairs which can, in the long term, close the floor when they get old.
8. The construction of a single-storey house: the choice of comfort for moving in
When we think of building a house, we sometimes forget one of the disadvantages of changing your place of residence: moving in. Having only one level, the house on one level will facilitate the multiple comings and goings of a move or a move in. It is also easier to fit large furniture and appliances than in a two-storey house. The ease of circulation between the rooms optimizes the comfort of a successful layout in a single-storey house.
9. Daily maintenance made easy in a single-storey house
After the layout comes the day-to-day. And those chores you have to think about all the time. If cleaning is never a pleasant activity, it can become a real chore when you have to do with a two-storey house. It is necessarily faster and less tiring to move and vacuum on one level, like dusting or mopping.
10. Build a single-storey house for maximum brightness and complete openness to the outside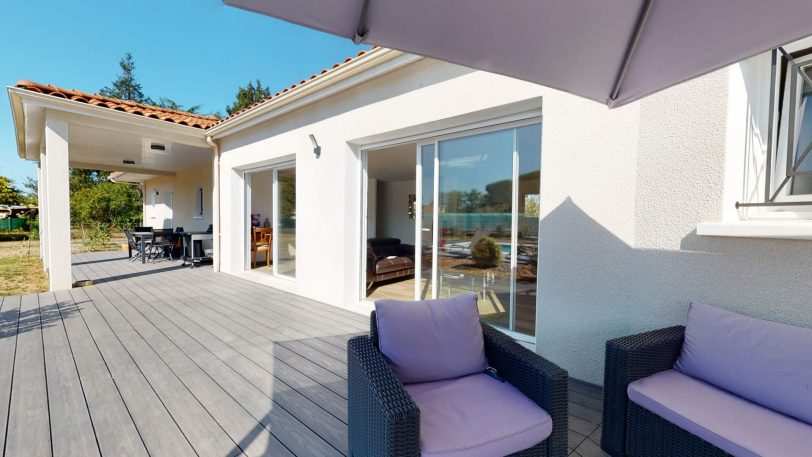 When you have a beautiful exterior, when you are a fan of gardening, you like to see all this beautiful greenery as often as possible. A single-storey house is at the same level as the garden and many direct openings, from the living rooms as well as the night rooms, can easily be envisaged by installing French windows or bay windows. Beyond the practical aspect, this possible opening of all the rooms to the outside is also a guarantee of a beautiful source of natural light.
—
You want to meet a trusted builder for your single-storey home ? Call on the SIC houses !