Having become a refuge, a cocoon, a place of sharing and a living room in its own right, especially since the health crisis, the kitchen plays a key role in the house. It now opens onto the other rooms and blends in perfectly, even if it no longer looks too much like… a kitchen. Multi-tasking, always more practical and functional, the kitchen is at the heart of decoration and interior design choices, especially when buying a new house. SIC, builder of individual houses since 1972 throughout the south-west of France, presents 5 trends for a practical kitchen in a new house in 2021. Just to be even more inspired.
100% natural materials in your new home kitchen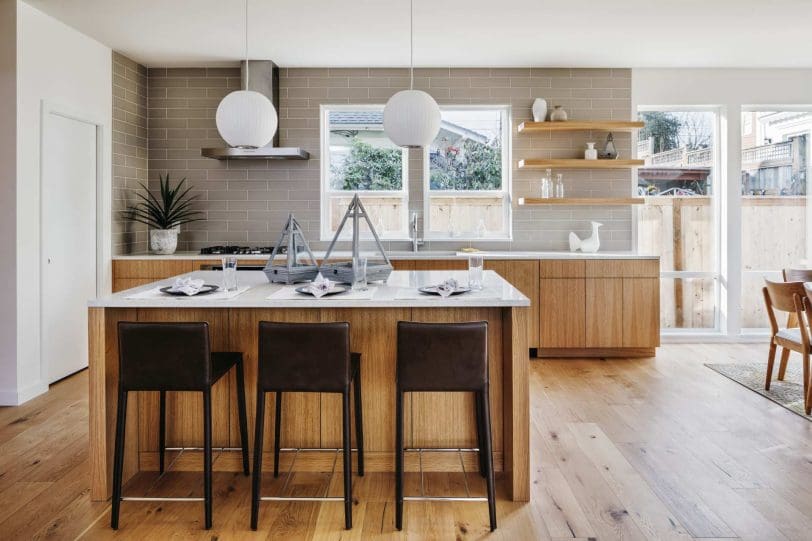 A strong trend around nature and eco-responsibility breath on the world of consumption in general and interior decoration in particular. We then give pride of place to plants and Zen in all the rooms.
Mediafixer wallpapers (preferred in recycled material or PVC-free non-woven), very fashionable to give a pep boost to any room, from the living room to the bathroom via the kitchen, adorned with landscapes organic, large exotic leaves, lush vegetation or even delicate floral motifs.
Wood for more warmth and conviviality
Whether for the fronts of storage units in a kitchen, for the worktop or for the floor, these are raw materials who have the best part. Wood and wicker are therefore making a strong comeback in kitchens.
The great Scandinavian fashion (and in particular The setting is appealing, comfortable and welcoming and has earned its own name among the Danes: hygge., this Danish philosophy of life around sharing these little moments that provide well-being and confidence) encourages you to choose "imperfect" melamines, rougher, less smooth, which offer more warmth and comfort. A key material in the kitchen, melamine provides facades with a touch similar to that of solid wood without the disadvantages of a material that degrades over time or requires a lot of maintenance. A wood that can give, depending on the choice of the range of storage units, a rustic, country or very modern look to your kitchen.
The wooden worktop has been a timeless kitchen classic for years. You can choose it in oak, beech, bamboo or even eucalyptus, made to measure, in solid or laminated wood. But always preferably in light shades.
The mineral in all its forms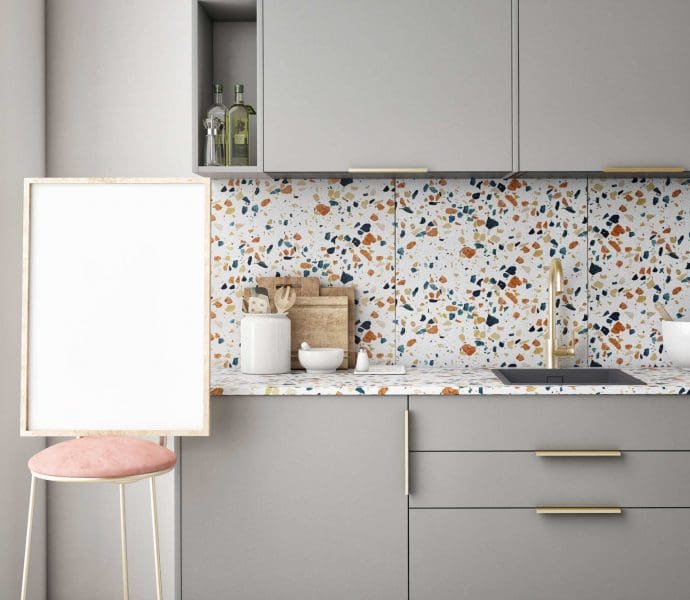 Stone and mineral coatings are standard on almost every element of the kitchen.
For a rustic side, you can choose a countertop or built-in sink, "office stamp" therefore in a single block, in freestone, in patinated limestone, in natural stone from Provence, in Burgundy stone… Or, for a more elegant effect, in white marble or marble stone.
Stone worktops are also very popular for their practicality and their great resistance to time and shocks. If marble is no longer very popular, we can prefer, for example, quartzite, with its soft colors and its almost vegetal veining, harder than granite and even more resistant to stains than marble.
Natural stones are also used on the splashbacks, even if earthenware is still very popular. But stone is surely the material that best resists humidity. Very easy to install, natural stone sheets allow you to choose the colour, relief and thickness from a very wide range. If you want an even more natural effect, with volume, the natural stone facing slabs immediately transform your kitchen into a place with a natural and welcoming atmosphere.
Finally, thehe major trend, which is confirmed in 2021, is that of Terrazzo, in kitchens and bathrooms). This material, which comes directly from Italy, immediately gives a kitchen a little boost. The one also called "granito" can energize, via a credenza or a worktop, a kitchen that is "too" white. Fall in love with the speckled, 100% unique and tailor-made side of this composite material, a mixture of residues of glass, marble, quartz and other natural stones amalgamated in cement or resin, all polished.
Are you hesitating about the materials to choose for your new kitchen? Les Maisons SIC support you in all stages of the construction of your individual house. Discover, to inspire you and give you ideas, our Virtual Showroom with visit in 3D and 180° (signed Interactive VR) of our exhibition hall. And contact us to benefit from a personalized appointment.
Made in France cuisine, for quality and support
With the health crisis, French consumers have quite naturally turned to "made in France" products, to support the economy but also because these products are synonymous with quality.
As featured in this article from the Official Kitchen Designers, a recent Opinion Way study for So Coo'c confirms this movement with its results:
If 77% of people questioned consider that opting for a kitchen made in France means paying the price,

79% believe that buying French is important and constitutes a justified investment.
This support for French products in the kitchen is all the more so when the audience is young or senior:
86% of 18-24 year olds consider it more important than ever, given the economic outlook, to opt for kitchens produced in France,

95% of senior households believe that buying French is a civic act, allowing them to keep jobs in France and support the economy.
With the health crisis, the French have spent a lot more time in their kitchen. From where the importance of choosing a kitchen that also carries their values :
78% of French people recognize that this choice represents a guarantee of quality,

And 78% of respondents believe that buying a kitchen Made in France also reduces its environmental impact.
Kitchen storage that is more discreet…or not!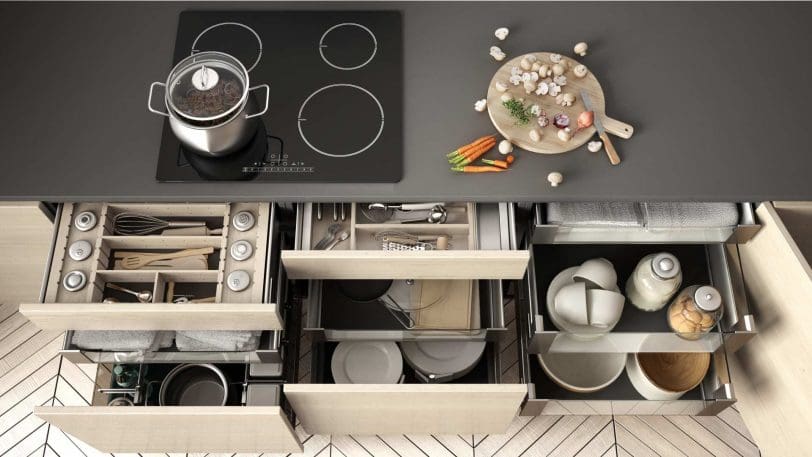 Minimalist and functional, storage must be very discreet. The lines are clean and the fronts of the kitchen furniture often hide a maximum optimization of the storage capacity. storage walls, ranging from floor to ceiling, often a little deep, allow a huge saving of space. In perfect alignment, symmetrical, these large storage units seem to be part of the wall.
We then choose fronts without handles or with invisible handles for even more harmony in a kitchen that also wants to be very practical. And for even more softness and discretion, you can also opt for touch-release systems on low furniture.
On the contrary, the "Scandinavian" trend, even more refined, prefers the total absence of tall furniture. We then leave, above the sink and the worktop, space for floating and design shelves, personalized decoration, pretty suspensions or more original lighting.
Showroom furniture to display beautiful crockery
Totally opposite to the discreet and 100% homogeneous kitchen trend, there is an increasingly present fashion for furniture that "exhibits". We will then choose a beautiful buffet, a mottled and reworked dresser, grandmother's cupboards, with beautiful transparencies to highlight, with pride, our favorite crockery but also our pretty jars and food with original packaging.
His furniture then does not have to fit into the kitchen decoration at all. Often "vintage" or "industrial", they are, on the contrary, the little touch of originality in a classic kitchen.
An open kitchen, which no longer really looks like a kitchen…
Open or closed, that is the question. A little of both in fact but always with maximum light and a link with the other rooms. The kitchen is a friendly place so it needs circulation. If you prefer open kitchens, a canopy in workshop window mode can make this link with lightness and design.
The kitchen is no longer a separate room. It fits perfectly into decorating choices throughout the home and is often a natural extension of the living room. With the great fashion of the kitchen island (for which it is necessary to count around 15 m2), the kitchen can then benefit from colors or storage elements that are found in the dining room, the living room or the entrance.
Multi-functions, the kitchen can therefore also be a bar, a dining room and can even be improvised as an office or reading room, in peace, with a good tea. For example, you can install a bench seat, which will allow you to share a moment of relaxation or a "cooking" moment with family or friends.
Appliances always more connected in your new and modern home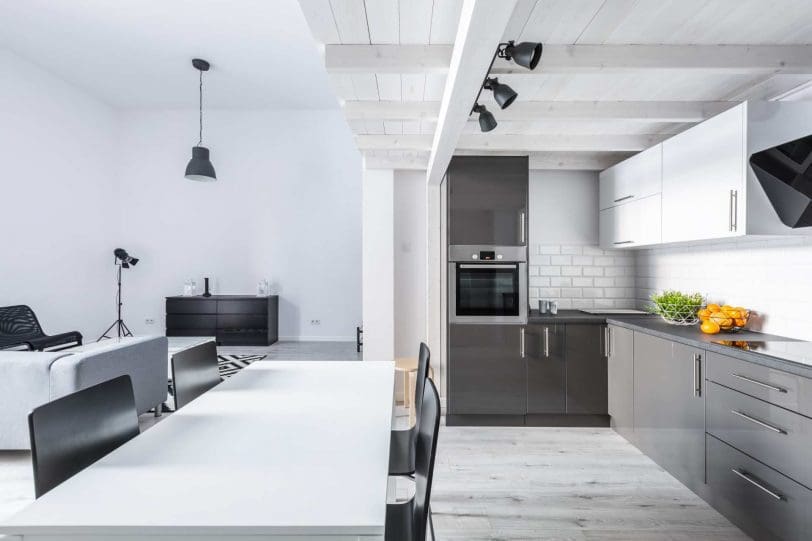 In an increasingly connected society, why would the kitchen remain frozen in the past? Faced with the development of new technologies in all areas, the kitchen is also being modernized. Household appliances, like all kitchen items, must first of all be discreet. Unless it's a magnificent cooking piano that guarantees you a chef's kitchen, most kitchen appliances must fit in with the rest of the furniture, even if it means being completely hidden behind a facade.
But if they become less apparent, these little marvels of technology make our lives much easier. We appreciate, for example, the new generation induction hobs, almost invisible on the worktop or in the middle of the island, which with their flexible zone adapt to the size of pots or pans.
As beautiful as it is smart, the oven, preferably built-in, offers electronic settings, more precise than mechanical controls and can even integrate cooking assistants or recipe guides. Some connected models allow you to control your oven by voice, or via your application or even, even better, to transfer your favorite recipes to your oven, which will then adapt the necessary settings.
The must in kitchen colors: dark shades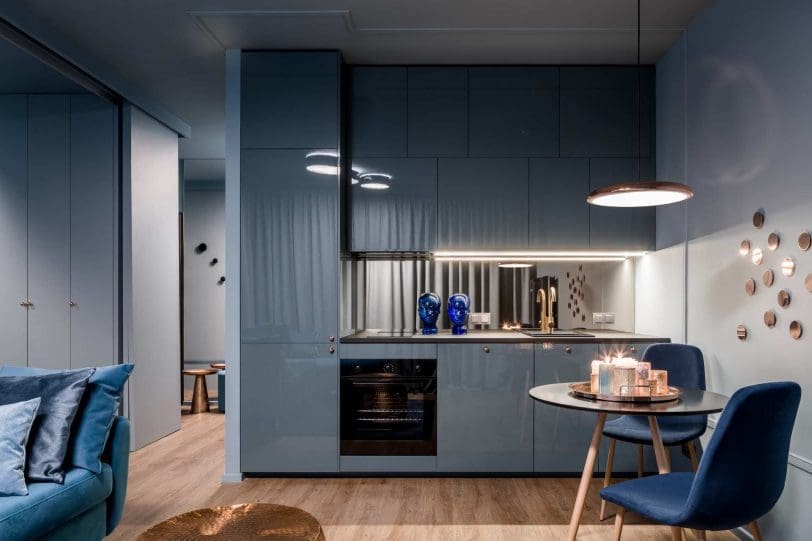 In 2021, kitchen trends will in increasingly dark colors (even if white is still popular), which brings a rare elegance to the room. If black is a color that is sometimes a little difficult to accept, you can turn to the major trends of the moment for kitchen fronts: dark blue, plum, pine green...
We also appreciate the gray shades, which remain timeless : midnight blue, gray blue and pan blue, for example. Dark colors that are recommended on low furniture, especially when you favor light, lighter shades and decoration on the top of your kitchen.
—
And for all your questions about the construction of a modern detached house and in current trends, do not hesitate to contact us : https://sic-habitat.com/