Marmande, known for its gentle way of life, its gardens and its agricultural tradition, is a town which elegantly combines the serenity of the province with the energy of a modern city.
The privilege of building a house in Marmande lies in the peaceful atmosphere of the town, combined with exquisite local gastronomy and a rich history.
In addition, Marmande is a developing city, benefiting from a promising real estate market and a strategic location between Bordeaux and Toulouse.
Choosing to build your house in Marmande means opting for a serene environment while being open to the regional dynamics of New Aquitaine.
Maisons SIC, your builder of individual houses in Marmande for 50 years
SIC houses is your preferred contact for the creation of individual houses adapted to your desires. A house signed Maisons SIC reflects your aspirations, while taking advantage of our rich history in Lot-et-Garonne.
Thanks to our fifty years as a house builder in Marmande, we have acquired unrivaled expertise in the local particularities, typical architectural styles and environmental issues of the region. This knowledge positions us as your essential ally in your construction project.
Tailor-made support for your project in Marmande
Maisons SIC's commitment goes beyond simple construction. As a builder of new houses in Marmande, we guarantee you support adapted to each stage of your project. From initial design to installation in your new home, our dedicated teams work to provide you with a seamless and personalized experience.
We are recognized for our dedication to building residences that combine aesthetics, functionality, and which delicately fit into the local fabric of Marmande and its surroundings. Let us transform your vision into a home.
How to find the ideal house builder in Marmande
Selecting the optimal builder in Marmande can be complex, given the range of options available. However, specific criteria can inform your decision. By opting for Maisons SIC, you are banking on impeccable service that meets your every need.
Don't wait any longer, entrust us with the realization of your house project in Marmande!
Regulations and standards for your home in Marmande
The construction of houses in Marmande requires precise expertise, expertise that Maisons SIC has refined over the years. While strictly respecting thermal regulations, we ensure that your individual home in Marmande is comfortable, economical and ecological.
We are also committed to respecting current construction standards, thus ensuring robustness and longevity to your home. Our robust builder's warranties are your assurance of a secure and long-lasting investment.
Our construction teams for your new house in Lot-et-Garonne
The advantage of Maisons SIC is our integrated site team, guaranteeing personalized monitoring for each phase of your project in Marmande.
In close collaboration with regional suppliers of premium materials, and with our architectural knowledge, we design homes that delicately integrate into the Marmand environment.
In addition, we guide you in the financial aspect of your adventure, offering alternatives tailored to your situation. Our team of competent architects is at your disposal to sketch out your future home, while assisting you in the search for the perfect plot of land in Marmande.
Our Marmande agency to guide the construction of your house
Whether you have a contemporary house or a wooden dwelling in mind, our Marmande agency is your ally for all stages of your project.
With our in-depth knowledge of the Marmand market and local architecture, we guarantee you personalized support to meet each of your aspirations.
Select the best builder for your wooden house in Marmande
Building a wooden house in Marmande requires particular skill and a detailed understanding of this natural material.
With Maisons SIC, benefit from our recognized know-how in the construction of wooden frame houses. We guide you towards the wood best suited to your project, taking into consideration your tastes and the local climate.
In addition, our specialized team advises you on the style, interior design, and best practices for optimal energy efficiency of your wooden house.
Maisons SIC, best builder in Marmande
Established in Marmande for many years, we have a perfect command of this city, its advantages and its specificities.
Marmande, with its rich heritage and green landscapes, is a haven of peace and life. Close to both the Garonne and vast agricultural areas, it is a dream location to settle down.
Areas like Beaupuy, Fourques-sur-Garonne, or even Saint-Pardoux-du-Breuil offer rare opportunities to build a home near Marmande. These places, combining accessibility to Marmande and a peaceful atmosphere, are perfect for building your future home.
With Maisons SIC, carry out your construction project in these areas close to Marmande, and enjoy everything the region has to offer. Also benefit from tailor-made assistance to ensure that your construction project is a complete success.
Make your vision a reality with the leading builder in Marmande, Maisons SIC
Building a house in Marmande: how much does it cost?
The location of your home can also influence the cost. For example, building a house near the Garonne in Marmande, a popular area, may cost more due to the potentially high value of land in this region.
The cost of building a house in Marmande depends on many factors, including the type of house you want to build, the builder you choose and the location of your future home. It is therefore crucial to obtain precise and detailed quotes from several manufacturers before making a decision.
Why build a house in Marmande and surrounding areas?
Building a house in Marmande and its surrounding areas offers many advantages for those considering becoming homeowners. With a competent home builder in Marmande, you not only have the opportunity to personalize your home according to your desires, but you also benefit from the remarkable quality of life that the region offers.
Marmande is a town with a rich historical and cultural heritage. It offers a symbiosis between the ancient and the modern, tranquility and excitement. By having your house built here, you integrate an exceptional living environment, while benefiting from contemporary infrastructure and easy access to essential services.
The advantages of Marmande for building your house
The surroundings of Marmande, particularly neighboring towns, offer a more peaceful and rural atmosphere. It is the ideal place for those who wish to recharge their batteries far from the urban hustle and bustle.
As a future owner, you will have the chance to be close to nature, surrounded by gardens and green landscapes typical of the region.
Investing in a new house in Marmande is an excellent idea. The city has interesting economic potential and the real estate market remains dynamic, making it an ideal place for real estate investment. For optimal construction, the best house builder in Marmande will be able to guide you.
Choosing the best builder for Marmande and its surroundings
In addition, Marmande and its surroundings, with their proximity to attractive places such as the Garonne, bastides and green landscapes, offer a diversity of recreational and relaxation activities that will appeal to families, sports enthusiasts and nature lovers.
With a house builder in Marmande like "Maisons SIC" (note: to be adapted according to the name of the actual builder), recognized for his professionalism and attention to detail, you have the assurance that your future house will be both durable and aesthetically pleasing.
Marmande is the ideal destination to build a detached house, a perfect balance between city life and the pleasures of nature, all in a pleasant climate and a welcoming environment.
In which cities to build a house around Marmande?
Choosing the location of your future home is a key step in the construction process. Around Marmande, several towns are particularly attractive for having your house built by a builder in Marmande.
Tonneins, with its beautiful proximity to the Garonne, offers a good quality of life to its inhabitants. It is an attractive option for those looking for a peaceful life while remaining close to the dynamism of Marmande.
Casteljaloux, with its thermal baths, is another wise choice. Families will appreciate the proximity of relaxation areas and the numerous green spaces that dot the city.
Concerning Marmande and its surroundings
Virazeil, for example, offers local charm and peaceful surroundings. It is a privileged place for those seeking to combine tranquility with the richness of the region. A builder in Marmande will be able to perfectly support you in your project.
Each of these municipalities offers unique advantages, and a home builder in Marmande will be able to guide you in choosing the best location based on your needs and preferences. Around Marmande, there are numerous possibilities to create your dream home.
Want to build a house in Marmande, CONTACT US!
Find our different agencies almost everywhere in the South-West: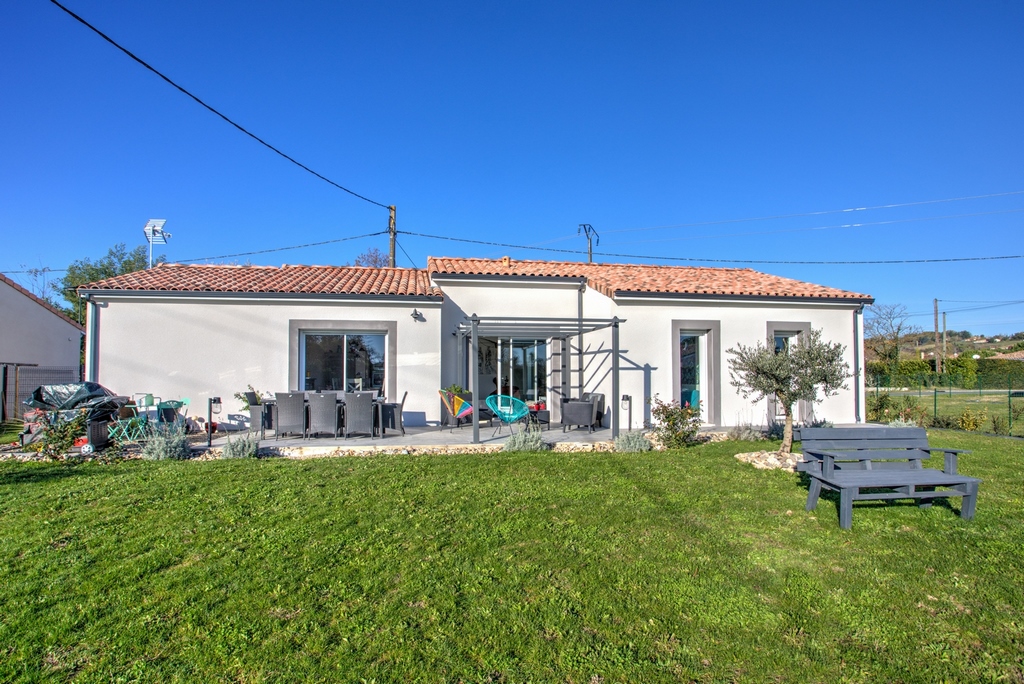 Call on our teams at the Marmande agency to build your individual house throughout the Lot-et-Garonne region
House builder Tonneins
House builder Casteljaloux
Virazeil house builder
House builder Meilhan-sur-Garonne
House builder Fourques-sur-Garonne
House builder Reunion Island
House builder Saint-Pardoux-du-Breuil
Beaupuy house builder
House builder Le Mas-d'Agenais
House builder Caumont-sur-Garonne
House builder Cocumont
House builder Sainte-Bazeille
House builder Fauguerolles
Samazan house builder
Seyches house builder
Gaujac house builder
House builder Gontaud-de-Nogaret
House builder Birac-sur-Trec
House builder Puymiclan