Montauban, with its peaceful atmosphere, its rich cultural traditions and its picturesque medieval streets, is a city where historical heritage subtly blends with the comfort of modern life.
Choosing to build a house in Montauban means opting for a serene daily life, lulled by a mild climate, authentic gastronomy and proximity to splendid natural landscapes.
Despite its tranquility and modest size compared to neighboring metropolises, Montauban nonetheless remains a city in slow evolution, characterized by a solid real estate market and infrastructures that are constantly improving.
Investing in a building in Montauban means embracing a peaceful quality of life while benefiting from the economic advantages of an emerging city full of potential.
Maisons SIC, your builder of individual houses in Montauban for 50 years
Since 50 years SIC houses, your home builder in Montauban, is your expert in creating personalized individual homes. By entrusting your project to Maisons SIC, you ensure a unique residence that reflects your identity, drawing on our valuable experience in Tarn-et-Garonne.
With half a century of experience as a builder of individual houses in Montauban, we have acquired a deep knowledge of the region, its architectural style and its environmental particularities. Our regional know-how establishes us as your trusted partner for your construction project.
Personalized support for your house project in Montauban
Maisons SIC's commitment does not stop at the excellence of our constructions. As a builder of new houses in Montauban, we provide you with tailor-made support at each stage of your project. From the creation of plans to handing over the keys, our teams are at your side to make your construction journey a peaceful and tailor-made experience.
Our reputation is based on our commitment to creating houses that are not only aesthetic and functional, but also perfectly integrated into the charming context of Montauban and its surroundings. Give us your trust to make your dream come true.
How to choose the ideal builder for your new home in Montauban
Choosing the right new home builder in Montauban can be a challenge, especially with such a wide range of options. However, a few criteria can help you guide your choice. With Maisons SIC, be sure of a quality service that meets each of your expectations.
Contact a house construction professional in Montauban!
Regulations and standards for your home in Montauban
Building with Maisons SIC in Montauban means ensuring expertise that has been honed over several decades. By rigorously honoring thermal regulations, we guarantee you a comfortable and energy-efficient home, while ensuring harmony between your new home and the Montalban landscape, rich in history and culture.
We also ensure compliance with current construction standards, thus guaranteeing you a quality and durable new house in Montauban. Our solid manufacturer warranties secure your investment for years to come.
Our construction teams for your construction of a new house in Tarn-et-Garonne
The Maisons SIC teams in Montauban provide personalized monitoring at each stage of your project. Our collaboration with local suppliers and our architectural expertise allow us to build homes that fit perfectly into the region's landscape.
We also assist you in financing your project with tailor-made solutions, and our competent architects work to design the plans for your future home while helping you find the land that will accommodate your new home in the charming department of Tarn. -et-Garonne.
Our Montauban agency to support the construction of your house
Whether it is a traditional construction or a wooden house, our agency in Montauban is there to guide you at each stage of your project.
With our in-depth knowledge of the local market and the region's specific architecture, we offer you personalized assistance to meet each of your requests.
Find the best builder for your wooden house in Montauban
Building a wooden house in Montauban requires particular expertise and detailed knowledge of this unique material.
At Maisons SIC, we are experts in the construction of wooden frame houses and we guide you in choosing the ideal wood for your project, taking into account your tastes and the local climate. Our team supports you in the selection of design, interior layout and helps you optimize the energy efficiency of your future wooden house.
Maisons SIC, the trusted choice for building in Montauban
Established for many years in Montauban, we know this city, its advantages and its specificities perfectly.
Montauban, with its architectural charm and tranquility, offers a soothing and enriching living environment. The city is known for its history, its pink brick buildings and its calming green spaces.
Different neighborhoods, such as the historic center, Villebourbon, or even Le Fau, offer unique opportunities to build a house in the heart of or near Montauban. These places, combining accessibility and exceptional quality of life, are perfect for establishing your new home.
With Maisons SIC, carry out your construction project in these districts of Montauban, and take full advantage of everything the city has to offer, with tailor-made support to guarantee the total success of your project.
Develop your project with the best home builder in Bordeaux
How much does it cost to build a house in Montauban?
Establishing the budget for a house construction in Montauban is an essential task that requires a detailed analysis of the market. Many factors influence the total cost, ranging from the price of the land, to notary fees, to the choice of the Montauban house builder.
The average cost of building a house in this region is generally between 1 and 600 euros per square meter. Therefore, for a house of 3290 square meters, plan a budget ranging from 100 to 160 euros, excluding the cost of land. However, these figures may vary depending on the type of house you plan to build.
Building a house in Montauban: how much does it cost?
The location of your home can also influence the cost. Building a house in certain highly sought-after areas of Montauban can cost more due to the higher land values ​​in these areas.
The cost of building a house in Montauban depends on many factors, including the type of house you want to build, the builder you choose and the location of your future home. It is therefore crucial to obtain precise and detailed quotes from several manufacturers before making a decision.
Why build a house in Montauban and surrounding areas?
Building a house in Montauban and its surrounding areas offers many advantages for those considering becoming owners. With a competent home builder in Montauban, you not only have the opportunity to personalize your home according to your desires, but you also benefit from the remarkable quality of life that the region offers.
Montauban, with its rich historical and cultural heritage, offers a harmonious living environment, combining the charm of old buildings and the excitement of modern life.
The advantages of Montauban for building your house
Montauban and its surroundings, such as Caussade or Nègrepelisse, offer a peaceful atmosphere and are the ideal place for those who wish to recharge their batteries far from the urban hustle and bustle while remaining close to a dynamic city.
Investing in a new house in Montauban is an excellent idea. The local real estate market is growing and promises great prospects for new residents and investors.
Choosing the best builder for Montauban and its surroundings
Montauban, with its proximity to attractive places such as the Gorges de l'Aveyron and the Causses du Quercy Regional Natural Park, offers a diversity of recreational and relaxation activities that will appeal to families, sports enthusiasts and nature lovers.
A home builder in Montauban, recognized for their professionalism and attention to detail, will ensure that your future home will be both durable and aesthetically pleasing.
In which cities to build a house around Montauban?
Montbeton and Léojac, near Montauban, offer a good quality of life to their residents. Bressols and Lafrançaise, with their modern infrastructure, can also be attractive options for those looking for a peaceful life while remaining close to the dynamism of Montalban.
Whether you prefer the proximity of Tarn-et-Garonne or the charm of the surrounding towns, a house builder in Montauban will be able to guide you in choosing the best location according to your needs and preferences.
Want to build a house in Montauban, CONTACT US!
Find our different agencies almost everywhere in the South-West: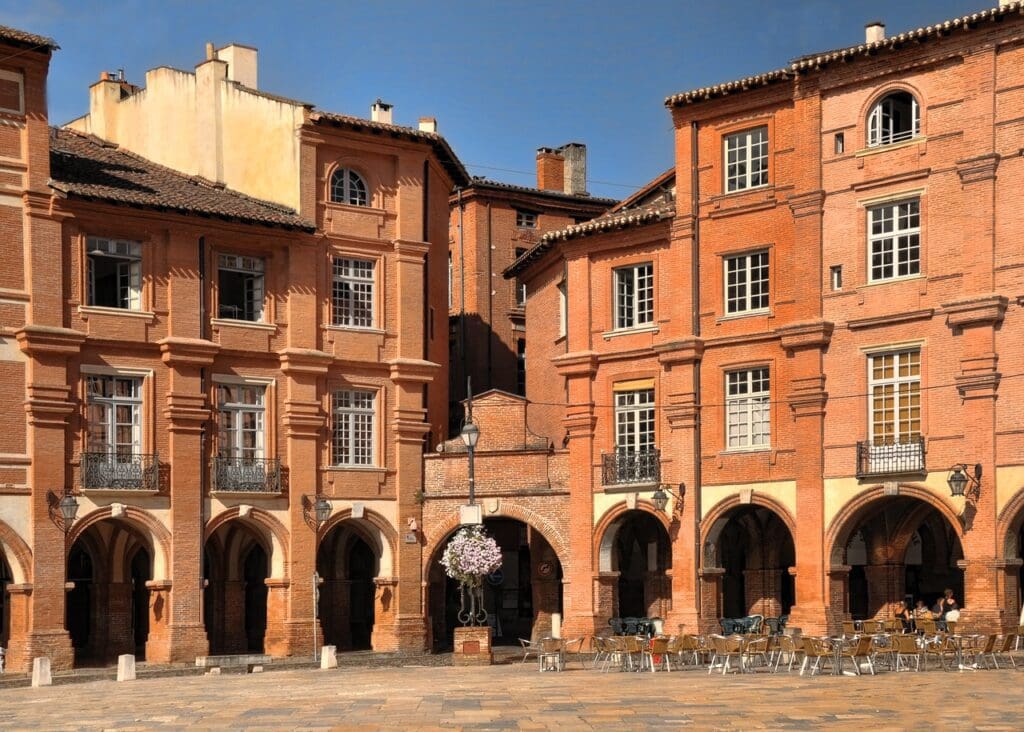 Your home builder 82
Call on our teams from the Montauban agency to build your individual house throughout Tarn-et-Garonne and the surrounding regions. Maisons SIC is also:
Caussade house builder
House builder Moissac
House builder Castelsarrasin
Lafrançaise house builder
Nègrepelisse house builder
House builder Valencia
House builder Bressols
House builder Verdun-sur-Garonne
Home builder Léojac
House builder Montbeton
House builder Albias
House builder Saint-Nicolas-de-la-Grave
Montech house builder
Grisolles house builder
House builder Septfonds
House builder Monclar-de-Quercy
House builder Saint-Antonin-Noble-Val
House builder Beaumont-de-Lomagne
House builder Molières