Toulouse, nicknamed the "Pink City", is one of the jewels of the South-West, where millennial history and contemporary innovation meet.
To dream of a house in Toulouse is to aspire to a rich existence in the heart of a city bathed by the waters of the Garonne, enriched by the flavors of Toulouse cuisine, and vibrant to the sound of laughter and discussions in its lively places.
Toulouse, capital of aeronautics and cradle of numerous innovations, presents a booming real estate market, supported by constantly evolving infrastructures.
Moving to Toulouse means immersing yourself in an urban symphony that combines serenity and vitality, while enjoying an environment conducive to personal and professional growth.
Maisons SIC – More than half a century of expertise in Toulouse.
Recognized for its mastery in the development of tailor-made homes, SIC houses is your privileged partner for projects that suit you, while drawing inspiration from our Toulouse heritage.
With our 50 years spent in Toulouse, we capture the very essence of the city. Our regional footprint positions us as your best ally to bring your ambitions to life.
Maisons SIC: A promise of exceptional support.
Our mission transcends construction. We favor exchange and customization at every stage, from initial concept to inauguration. Our approach is sculpted around you, your aspirations and your comfort.
We are proud to offer homes that, in addition to being functional and attractive, integrate harmoniously into the aesthetics of the city.
Discover with Maisons SIC the secret of a successful partnership in Toulouse.
Faced with the diversity of offers on the Toulouse market, the choice can seem difficult. However, with Maisons SIC, you are assured of benefiting from unrivaled quality, shaped by our years of experience.
Favor Toulouse excellence with Maisons SIC.
Standards and innovations for your Toulouse home
Building in Toulouse requires technical mastery, which Maisons SIC has refined over time. By scrupulously respecting ecological and thermal standards, we create a house that combines comfort, savings and sustainability.
We make it a point of honor to adhere to the most recent construction standards, a guarantee of solidity and longevity for your home in Toulouse. Our strong warranties provide peace of mind for years to come.
A dedicated team for your Toulouse ambitions
What characterizes Maisons SIC is above all its passionate team. She meticulously watches over every detail of your project in Toulouse.
By working closely with local partners, we ensure that each achievement respects the soul of the region while meeting your requirements. In addition, we guide you towards the best financial solutions, adapted to your project.
Our agency in Toulouse at your service
Whether you are inclined towards a modern house or a traditional building, our agency in Toulouse is your first port of call.
With in-depth knowledge of the Toulouse market and regional specificities, we are your compass at every phase of your real estate journey.
Excellence in wood with Maisons SIC in Toulouse
SIC house for several people types of houses in its catalog. Building a wooden house in Toulouse requires special know-how. Maisons SIC excels in the creation of wooded structures, guiding your choices according to your preferences and the specificities of the region.
From finishing to interior fittings, we help you optimize the energy performance of your wooded cocoon.
Make your vision come true with the best individual house builder in Toulouse!
What are the costs associated with construction in Toulouse?
Establishing a budget for a house in Toulouse requires in-depth knowledge of the local landscape. The cost range varies depending on several factors such as location, services chosen and of course, your builder partner.
In general, in Toulouse, construction costs range between 2600 and 5500 euros per square meter. So, for a house of 100 square meters, plan on between 260 and 000 euros, excluding the cost of land. These figures may vary depending on the specifics of the project.
For a profitable investment, choose Maisons SIC in Toulouse
Mediafixer construction costs are important, but a wise investment in quality ensures you have a home that stands the test of time and enhances your assets. By entrusting your project to Maisons SIC, you benefit from proven expertise and personalized support. Every euro spent adds value to your home.
The advantages of Toulouse for building your own house
Are you thinking of becoming a property owner in Toulouse? In the Pink City, you will benefit from a dynamic setting, marked by the historical richness, cultural excitement and beauty of the South-West.
Choosing Toulouse for your new home is obvious. This constantly evolving metropolis has a booming real estate market, making it a strategic location for any real estate investment. For a flawless project, the ideal builder in Toulouse will be your best ally.
How to find the perfect builder for Toulouse and its surroundings?
Thanks to its privileged location between sea and mountains, Toulouse and its surroundings offer a range of activities to satisfy families, culture enthusiasts and nature lovers.
By choosing a renowned builder such as Maisons SIC, recognized for its expertise and attention to detail, you will benefit from a house that is both robust and modern.
Toulouse is the ideal place to establish your individual home, combining the urban rhythm with the gentle way of life of the South of Toulouse, all bathed in a sunny climate.
Where to consider building near Toulouse?
Choosing the site for your future residence is crucial. On the outskirts of Toulouse, several municipalities stand out for their specificities.
Blagnac, famous for its airport and its economic dynamism, is a favorite place for those seeking to combine professional and personal lives.
Castanet-Tolosan, thanks to its village atmosphere while being close to the metropolis, will appeal to those looking for calm while remaining connected to the excitement of Toulouse.
L'Union, with its peaceful atmosphere and local charm, attracts those eager to enjoy the proximity to Toulouse while retreating into serene surroundings.
Each town has its attractions and your builder will be able to guide you to the place that reflects your desires. There are numerous possibilities to make your Toulouse dream come true.
Conquered by the idea of ​​building in Toulouse? CONTACT US !
Find our different agencies almost everywhere in the South-West: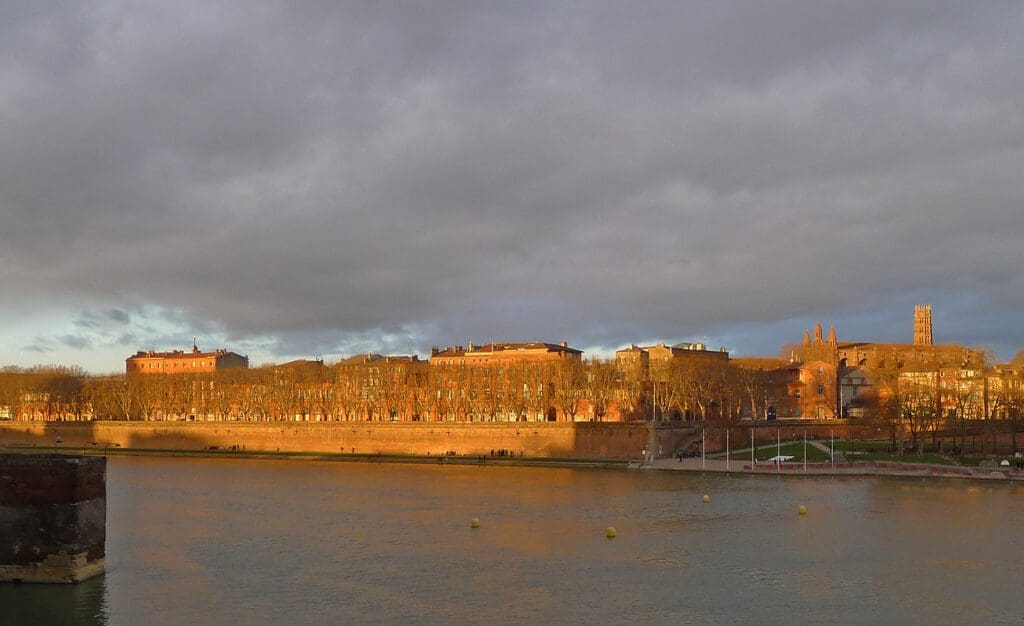 Ask our teams from the Toulouse agency to build your individual house in Toulouse and its surroundings. Maisons Toulousaines is also:
Blagnac house builder
House builder Castanet-Tolosan
House builder L'Union
House builder Ramonville-Saint-Agne
House builder Cugnaux
House builder Colomiers
House builder Portet-sur-Garonne
Tournefeuille house builder
Balma house builder
Muret house builder
House builder Plaisance-du-Touch
House builder Saint-Jean
House builder Saint-Orens-de-Gameville
House builder Labège
House builder Aucamville
House builder Launaguet
House builder Quint-Fonsegrives
House builder Montrabé
House builder Cornebarrieu