When you build a new house, you have to think about the layout of the rooms, the insulation, the interior layout… but also the exterior layout. Depending on the size of your land, you will surely want to install a garden, a driveway, a gate, low walls or plant hedges and why not a swimming pool, a patio or an outdoor kitchen. Maisons SIC, builder of new houses for more than 50 years, helps you define the budget for all these outdoor facilities.
What are the different exterior layouts of a new house?
The exterior design of a new house may include different "posts": A deck, a swimming pool, a landscaped garden, a patio, an irrigation system, a path, a carport, retaining walls, landscaping such as shrubs, trees, flowers and plants, outdoor lighting, a children's play area, a barbecue area and/or outdoor kitchen, fountains and waterfalls...
What is the overall cost of landscaping?
All of these outdoor amenities come at a cost. It can vary greatly depending on many factors such as the size of the land, the materials used, the complexity of the work, etc. It is difficult to define a precise budget without more information on its specific project. However, it is possible to plan an overall budget ranging from a few thousand to several tens of thousands of euros, depending on the elements that you want to include in your outdoor facilities (terrace, swimming pool, garden, etc.). However, it is advisable to consult professionals for a more precise estimate.
We are therefore going to try to estimate here the cost per "position" of exterior landscaping.
Landscaping a garden: what to think about?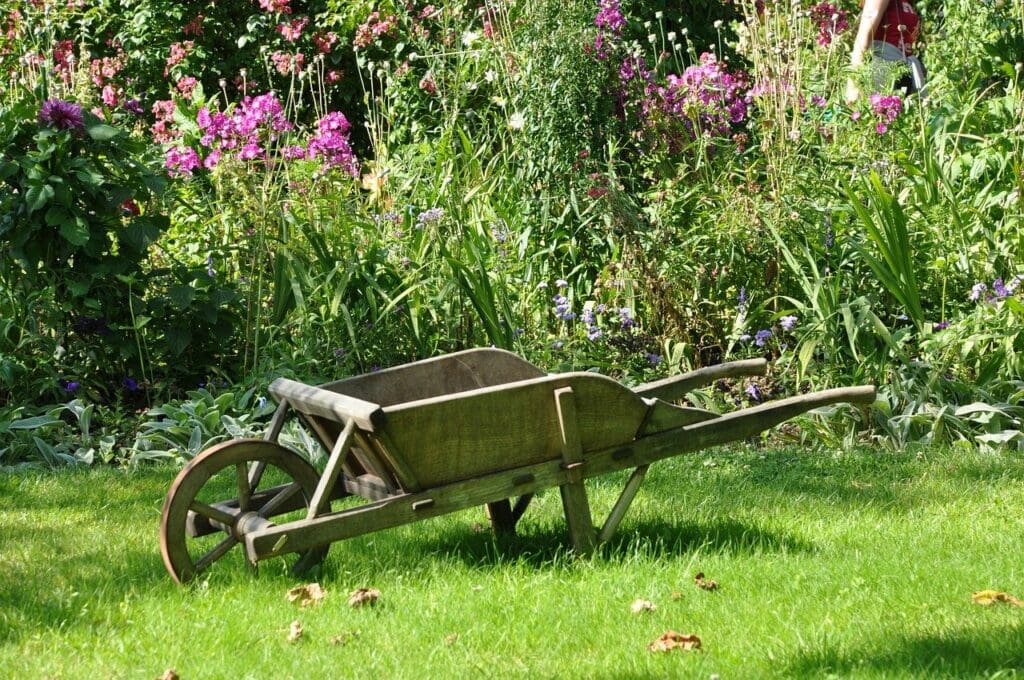 There are different steps to consider when the layout of his garden as part of the construction of his new house : make a precise plan, lay out your garden by activity zones, lay out your garden with plants and think about paths.
Again, it is difficult to give an exact budget for landscaping a new home garden as it will depend on several factors such as the size of the garden, the materials and plants chosen, and the professional services required. However, you can expect costs ranging from a few thousand dollars for a simple garden to tens of thousands of dollars for a more complex garden with features such as patios, ponds, mature trees and landscaping. custom landscaping. It is important to consider all of these factors and plan carefully before starting any garden landscaping project to avoid budget overruns.
In France, the average area of ​​gardens is around 500 m2 (compared to 350 m2 in Germany and 110 m2 in the Netherlands). If we only focus on the plants and the irrigation system, the average price for the creation of a garden by a professional varies between 100€ and 650€/m2. However, if you do it alone, the average package associated with a 500 m² garden layout varies between €400 and €500. The cost of creating landscaping for a 300 m² green space ranges from €2 to €500, with an average price of €6.
Exterior layout of a swimming pool: what cost depending on the model, size, etc.?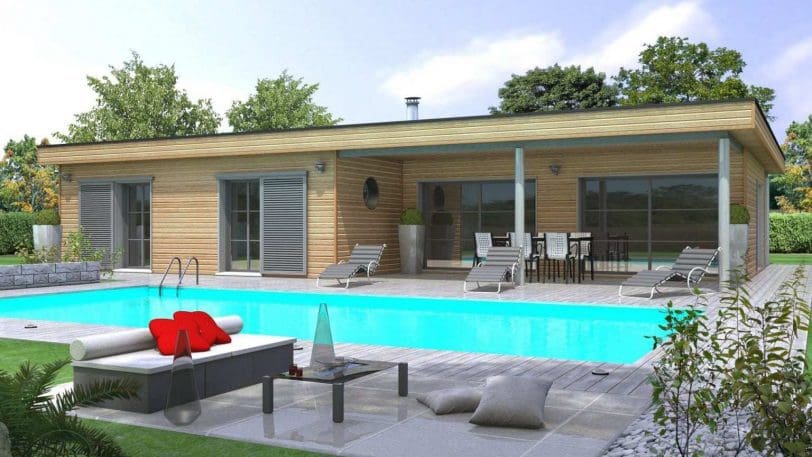 There are many reasons forintegrate your swimming pool into your new house from the start of your project : a swimming pool increases the value of your property, it contributes to the development of your outdoor spaces, it requires planning planning constraints and it can be financed by your mortgage.
Indeed, concerning the financing of its swimming pool, like its location in its outdoor facilities, it is essential to know the different prices of swimming pools. Your budget will, of course, depend on the swimming pool model you choose : a round swimming pool, a small very equipped swimming pool, an ecological swimming pool, a wooden swimming pool, a swimming spa, an overflowing swimming pool, a swimming pool with movable floor terrace…
The in-ground swimming pool is the most chosen top-of-the-range model. A standard pool will generally measure 8 meters by 4 meters. The in-ground pool is the most upscale pool on the market and it assumes an average minimum budget of €20. On average, it is estimated that the price of an inground pool of 000 m32 varies between 2 and 15 €.
Exterior layout of a terrace: choose its material, its size, its cost...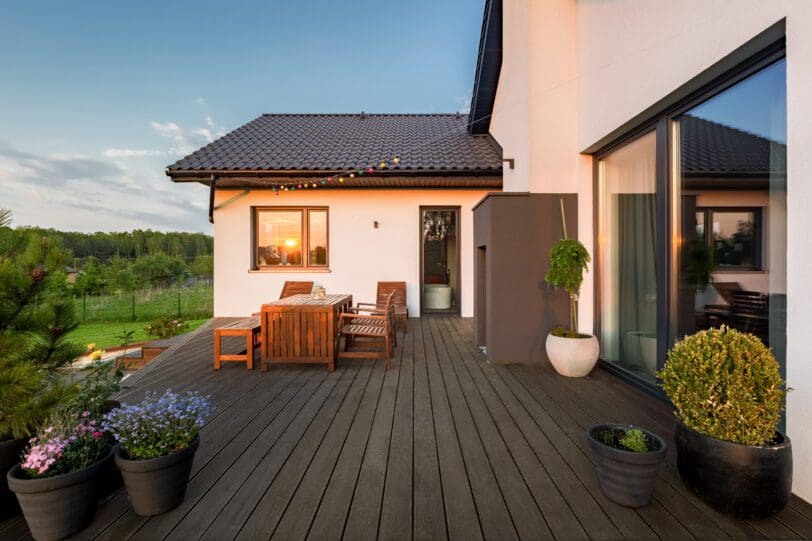 When you opt for the installation of an outdoor terrace in front of your new house, you must choose the size and the material. As far as the different terrace models are concerned, you have the choice between a wooden terrace, a pressed concrete terrace, a reconstituted stone or gravelled concrete stone terrace, a composite terrace... The most popular material is that of the wooden terrace. The one that will cost you the least will be the composite wood deck. Indeed, a composite wooden terrace will cost between 20 and 50 € per m² excluding installation. The price of installing a wooden terrace by a professional is on average around 70 euros per m² excluding tax. If you want to go upmarket, you have to count around 70€ per m2 for quality wood (heat-treated wood is around 60€ per m2 and exotic wood (ipé, bamboo, wenge, teak, etc.) between €40 and €250 per m2). The average price of a concrete terrace varies between 20 and 190 € per m2 and that of a tiled terrace, between 15 and 200 € / m2.
Exterior fittings of a modern house: driveways, low walls, hedges, gates, etc.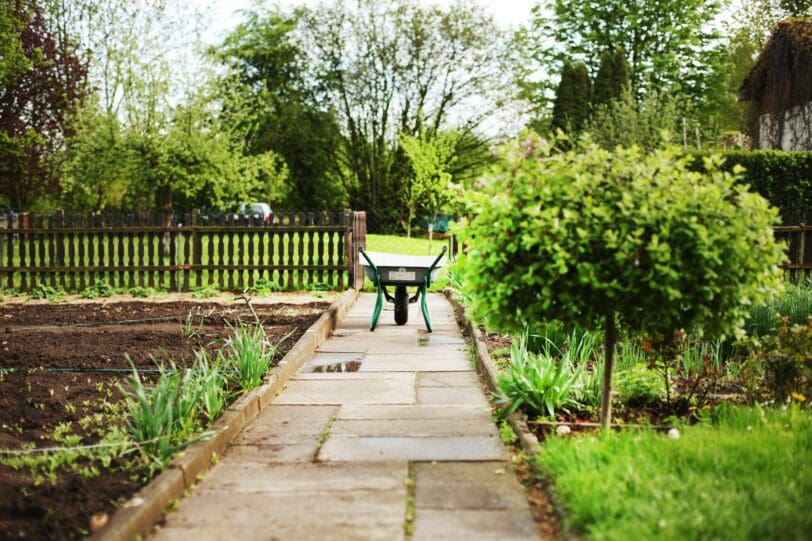 With regard to the more technical and practical layout of the exterior of your new home, you must also think about how to fence the land of your house. For this, you have different choices, which will cost more or less: the masonry fence, the plant setting in its new home, the synthetic fences, the metal fences. The cheapest fences will be those made of flexible mesh (between 5 and 10 euros per linear meter. The cheapest PVC fences and vegetable hedges can be offered to you around 40 euros per linear meter.
For the aisles of your house, you have the choice between gravel, paved garden paths, natural materials (chips, mulch or crushed material), concrete or asphalt, wooden or stone garden paths.
Finally, as far as the gate to your new home, there are 3 main materials: PVC, wood and aluminium. The PVC gate (around 500€) is the least expensive choice, then comes wood (around 1000 euros) and aluminum (around 1500 euros).
Outdoor kitchen and barbecue area: where to position it and for what budget?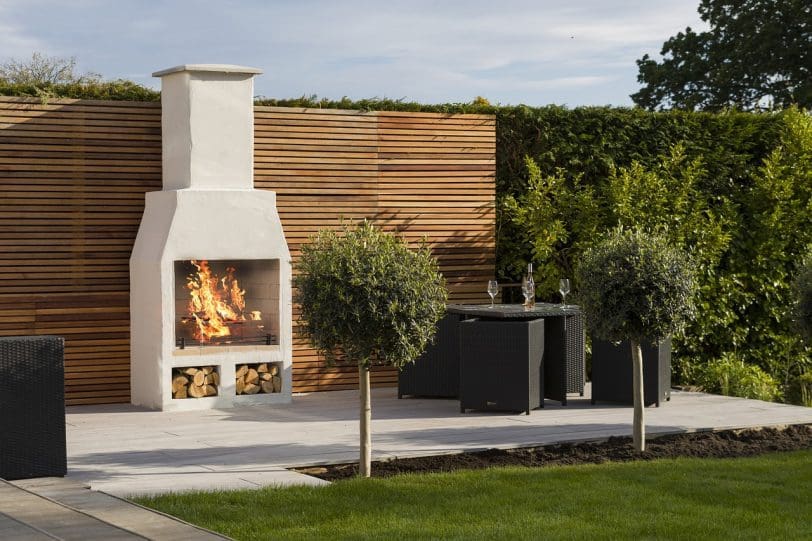 If the barbecue is one of the first things you treat yourself to when you have an exterior, the building an outdoor kitchen is a very valuable little luxury when building your new home. Whether with a wood, concrete or stone structure, the outdoor kitchen often requires a large budget. Each project is unique, but you have to think about the floor chosen, the cover, the accessories, equipment, real estate and the water and electricity connections. A small kitchen without a cover will then cost you around 2500€ and it can go up to 10 euros for a kitchen with a cover and more furniture.
—
Do you want a new house with a large outdoor space? Contact the professionals at Maisons SIC!