Modern, design, original, the house with a flat roof has many aesthetic advantages. But also practical! One of them is the possibility of installing a roof terrace to gain even more living space. Outdoor dining room, relaxation area, gym, vegetable garden… The layout of your roof terrace can take on various faces. SIC houses, a specialist in the construction of modern houses (particularly flat roofs) for 50 years, gives you some tips for arranging your roof terrace efficiently.
Prerequisites for fitting out your roof terrace: agreements and authorizations
We pointed this out in our article. "Building your new house with a flat roof / terrace: advantages and disadvantages", a house with a flat roof gives you a more contemporary, more modern style and great architectural freedom. As for example on our KUBIK house, which offers all the advantages of a designer house.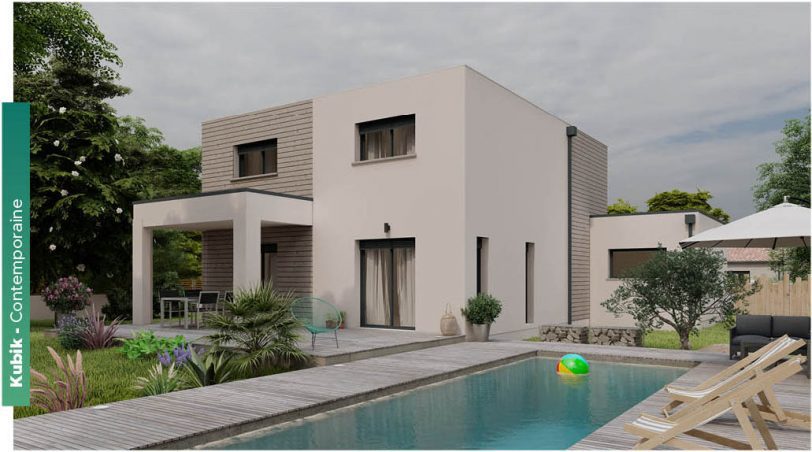 But be careful, if you want to develop your roof terrace "after the fact", there are agreements to request and technical prerequisites to put in place:
Ask the opinion of all the neighbors who have a view of your roof terrace. As explained in

an article by Elle

, "a case of jurisprudence concerning the rooftop of an individual was issued in 2012 by the court of cassation obliging the person to remove everything that was installed there."

Make sure you have a drainage plan in place.

Watertightness is essential, so check with your modern home builder that he has installed the vapor barrier, the independence screen, the thermal insulation and the waterproofing coating that protects the platform from climatic aggressions.
Ensure the safety of your roof terrace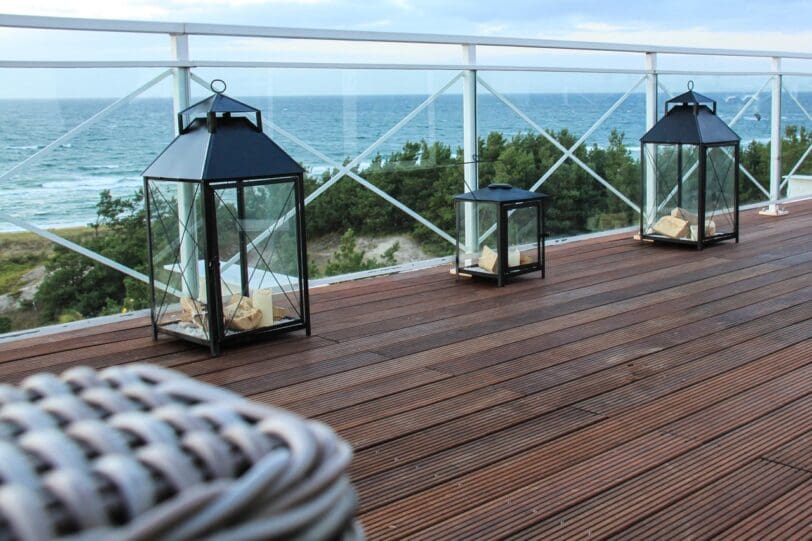 Safety is not an option for a roof terrace, which is located high up and whose falls can be very serious. 1st thing to do, therefore, if it is not already in place: set up barriers or a safety wall, a guardrail, whatever it is, to secure the entire space. He must be :
solid and opaque at least 1 m

with vertical bars spaced at a maximum of 11 cm.
A tacit rule, reinforced by Articles R 111-15 and R 233-13-20 of the Construction and Housing Code which regulate protection against falls from the roof terrace. A breach of this regulation results in a fine of up to €15.
What floor for your roof terrace?
Your roof terrace necessarily already has a floor but you have the possibility of affixing another covering. Call in a specialist to check that the new floor chosen is compatible, for example, with water drainage.
Among the materials to choose from, bitumen is recognized for its tightness but it is not very aesthetic. THE PVC is not very durable outdoors. THE wood, in gratings, composite slabs, wooden slats, can prove to be very aesthetic and resistant if it is well treated upstream. THE floor tile or natural stone offer a natural look but check carefully if the weight is compatible with the structure of the building. Finally, if you dream of greenery, why not opt ​​for a synthetic grass ?
Arrange a roof terrace for an additional open-air room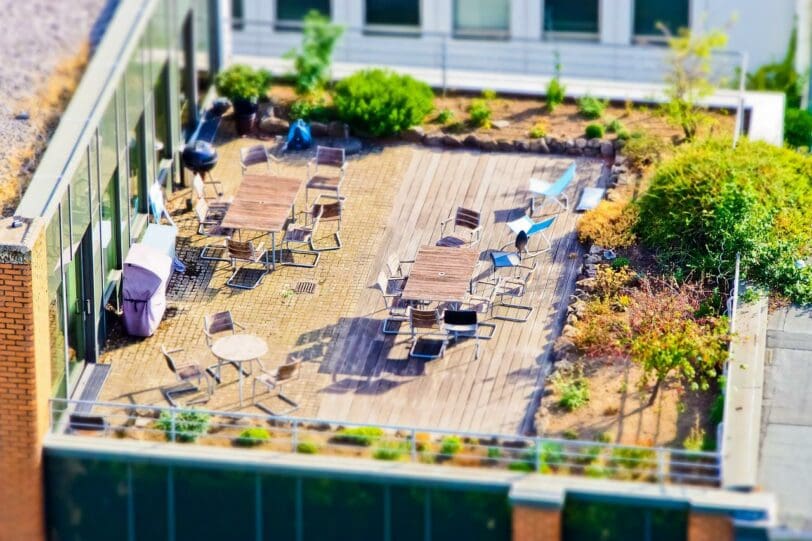 The roof terrace allows you to enjoy the surrounding panorama in complete tranquility and to afford a real extra room, outdoors. To arrange it, you will be able to use all the furniture that we choose for a garden: table, armchairs and outdoor chairs, pergola, sunbeds, pots to put plants.
The most popular use of a roof terrace is surely the outdoor dining room, with its large table, barbecue and pergola or large parasols to hide from the sun.
A roof terrace to be converted into a vegetable garden
A garden on its roof terrace seems quite "logical". So why not go further and take the opportunity to set up a real vegetable garden? Once again, it is essential to find out about the feasibility of the project, in particular to find out whether the earth placed on the roof terrace is not too heavy for the structure. Once assured of the possibility of planting your cabbages, you will be able to install planters with trellises, your vegetable plots and your small greenhouses. It remains only to choose what to plant. And do not forget to take into account the water points for watering!
A rooftop terrace that can become a gym and wellness area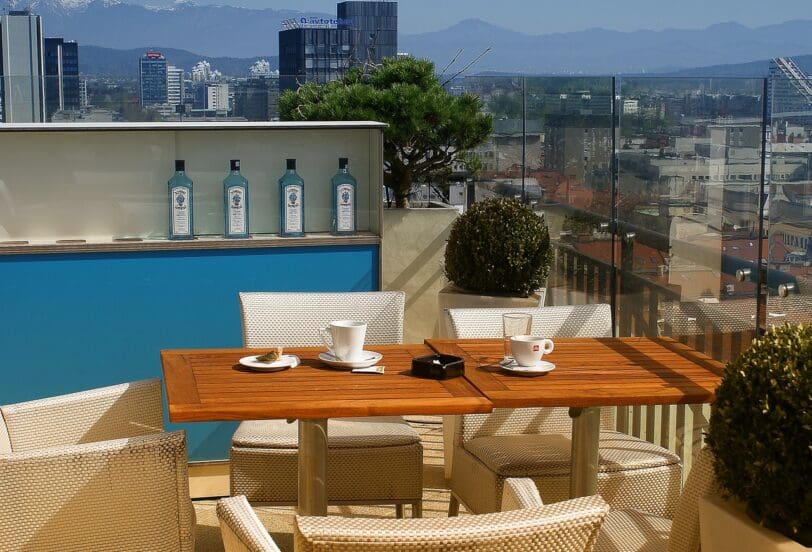 Sport is always much more enjoyable outdoors. The roof terrace can therefore be the ideal place to install your weight benches and other sports equipment. And after the effort, comfort! Why not treat yourself to a "spa" area with a jacuzzi, for example? Once again, wonder about the weight of the device when it is filled.
Shadow and Light: knowing how to properly arrange your roof terrace
Facing south, your roof terrace is bathed in sunshine. If you are too afraid of the heat, do not hesitate to ask your builder of modern houses to position it rather in the South-West or squarely in the North.
To create shaded areas, opt for large shade sails or pergolas rather than parasols, which are often very bulky.
To create a cozy terrace, which will be an ideal place to stroll on summer evenings, prefer indirect lights such as light garlands, different solar lights, recessed spotlights (easy to set up on a wooden terrace) or table lamps.