The wood-brick mixed-use house combines the advantages of materials. Why should we choose between a wooden house and masonry house when the mixture of the two offers so many advantages? Here are the arguments that pushed the builder Sic houses to embark on the wood-brick mixed construction in the South-West.
What is a mixed wood/brick house?
A mixed wood/brick house is a type of house that combines two different building materials, namely wood and brick. The structure of the house thus mixes a wood frame and traditional brick walls. A way of building houses well known in the South West where these two materials often mix in traditional houses. Half-timbered houses on Toulouse, Gers, brick and wood houses of the Arcachon bay, Landes houses, the mix of wood and brick brings out the heritage of our towns and villages in South West.
To learn more, read our article: The 10 reasons for the success of the wooden house in New Aquitaine
The mixed wood/brick house brought up to date
Very trendy wooden house in the South-West
Boosted by regulation RE 2020, environmental requirements, and its elegance, the wooden house attracted an ever-increasing number of customers in the South West. However, it is not within everyone's reach and the brick house also has many advantages. local and natural materials, brick offers healthy, durable and comfortable homes
To learn more about this subject, read our article: 10 reasons to build a brick house in the Southwest.
A builder without subcontractors
Sic houses is one of the few south west builders to possess for a long time the two hats of wood builder et brick house builder. On the brick side, it relies on the historical know-how of the company. Maisons Sic works with its own teams of masons and employees. On the wood side, it employs trained carpenters and works with a dedicated industrial tool that manufactures locally and to measure all the industrial frameworks and traditional business and thewood frame wooden houses.
To get to know the company better, read this interview with the Commercial Director: "do everything for customer satisfaction"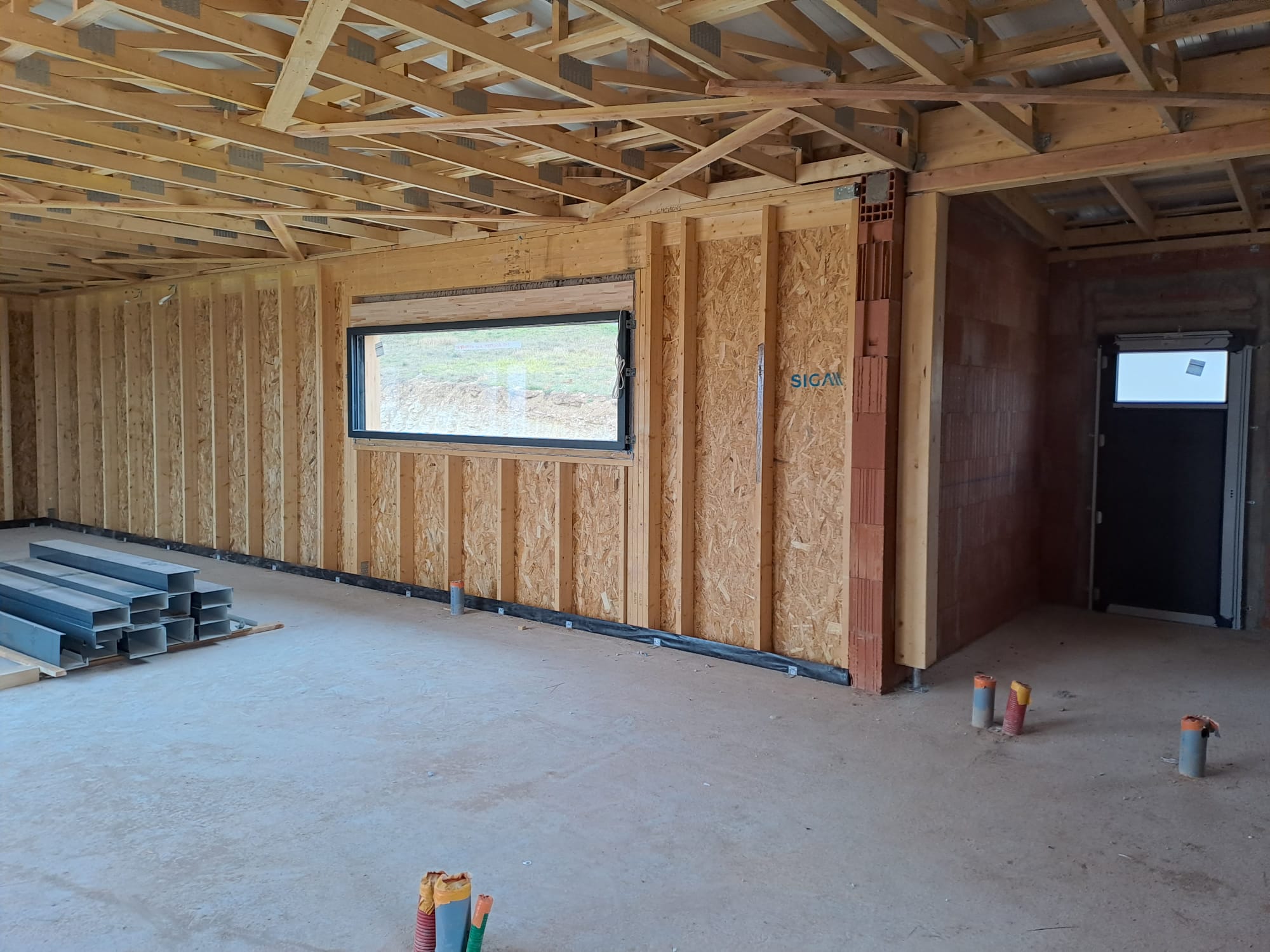 Wood / brick house: cheaper to build
Very comfortable, the wooden house is now a little more expensive to build than a brick house. In order to reduce the costs of his projects, Cédric Léman, manager of wood projects at the manufacturer Sic houses looked for solutions in masonry / wood. " I started by making brick-built garages or cellars to reduce the cost of the house without reducing the comfort. But very quickly, I realized that the result of this mixture was also very contemporary and very efficient. ", explains Cédric Léman.
Mixed house / wooden house: more summer comfort

The main defect of the wooden house is its lack of inertia. Indeed, mineral materials such as stone, tiles or brick absorb heat during the day and release it at night when temperatures drop. The wooden house not having this quality, Sic houses has always relied on a floor consisting of a masonry slab and a very good design of the house using bioclimatic principles. The mixed house, however, goes further and adds a little moreinertia in the wood house, which avoids excessive temperature rises in summer and limits the need for heating to a strict minimum. air conditioning.
To learn more, read our article: Building a bioclimatic house in Gironde: 11 tips for a cool house in summer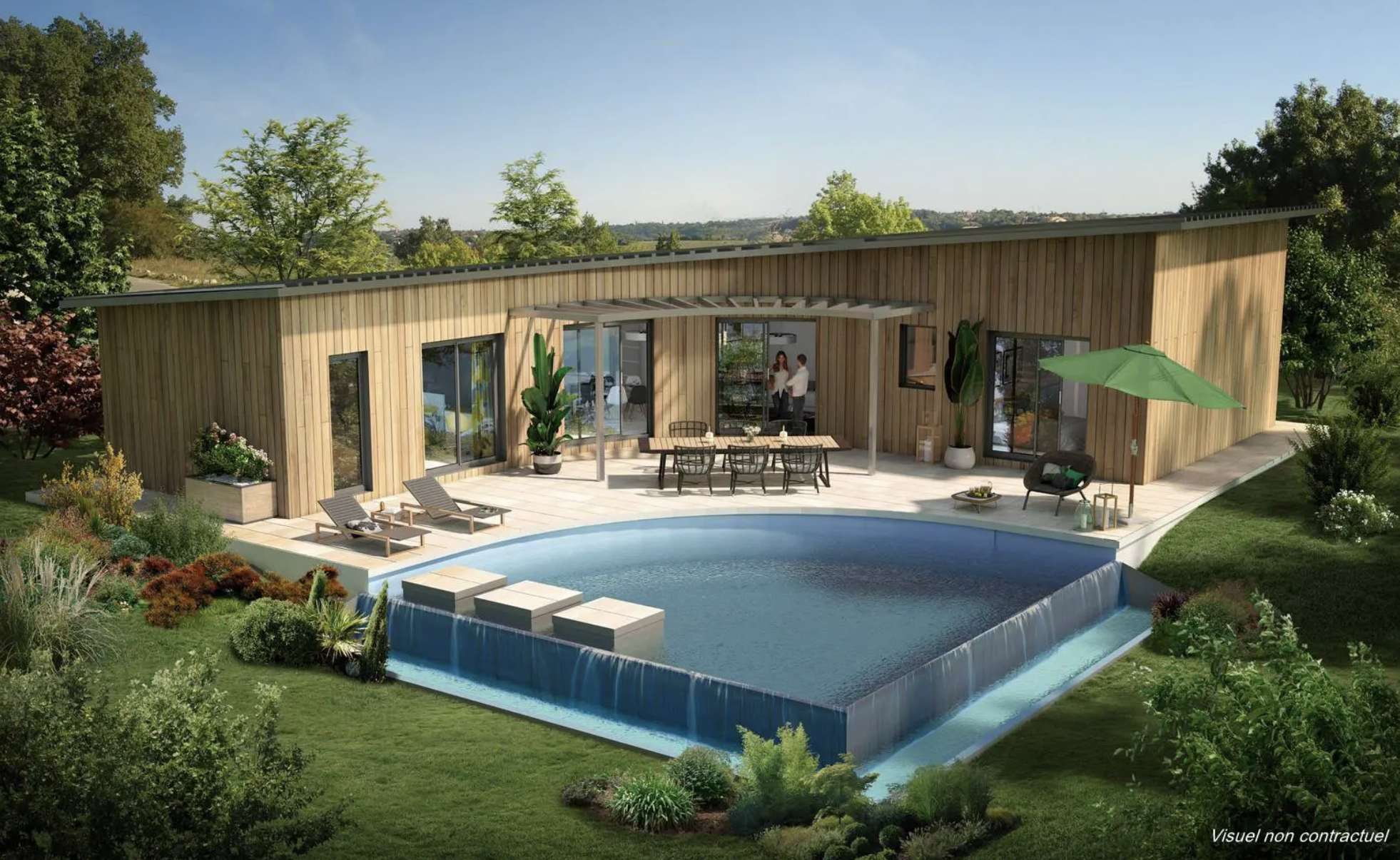 Mixed-use house: a well-insulated house
In line with successive thermal regulations, the contemporary houses have greatly reduced their energy consumption linked to heating in particular. The wooden houses, benefiting from Sic houses with double insulation, have always been more efficient than traditional masonry houses in terms of winter comfort. Have a mixed house it is thus to take advantage of this exceptional comfort on a daily basis: a rapid rise in temperature, low energy loss and a comfortable temperature throughout the day.
To learn more, read our article: The comfort of the wooden house defies the seasons of the South-West
Mixed-use house a low-carbon house
The 2020 environmental regulations, known as RE2020, added a new constraint. Construction must today limit its carbon footprint. All the materials that go into the composition of the house are analyzed. In this context, wood like all biobased materials has many advantages. Indeed, unlike other materials, wood absorbs carbon as it grows. When it is cut and then used in construction, it therefore represents a stock of carbon. The latter will only be released when the building is destroyed once burned or decomposed. The wood-brick mixed house thus more easily achieves the objectives of zero carbon house and is more environmentally friendly than most houses, especially concrete houses.
Mixed-use house: solution to difficult terrain
Land with clay soil or poor quality sometimes raises the bill for foundations. The wooden house and the mixed house are much lighter constructions than fully bricked houses. They thus manage to be built without prohibitive additional cost on land deemed difficult such as a clay soil.
To learn more about this subject, read our article: Wooden house: all-terrain construction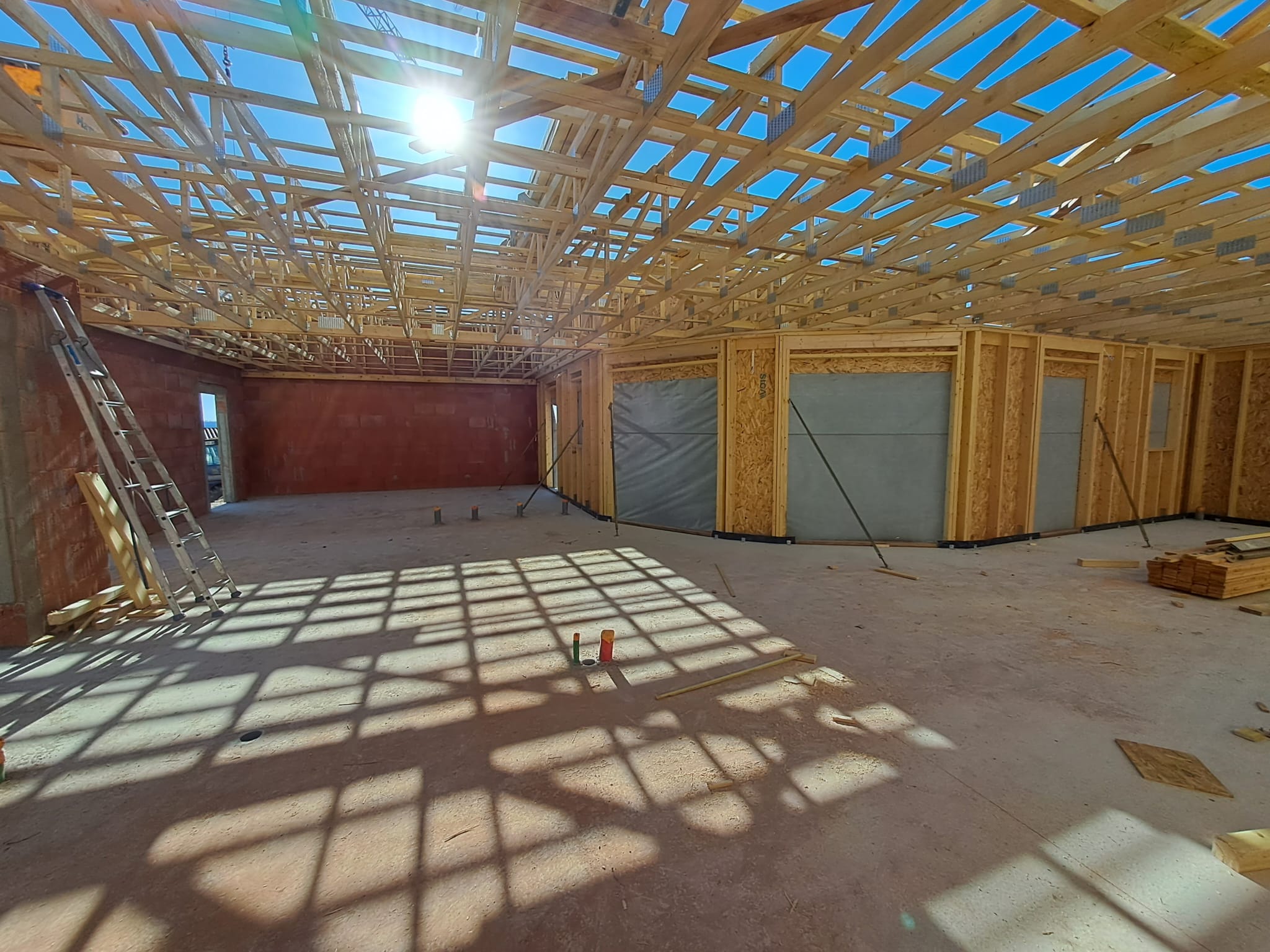 Mixed-use house: more architectural freedom
If it is desirable and advantageous in terms ofenergy savings, RE2020 pushes towards ever more compact houses, with few hooks and fantasy. " The mixed wood and brick house offers more architectural latitudes. It is easier to adapt the openings for example and to find solutions which reconcile the desires of the customer and the constraints of a badly exposed ground. ", details Cédric Léman.
Wood and brick house: a very contemporary rendering
Today, the old houses with wooden extension seduce for their originality. There wood-brick mixed construction offers this same type of feeling in a completely new house. All renderings are possible. The house can be completely clad in a wood siding or suggest an aspect mixed wood and coating. Wood lends itself to all fantasies and more easily allows curved shapes, flat roofs, like traditional roofs.