The bedroom, whether cozy, modern, uncluttered or rustic, is one of the most important living (or rather sleeping) rooms when building a house. After deciding on the location, size and layout of your room and your furniture, once your new and individual house is built (or even a little before), the question of interior decoration arises. If you want optimal comfort and a cozy room, what are the colors, the materials but the choices in terms of lights or layout to select? SIC houses, builder of individual houses for almost 50 years, gives you some advice.
What colors to give a cozy side to the decoration of your room?
The cozy style refers to the softness of the interior of English cottages and therefore to something very warm. One can then think that to make a cozy cocoon in his room, it would be necessary to put only warm colors. We will see that this is not necessarily true...
Natural tones take pride of place among the colors to favor for a cozy bedroom. Indeed, we will choose rather "simple" colors to decorate its walls or for its carpets, its bed linen or its cushions. We necessarily opt for white elements that will illuminate the room. We also like beige, ecru, taupe, light brown, gray or powder pink for a cocoon effect. For example, thick gray curtains will accentuate the cozy atmosphere of your bedroom.
But you can also allow yourself little joyful touches of color that will liven up the whole thing a little and boost the atmosphere of the room, to feel even better there. Be careful, the colors here must not be too frank and play on softness, such as almond green, sugared almond blue, crimson red, light terracotta or even a diluted chick yellow.
All pastels are also welcome to wrap the room in delicacy.
Playing with soft materials to create a cocooning atmosphere in your bedroom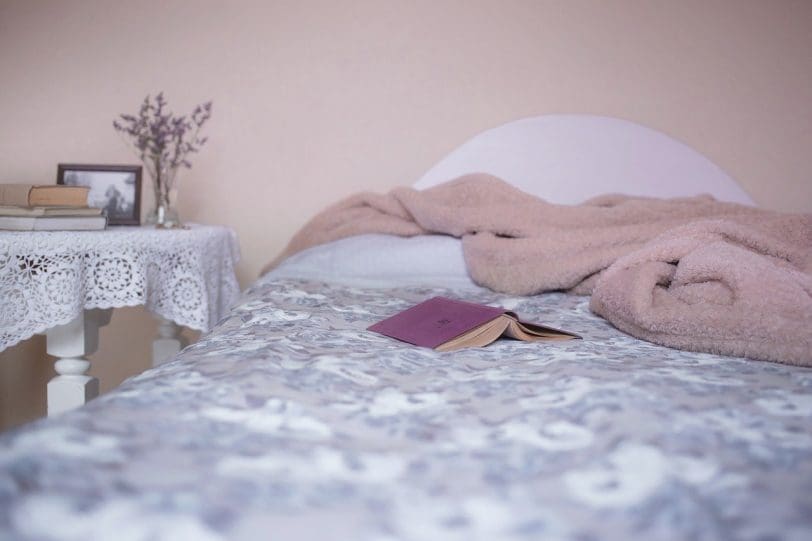 The other essential element in a cozy bedroom will be the choice of materials: for linen, rugs, cushions, decorative elements...
Linen for a soothing natural look
A quality natural fibre, linen has a naturally crumpled appearance which gives it a refined look. Its pleasant touch allows it to be enjoyed as daily bed linen while providing a warm atmosphere to your bedroom, visually speaking. And another of the significant advantages of linen is that it is as pleasant in winter as in summer due to its great thermoregulatory qualities.
Wood to make your cozy bedroom warm
A floating floor in a room, whether in light wood or colored (light gray for example), will immediately bring a warm touch. Raw wood, very fashionable in interior decoration, comes to offer a touch of purity and authenticity, for a bedside table, on paneled walls, a headboard, a mirror, a bench or a end of bed . You can also, if you have the space, put a raw wooden bookcase against a wall with books that will accentuate the relaxing side of your room.
Carpets, lighting and decoration in natural materials
The furniture in the bedroom is also imbued with this desire for naturalness, all in simplicity. We then find, in a cozy bedroom, wicker or bamboo furniture, but also natural rattan lights such as large and warm pendant lights. Vegetable fibers are also popular for a pure and warm appearance, for carpets, in jute for example.
What lights to choose to optimize the cozy side of the decoration of your room?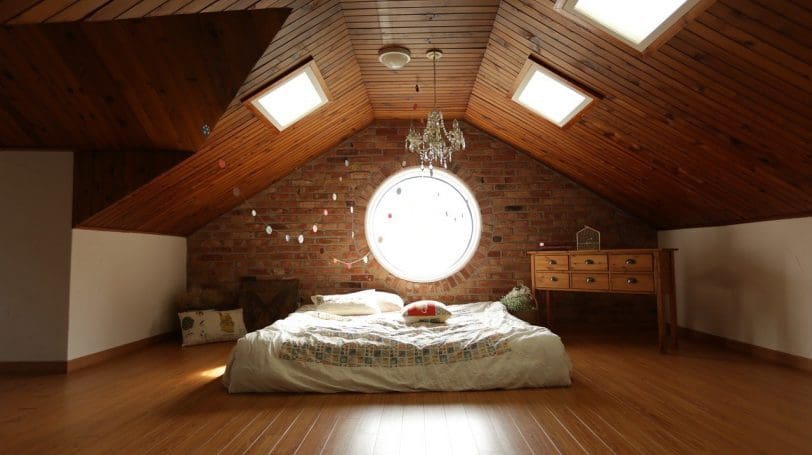 As with any living room, the bedroom must have light adapted to the use you want to make of it. It is of course necessary to take into account the natural illumination of the room, which must always be privileged. For non-natural lighting, if you want to create a soft atmosphere, the light must be too.
By multiplying the sources of light via different lamps, rather to be laid, you will create a guaranteed cocoon effect. If you can opt for a main lamp, suspended, ceiling or wall lamp, strong enough, which will allow you to see well when you arrive in your room, the other sources of light must be soft, to encourage letting go taken and falling asleep.
You can opt for similar or different bedside lamps but with a fairly soft warm white LED bulb (because it consumes less energy) (100 to 200 lm). You can also put small reading lights on your bedside table, which will not disturb the person with whom you sleep. Or place a slightly vintage lamp on a small sideboard to create a cozy atmosphere.
A light garland that surrounds a headboard can also offer a dreamlike side to his bedroom.
Accumulate plaids, cushions, eiderdowns, duvets for a soft and soothing effect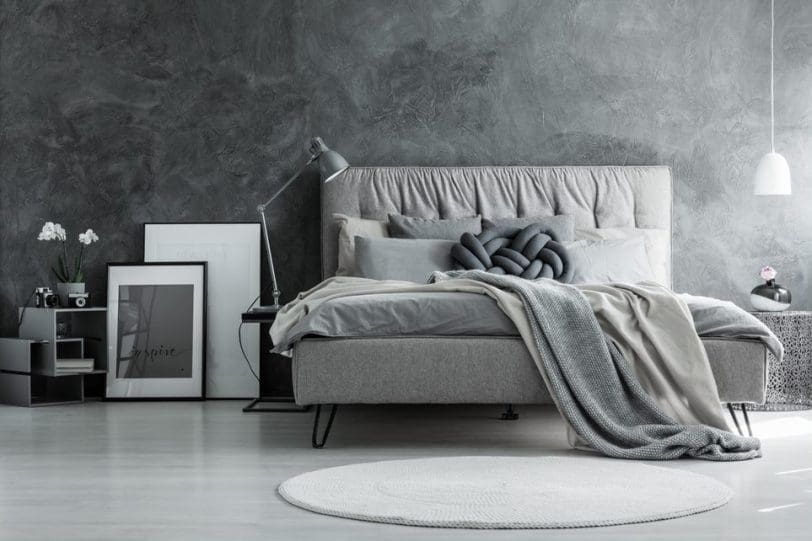 The voluptuous materials and the elements that seem soft and soft will give your bedroom that little extra that will soothe you at first sight. Do not hesitate to put a quilt or a plaid on a chair or at the end of your bed. And do not hesitate to play on the accumulation of cozy textiles for an ever more cocooning effect.
Preferably choose soft and pleasant to the touch fabrics such as faux fur cushions, which you want to cuddle or sheep's wool rugs for the most pleasant awakenings to the foot. Choose thick duvets for a thick effect that emphasizes the felted side. And combine the cushions but prefer, for the cozy aspect, that they are all the same shade of color.