The front door of his house is the first anchor point to his interior. There are many kinds, of all styles, of all materials... You also have to think about insulation and safety. Faced with all these questions, the teams of SIC houses, builder of new homes for 50 years can help you.
The technical criteria to take into account when choosing your entrance door
Exactly as we choose carefully the windows of his new house, it is essential to ask the right questions before choosing your front door.
Before answering aesthetic questions, an entrance door must meet the technical characteristics of use, comfort, resistance and insulation performance. 3 criteria must therefore be taken into account in your choice, at the technical level: sound insulation/acoustic, thermal insulation and Iair, water and wind tightness.
This last criterion is expressed, in the technical characteristics, under the name of AEV: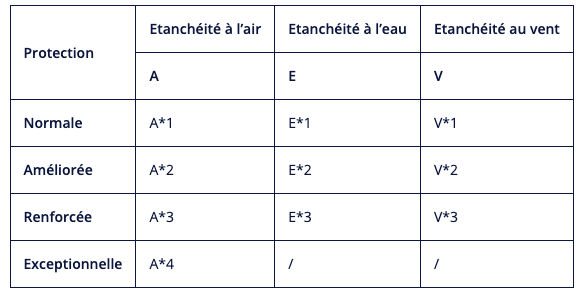 source: Mano Mano
Thermal insulation will be indicated by a letter, as on household appliances: A indicates that the insulation offered is excellent and F that the insulation is very weak (or even zero).
sound insulation, which is measured in dB (decibels), will largely depend on the material chosen: wood is less efficient in terms of noise than PVC, which is less so than aluminum or iron.
Materials: how to choose between a wooden, aluminum, pvc, steel or composite entrance door?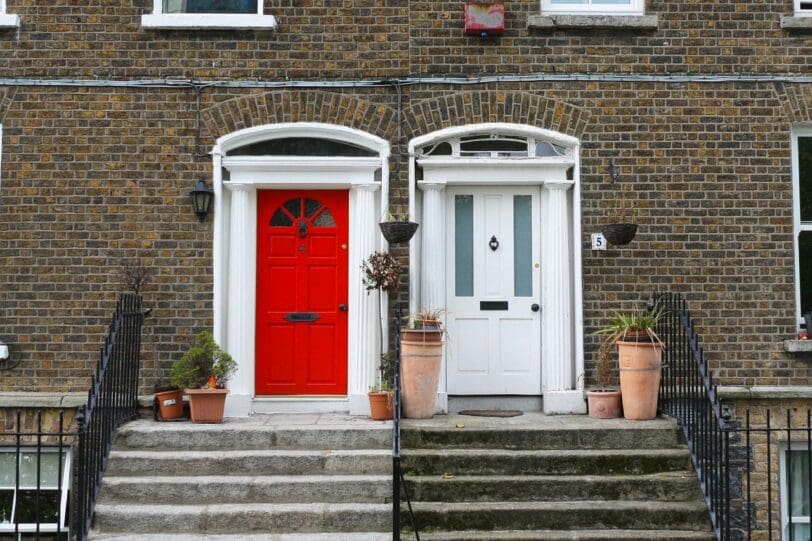 The material chosen for its front door meets, as we have seen, essential technical criteria. But it is often more linked to aesthetic desires. What are the pros and cons of each front door material?
The wooden front door: rustic or modern, maintenance and good insulation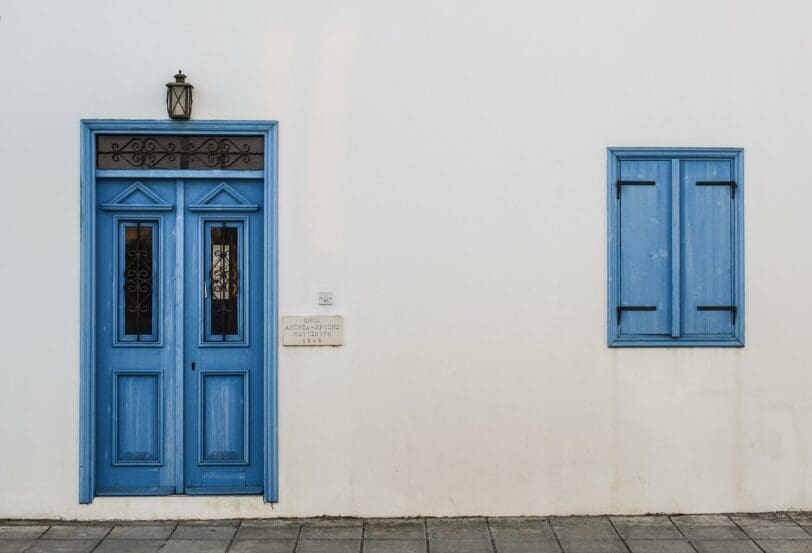 A wooden entrance door can have a very modern or very classic style, depending on the type of wood chosen but also on its moldings.
The thermal insulation is generally excellent but not necessarily the sound insulation.
The price can be quite high.
And above all, it is the material that will require the most maintenance because it is 100% natural.
PVC entrance door: excellent value for money
The two main advantages of PVC are its lower cost than other materials and its very easy maintenance.
Available in quite a few colors (the main one being white), the PVC door has a fairly "neutral" style.
With excellent thermal and acoustic insulation, the PVC entrance door demonstrates good longevity, resistant to climatic variations and various shocks.
However, this door offers less security than an iron or aluminum door, for example.
Steel or aluminum door: solid, design but more expensive and less insulating
The two biggest advantages of steel or aluminum doors are their undeniable contemporary design and their perfect security, resistant to all shocks.
The thermal insulation is quite weak, especially for the aluminum door. Sound insulation is average.
The price is higher than a PVC door but can be the same as a wooden door.
Requiring little maintenance, it offers a great longevity.
The different styles of front door: modern, rustic, solid or glazed?
After choosing the material for your front door, you need to decide on its style.
A classic door will most often be molded. It can adapt to many styles of architecture but will be more appreciated on an old construction. This type of door is rather available in wood and PVC.
A modern or contemporary door won't have molding, in general, and will sport a more neutral design. They are often glazed in a modern way (like workshop windows) and can be offered in aluminium, wood, steel or PVC.
Entrance doors can be solid or glazed. A full door going to be less expensive and can provide a greater sense of security. However, it will make the house darker, not letting in any light from outside.
A glazed or half-glazed front door will have a higher cost. It will guarantee a beautiful light in the house. But, for security reasons, it is essential that it be equipped with burglar-proof glass.
A front door with tiere will bring a breath of modernity to your home. The front door with tiere consists of two parts: one mobile and one fixed. One of them is often glazing. It offers a unique design, for a very contemporary style. It can also make it easy to mix materials such as wood, aluminum and glass.
Security, locks: everything you need to know to choose the right front door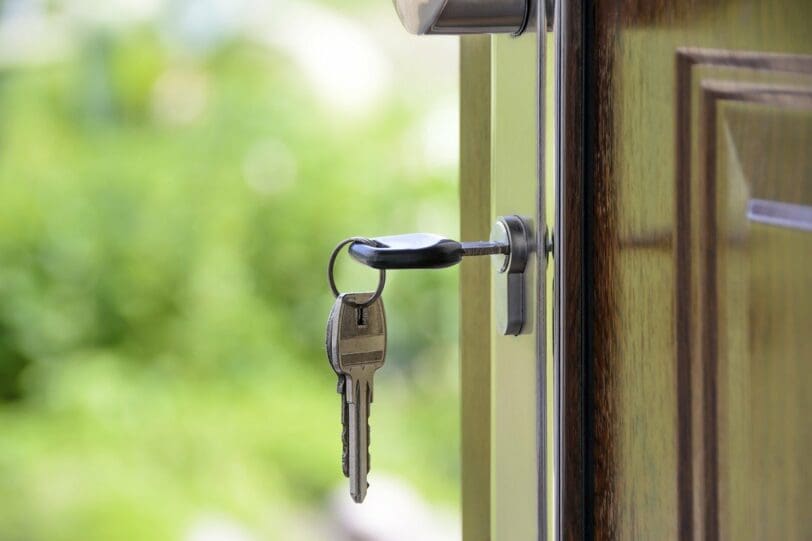 Security is also a criterion of choice for an entrance door. Some materials are more resistant to shocks than others (steel and aluminum in the lead). But you also have to think about the lock, the type of cylinder, the number of closing points, the reinforcement of the panel, etc. The top of security remains five closing points (anti-unhinging), a security cylinder, a one-piece design. A thickness of more than 70 mm is also very reassuring.
When choosing your lock, pay close attention to the A2P standard. the A2P standard, which distinguishes three levels of security:
A2P* or A2P1: resistance to the infraction for at least 5 minutes.

A2P** or A2P2: resistance to the infraction for at least 10 minutes.

A2P*** or A2P3: resistance to the infraction for at least 15 minutes.
To complete your locking system, you can also choose to equip yourself with hinge protectors (which limit unhinging), burglar-resistant angles (to limit the leverage effect of a crowbar), or even blocking bar (which is placed on either side of the door once you are inside).