Fencing the land of your new home is an important step when doing build his house. durable element, the fenced must be planned in the same way as the house. It is an important element that delimits your home and gives the first impression of it. Functions, aesthetics, durability, here are some keys to help you find the right fence for your new house.
Fence the land of your new house according to his needs
A fence to demarcate your land
The first function of a fence is to delimit its land. In the majority of cases, it takes place at the property boundary. Nothing is easier than to build it at the time of the construction of the house, since the ground generally has just been delimited. But nothing prevents placing the fence differently. It simply must not encroach on the neighbour's.
Build a fence to protect your privacy
The purpose of a fence is also to protect against prying eyes. Be careful, however, not to create a feeling of suffocation in a small garden with a fence that is too high. A height between 1,50 and 1,75 meters is enough to block the view of passers-by. In terms of appearance, you have a choice, but solid or slightly perforated surfaces will be ideal.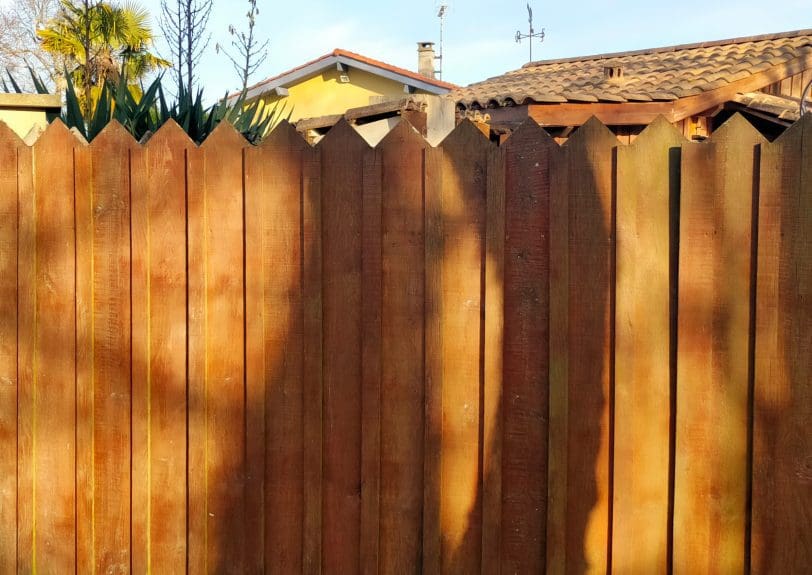 Fence the land of your new house to feel safe
Fences higher than 2 meters are more difficult to climb, as are smooth surfaces that offer few grips to a climbing attempt. Some wrought iron elements, using defensive pins and other anti-intrusion devices exist. Finally, resistant and masonry materials, such as cement, brick and stone, resist drilling and the creation of passages.
See our article: The steps to lay out your garden at the time of construction
A fence that protects the new house from the West wind on the Atlantic coast
An openwork fence for his new house in the Southwest
You don't put just any fence in a very windy region. Along the Atlantic coast, in Arcachon, La Rochelle, on the Basque coast or in the Bordeaux region, a solid fence exposed to the westerly wind can quickly find itself on the ground. In addition, this type of very tight obstacle, if it reduces the wind directly above it, increases its speed a few meters further. It is better to favor openwork protections that allow 50% of the wind to pass through.
What materials for the windbreak fence of the new house?
a good windbreak will filter part of the wind, be resistant and well anchored in the ground. Heather branding and openwork wooden panels will easily fulfill this function. The ideal beinghe natural screens, to be planted in the spring, outside periods of heavy storms. It is generally estimated one breeze-vent protects an area with a width equivalent to approximately 10 times its height.
A noise barrier in the South-West
Noise pollution is a real social problem today. If your new house is located near a road or in a noisy urban environment, it is now possible to insulate your house against these inconveniences as we explained in this previous article. Solutions also exist to reduce ambient noise and also enjoy your garden.
Noise-reducing panels limit discomfort. These acoustic barriers have a sound insulation which will reflect or absorb the sound waves. Here, solid solutions will be more effective and must be located as close as possible to the source of nuisance, which may be your neighbour's heat pump, a road, etc.).
To better understand the interest of noise barriers, read the guide " Build your noise barrier » carried out by the CidB, information center on noise.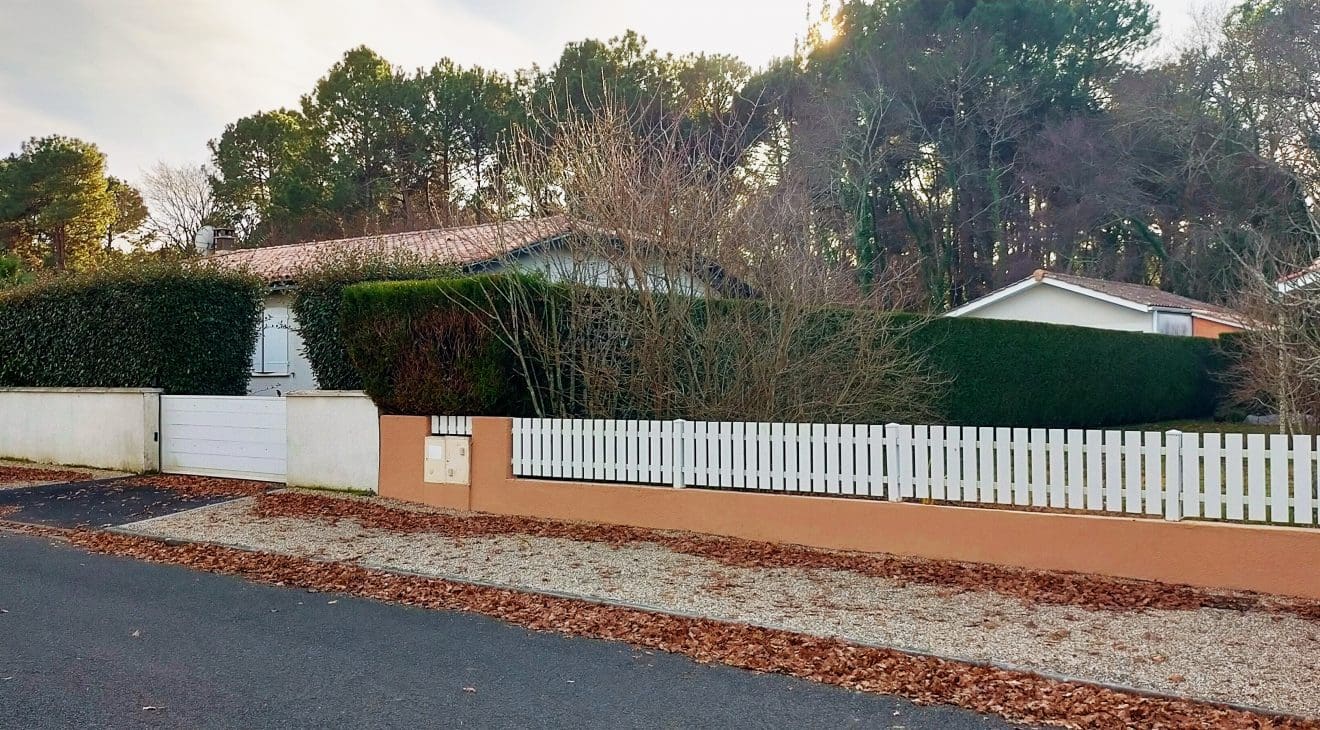 What materials for fence off the land of his new house?
The masonry fence
Stone, brick or concrete block, the masonry fence is the most classic. It can take various forms and evolve over time. The walls are generally coated in the chosen finish (fine float or scraped). The color will generally match that of the coating of the house, but other possibilities exist if they are allowed by the PLU.
Un wall raised as fence of new house
Another possibility is that of a low wall which could then be raised with another material (ironwork grid, wooden claustra, vegetation. This solution, which combines materials, gives more rhythm to the fence and makes it less monotonous, both inside and outside the house
A wooden fence for his new house
Wooden fences offer a natural look while preserving your privacy. Blades, paBlackout neaux, screen, trellis, there is a wide variety of models available in various species. Horizontal or vertical slats, wood also allows DIY enthusiasts to make an elegant and original fence that adapts to any type of architecture. On the maintenance side, wooden slats are generally treated for a longer life. It is also possible to apply oils or stains to preserve the original color.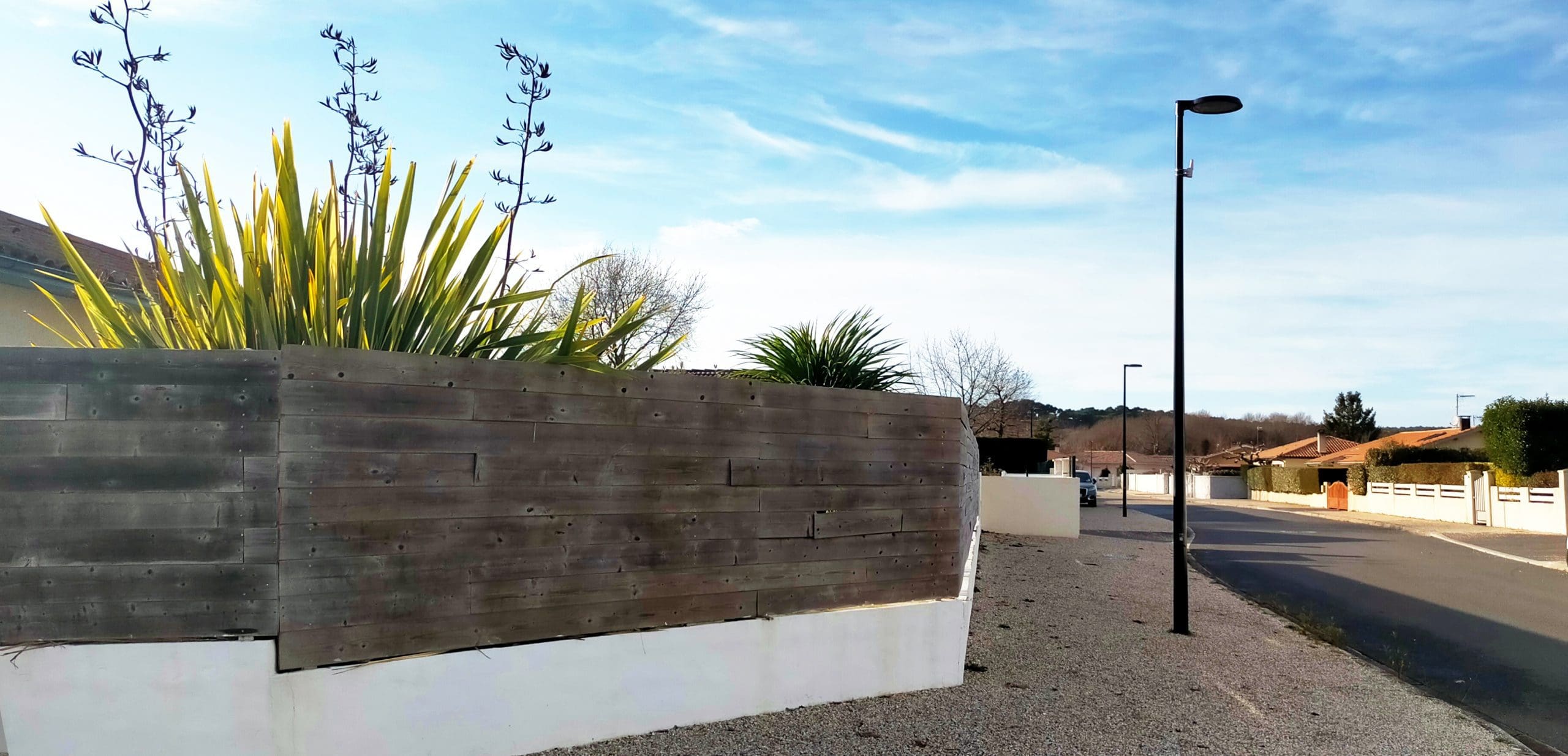 Offer a plant setting to your new home
The most ecological solution is certainly the plant fence which energizes the gardens and provides shelter for hedgehogs, food for birds, etc. Local trees and shrubs are preferred for better adaptation to the territory. Dense and evergreen foliage, such as laurel or cypress, serves as both a view and a windbreak. On the maintenance side, the vegetable hedge is more restrictive than a classic fence. Pruning once or twice a year is a must.
Synthetic fences
Less elegant than other types of fences, PVC fences are inexpensive and are still varied. Composites offer a more qualitative appearance. A mixture of wood and resin, they are available in a wide range of colors and models (panels, blades, etc.). If the maintenance of synthetic materials is easy, they are disposable materials which are scratched and do not allow changes, in particular of shades.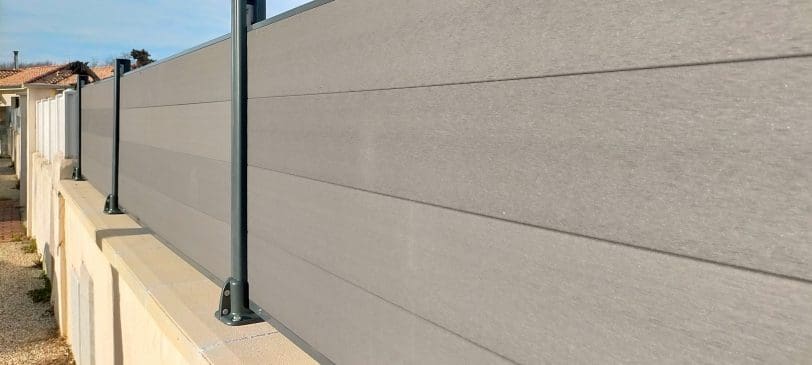 metal fences
Robust and stylish, metal fences are offered in different forms, generally panels that are easy to install. Solid palisades, perforated sheets, aluminum slats, screen or windbreak. There are many shapes and colors. Metal fences have the advantage of aging well and being able to be repainted.
Fence the land of his new house, who to call?
The fence is not the job of the individual home builder. This one does not generally take care of the exterior landscaping. At Maisons Sic, however, the stakeholders are good advice and help you find local partners who will be able to help you develop your garden. " The fence does not fit into the contract for the construction of a detached house. We are not landscapers or pool specialists. However, when my clients are far away, I often have to take care of quote requests", explains José Dias, regional director of the Paris agency for the house builder Sic.
Integrate your fence into the landscape
The fence is the first element visible from the street. To integrate it harmoniously into the landscape, it generally takes up the surrounding codes. It is thus placed in the continuity of the neighboring fences (height, material or color). The design must be inspired by traditional models and techniques, whereas modern materials today encourage a great heterogeneity.
What regulations for its fence in the South West?
If enclosing your land is a right defined by article 647 of the civil code, the local urban plan or the co-ownership regulations of your subdivision can constrain you in the choice of materials, shape, height or color. In the absence of local regulations, article 663 applies. It limits the height of fences to 3,20 meters in towns with more than 50.000 inhabitants and to 2,60 m in other localities. To find out more see the official site of the French administration.