Set up an office in your new house? At the time or the teleworking becomes widespread, many people dream of it. To be functional, it must be well thought out. Your Maisons Sic builder will help you throughout this project.
Well served by transport, benefiting from a pleasant climate and unspoiled countryside, the South West and the Atlantic coasts attract teleworkers. For this clientele, the place of the office is essential. The objective is to benefit from an optimal working environment that is at the heart of the house without encroaching on personal life. A few tips.
Provide office space in your new home from the design of the project
Determine your needs
At Maisons Sic, the advisers analyze your needs with you to design your ideal workspace. How many square meters does your business need? What are your constraints? Do you need one or two workstations? What storage? etc
Provide a separate room for his office in his new house
Having a room dedicated to work is obviously the best solution for working efficiently. The spaces are well separated and the office does not require to be constantly tidy. This additional room can also be used as a guest bedroom. An area of ​​10 m2 is obviously ideal, but a well-designed desk fits easily into a smaller space. In addition, the separate room also makes it possible to create an open space at home where everyone benefits from their workstation.
Imagine a mezzanine office
Insulated and equipped with a roof window, converted attics offer a quiet work space at a lower cost. In addition, the mezzanine also brings charm to the living room it overlooks. This solution makes it possible to take advantage of a low ceiling area. A low height of 1,60 meters is indeed sufficient when seated. In addition, the attic generally offers large storage spaces.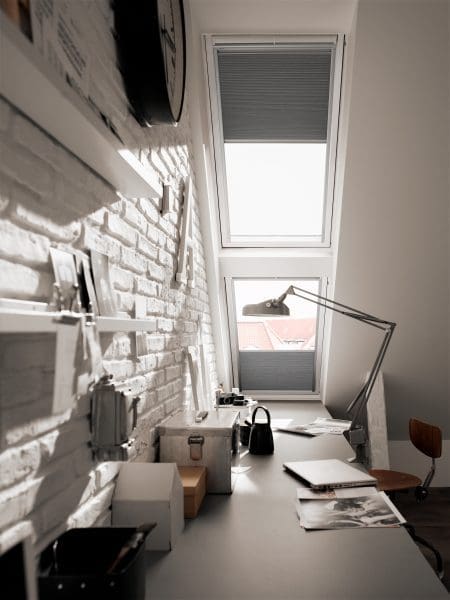 In small apartments, a well-designed office space
In smaller spaces too, it is possible to create pleasant workspaces. Again, your builder will help you optimize every corner to create an ideal and well-thought-out office.
Provide your office in the room
On paper, the idea is good since the bedroom is normally a space that is only used at night. The reality is often less obvious. This solution will suit single people or people who do not plan to use their office when their spouse is resting. The solution ? Delimit the spaces with a partition or a shelf that will separate the rest area from the office area.
Plan an office in the living room
If the office fits easily into a living room, it can be difficult to maintain optimal concentration in a living space. The objective will then be to isolate yourself from sources of noise such as television or children. Here again, solutions will have to be found to conceal the office space. A well-insulated and possibly glazed partition to bring in daylight will provide some privacy, as will a library.
Take advantage of a corner to place your office in your new house
When designing your home, the builder will help you identify spaces that can be converted into offices and storage. A corner of a room, the end of a hallway or the underside of a staircase can be designed to provide additional, functional space.
Provide the right sockets and connectors
Multiply electrical outlets
Desk lamp, screen, computer, printer, speaker, hard drives… the office space quickly becomes overwhelmed with connections. The presence of at least two multistations guarantees the safety of your installations… In addition, additional protection can be added to the meter, such as lightning arresters, etc.
Outlets for internet connection
RJ45 sockets are universal multimedia sockets. They are used to connect to the internet, to connect a landline telephone or television. Providing one or two near the computer is now essential.
USB wall outlets
They are used to charge the many devices that charge with a USB power supply. They will be ideally installed at desk height to charge smartphones, for example.
An optimal internet connection for teleworking
When you build your house with a view to telecommuting, it is imperative to think about the internet connection of the sector. In France, not all areas benefit from identical coverage. There are several websites where you can test the connection of your future home. For example that of 60 million consumers.
The best exposure for the office in its new home
To avoid fatigue and headaches, natural light is important. To avoid reflections on the computer screen, this one is placed in front of a window equipped with curtains or possibly on the side. If the brightness is adequate in the rooms to the North, the rooms to the South are more pleasant on a daily basis. if you work on a computer, avoid placing your back to the window to avoid reflections on the screen. For darker spaces, a glass tile partition or a skylight will bring light to an adjacent room. likewise, it is possible to install a skylight or a skylight for overhead light.
To go further see the article Optimizing the brightness of your new home: construction tips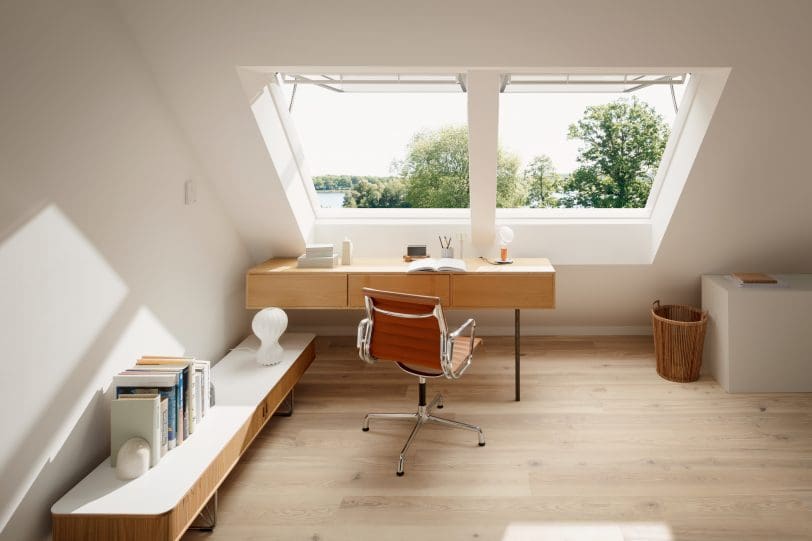 Design custom office furniture by its builder
Having your house built is an opportunity to be able to create your ideal workspace. A tailored workspace will help you earn money2 and to benefit from an ergonomic environment in relation to your activity.
A sufficiently large office
The size of the desk will depend on your usage. For anyone with a computer, a minimum depth of 50 cm is recommended. After the width will depend on your needs. Some will be satisfied with a discreet desk while others will need space.
Build storage for the office in the new house
Shelves are the essential allies of a tidy office. Using the entire section of the wall to hang boxes or wall shelves is a good idea. The space saving is obvious and practicality at the rendezvous.
Build your office with suitable materials
A durable floor covering
The wheels of the office chair are a nightmare for the floors. Then prefer resistant coatings such as tiles or even parquet that can be renovated. Watch out for laminate flooring that wears out quickly, or protect it with a rug.
Take care of the sound insulation of this space
The office should be a quiet room, isolated from the noise of the house. This helps your concentration and also protects other inhabitants from the intrusions of your work into your living space via videoconferencing for example. Your builder will know how to make a partition with appropriate sound insulation.
To learn more, read the article The sound insulation of his new house in the Sud-Ouest