Capital of the Lot Valley, Cahors is a dream place to build a house and enjoy the sweetness of life in Occitania. Very close to major cities such as Toulouse, Montauban or Albi, Cahors is located in a territory of rare wealth. Wealth of heritage, gastronomic wealth, wealth also of sites among the most beautiful in France. Building a house in Cahors, on economically and culturally dynamic land, remains an excellent investment. SIC houses gives you 5 reasons (among many others) to choose Cahors for your future home.
Build a house in Cahors, 1 hour from Montauban, 1h30 from Toulouse and Albi
In the heart of Occitania, Cahors benefits from excellent road connections, thanks in particular to the A20 motorway. If, on the railway plan, the city deserves to be better served, it has no "train" behind at the digital level because it already benefits from fiber.
Build your house 60 km from Montauban
Closest to Cahors is the town of Montauban, only 60 km. The so-called "little pink town" has (almost) nothing to envy to the big one. It is indeed both an agro-food center but also a center for electronics, industrial mechanics and a very dynamic city, on a human scale.
The construction of a house near Toulouse and Albi
It is therefore very easy to telecommute in Cahors and to stay in constant contact with the major cities around. Indeed, Cahors is only a hundred kilometers fromAlbi and Toulouse. We talked to you in this article about the advantages of building a house in Albi of all the interest of this big city, between nature, sea and mountains, which offers a secure, reassuring and dynamic environment for studies. Building your house around the Toulouse region also means taking advantage of all the beneficial aura of the city of Toulouse. The capital of the Occitanie region, also the capital of the Haute-Garonne department, combines remarkable architectural heritage, academic excellence, the presence of large cutting-edge companies and a real sporting dynamism...
Directly linked to these 3 cities, Cahors thus makes it possible to benefit from a rich economic, cultural and student life and to be close to a major airport and major train lines.
Cahors, a medium-sized town with a historic, green and peaceful living environment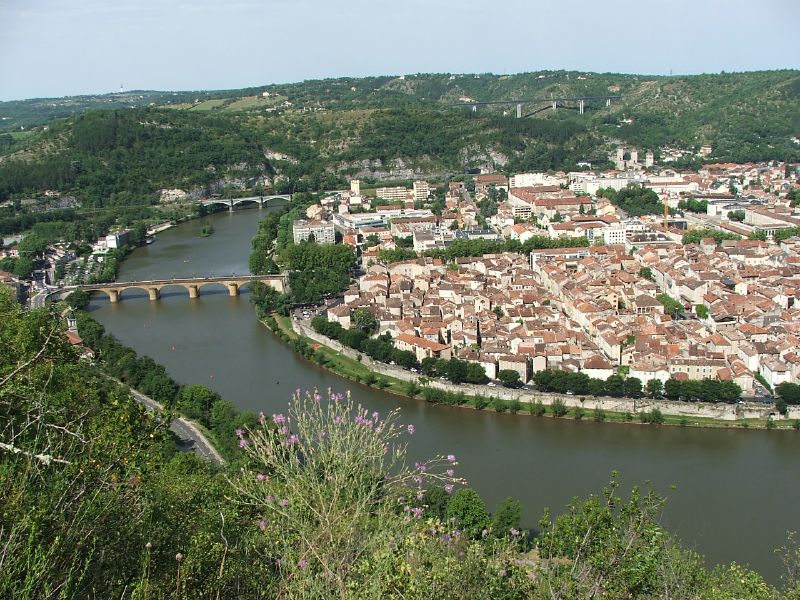 The main asset of the city of Cahors is certainly its strong and perfectly preserved historical past, which gives it that little bit of soul that leaves no one indifferent. It is, among other things, for this undeniable charm that the 2021 ranking of Towns and Villages where life is good ranked Cahors 1st city in its department and 18th city (where life is good in France) among the municipalities of 10 – 000 inhabitants in France.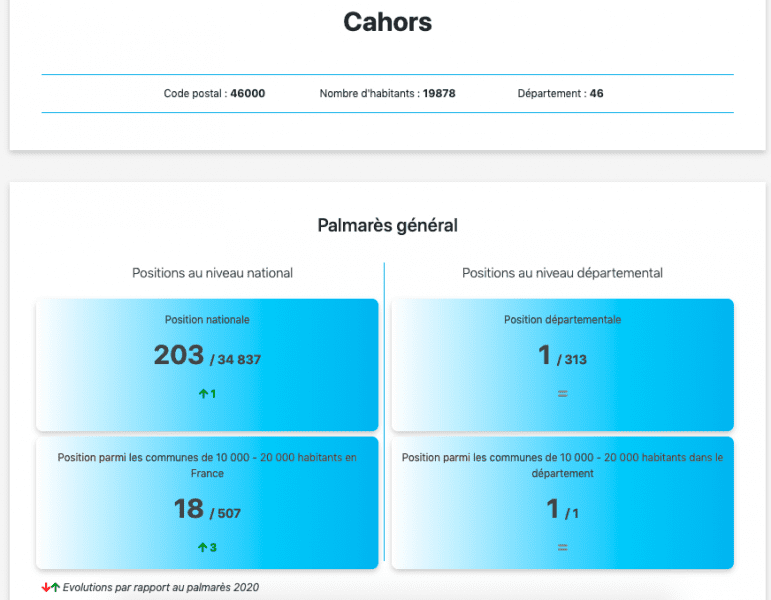 Valentré bridge, hidden medieval gardens, Saint-Etienne Cathedral…: the historical heritage of Cahors
Simply take a stroll on the banks of the Lot or in the center of Cahors to feel all the history of France that is still present there. 22 secret medieval gardens, hidden throughout the city, bring subtle touches of greenery and magic to the city. The narrow streets themselves seem to speak to us of the past and Cahors remains the southern town with the largest number of medieval houses. the majestic Saint-Etienne cathedral, visible for miles, is breathtaking. And cross the Lot by the Valentré Bridge remains a unique experience. These last two monuments are classified as World Heritage by UNESCO under the Ways of Saint James.
The Lot and its Valley, all around Cahors
Cahors is a city that really breathes, even when the summer heats up. Maybe because it is surrounded by the river and the hills. It is also advisable to go on foot (for the bravest) to climb the 800 meters of altitude of Mont Saint Cyr to admire the whole city as a whole. From this unique vantage point, it is easy to realize the importance of nature in and around Cahors.
Building a house in Cahors is therefore the guarantee of enjoying a green setting all year round and breathing deeply.
A house in Cahors, to enjoy the Lot Valley and the most beautiful villages in France

It is often following a crush on vacation in the Lot that we decide to come and settle in Cahors. The region has many attractions and its landscapes are breathtaking, like the beauty of its world-famous villages.
Saint-Cirq-Lapopie, Rocamadour and Puy-L'Evêque: the most beautiful villages around Cahors
Favorite village of the French, also classified among the Most Beautiful Villages of France, the medieval village of Saint-Cirq-Lapopie allows you to travel through time. Strolling through the alleys of this village perched 100m above the river on a rocky peak, you will once again feel the significance of the region's historical heritage.
60 km from Cahors, Rocamadour is a majestic site, all in verticality. A major step on the way to Santiago de Compostela, Grand Site of Occitanie and listed as a UNESCO World Heritage Site, the religious city of Rocamadour is a place that can be discovered several times as the maze of its streets reveals little hidden treasures.
A little less known but just as steep, the village of Puy-L'Eveque dominates the Lot river and allows you to enjoy magnificent panoramas. Just like Cahors or Saint-Cirq-Lapopie, Puy-L'Evêque offers, in its alleys, very beautiful historical discoveries.
Building a house in Cahors and having access to such beautiful villages in a few minutes remains an unequaled pleasure.
The enchanting landscapes of Quercy Blanc, the prehistoric cave of Pech-Merle, the phosphate mines of Cloup d'Aural...
Many natural sites around Cahors add to its natural charm. White stone, sunflowers and lavender, the Quercy Blanc offers to see magnificent Romanesque churches, fortified towns and medieval villages.
The Cloup d'Aural phosphate pits take you down into an open pit where the almost tropical landscapes that surround you tell you about the vagaries of the climate over more than 30 million years.
There are many caves to visit around Cahors, but that of Pech Merle is one of the most exciting. Its walls are covered with prehistoric paintings and engravings over 20 years old of more than 000 animals.
Choose the friendliness and warmth of a house in Cahors for its unparalleled heritage and gastronomy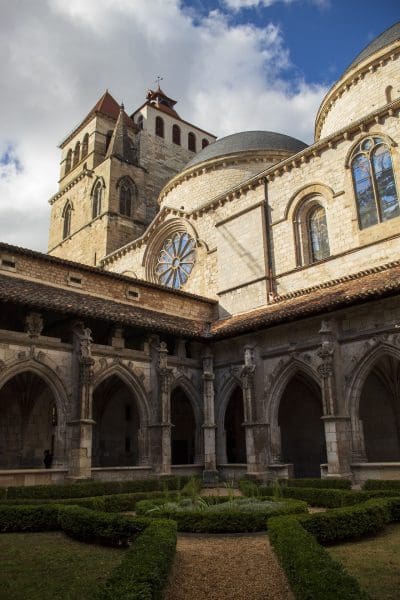 It's no secret: in the Lot valley, we eat wonderfully well! It is the paradise of local, seasonal products, as fresh as they are good. Here, you can find Lalbenque truffles but also duck in all its forms (confit, foie gras or duck breast). You can spread Rocamadour cheese on Croustilot (local bread). Or cook with saffron, melon, walnuts and Quercy lamb. There is no shortage of delicious Quercy recipes, such as pastis (a crispy, slightly alcoholic apple cake), mique (a kind of stew with a leavened dough made from eggs and duck fat), and the famous Quercy salad. without forgetting, for amateurs, the famous Cahors wine and its Malbec grape variety.
All these wonderful products, you will find them in any season (and at very reasonable prices) on the colorful markets of the Lot Valley. And it's in Cahors and Prayssac that you can enjoy the most beautiful markets in Midi-Pyrénées,
Call on a house builder in Cahors, to take advantage of a major economic center
Cahors is at the heart of a department which has a diversified agricultural activity, although dominated by viticulture. The tourism sector is also very important, economically speaking. But Cahors and its region are not dependent on these two areas of activity, far from it. As explained by the city factory : "Cahors concentrates 24% of the department's population and has developed a strong profile as an administrative and service town. The structure of employment is thus dominated by the face-to-face sphere (77% of employment in Grand Cahors) and by public employment (public administration, education, health and social action) ..
Thus, Cahors has a higher level of equipment and infrastructure (hospital, theatre, cinema, etc.) and a great vitality of its commercial fabric in the city centre.
—
Some examples of our house offers in the Lot: https://sic-habitat.com/vente/?_departements=departement-lot