When you build a new house, you must think about many aspects, like the size of the house, the type of construction, the style and materials, the wall to be mounted. One of the elements that should not be overlooked is the shelter for your car. A garage or carport is an excellent way to protect your vehicle from bad weather, dust and petty theft.
If you plan to build a garage or a carport for your new house subsequently, via an extension, the wooden frame is an excellent option. Wood is a natural, durable and aesthetic material.
Maisons SIC, builder of new houses for over 50 years, explains the advantages of wooden frame extensions for garages or carports.
Building a garage or carport for your individual home: the advantages of each solution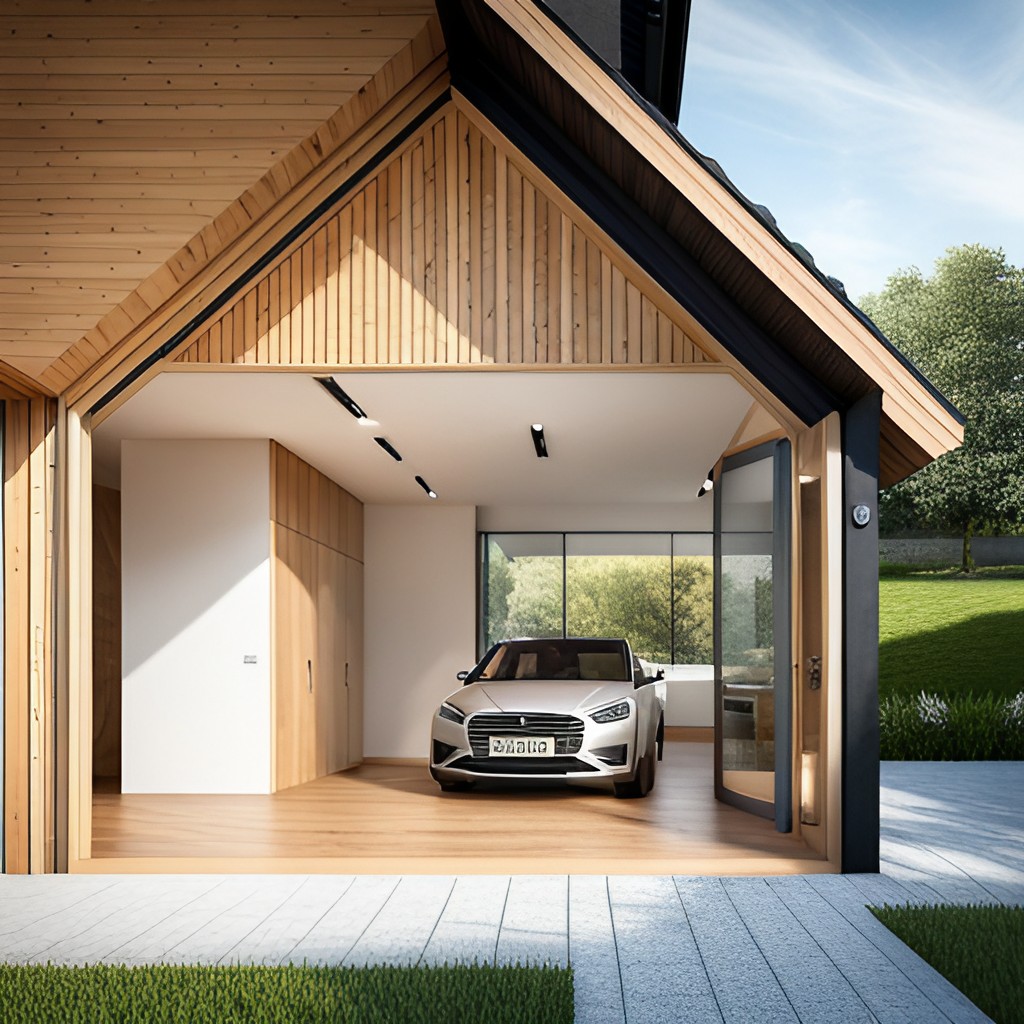 What are the respective advantages of a carport and a garage for your individual home? But, to begin with, what exactly is a carport? And what is the difference with building a garage?
A carport is an open structure, usually consisting of a roof supported by pillars, intended to house vehicles.
Unlike the construction of a garage which is a completely enclosed space, the carport offers lighter but often sufficient protection against the elements like rain or snow.
Weigh the pros and cons of each option, discover the different prices and highlight factors such as safety, versatility and aesthetics… This will allow you to make the choice best suited to your needs.
A garage, for more storage, security and protection
Opting for a house extension in the form of a closed garage has many advantages. The first is undoubtedly Security. A closed garage not only secures your vehicle, but also protects against the risk of theft of your property. The garage is an additional barrier between the outside world and your home.
Protection against bad weather is another major advantage of building a garage. No more shoveling snow from your car in winter or cleaning leaves in fall. The garage gives you peace of mind by keeping your vehicle protected from the elements.
But building a garage isn't just for parking your car. It is also a versatile space that can meet various needs. Need a workshop for your crafts? The garage can accommodate your tools and materials. You can even set up a space dedicated to your hobbies or DIY projects.
In need ofstorage space ? Building a garage is an ideal solution for storing seasonal equipment, furniture or lightly used household items. Some go so far as to transform their garage into additional living space such as a games room, home theater or even a small gym.
How much does it cost to build a garage?
Building a garage is a project that can vary considerably in price depending on several criteria. First, dimensions and surface area play a major role.
The larger the garage, the more its price increases.. On average, building a wooden frame garage costs between €500 and €1 per square meter. For a surface area of ​​500m², expect to pay between €20 and €10.
The materials are also decisive in setting the price. For the construction of a garage, the wooden frame remains a preferred option for its aesthetics and durability. Depending on the type of wood chosen, such as pine, oak or cedar, the cost may vary. Cedar, for example, is generally more expensive.
Comparatively, concrete block may be less expensive, but its workmanship is often considered less aesthetic than wood. However, its use remains common in the construction of a garage for its insulating effectiveness.
Because the price of building a garage depends on many criteria, it is essential to carefully evaluate your needs and your budget before getting started.
A carport, cheaper and "lighter" than a garage, in terms of architecture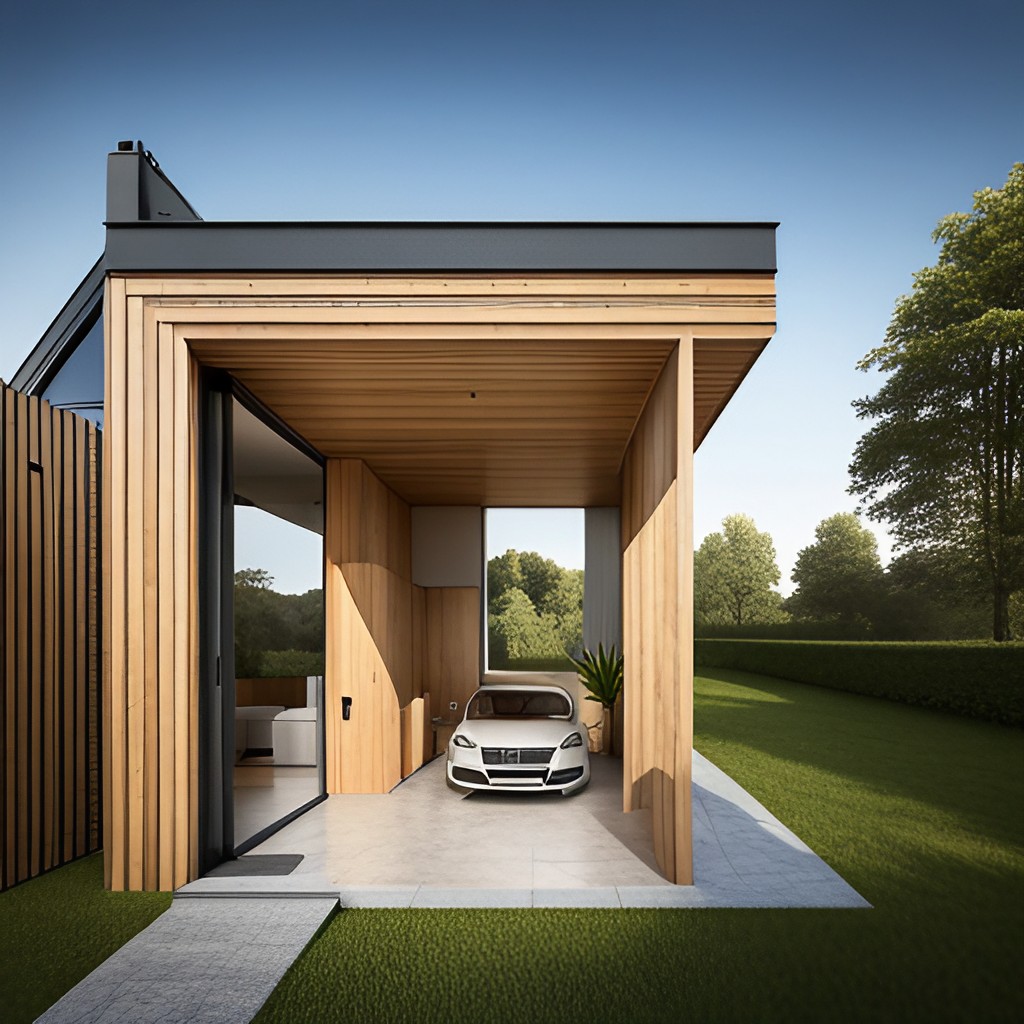 If the idea of ​​building a garage seems too expensive or imposing to you, the carport is an attractive alternative.
The most obvious argument in its favor lies in the cost and simplicity of its construction. Building a carport is generally less expensive than building a closed garage. The structure requires fewer materials and labor is often less intensive.
The effectiveness is another advantage. A carport is built more quickly, which means less construction time and minimal disruption to your daily life. Furthermore, its light structure facilitates administrative procedures, which are often less restrictive than a garage.
On the architectural side, the carport offers a "lighter" aesthetic than building a garage. Its open structure blends more easily into the existing landscape, whether modern, classic or rustic. This allows for harmonious integration with different styles of homes or exteriors.
Location flexibility is also an advantage to consider. The carport can often be placed in different locations on your property, depending on the needs of you and your family. This flexibility can be particularly useful if you are considering future modifications or additions to your home.
Why choose wood to build your garage or carport extension
If you are considering building an extension to your home, such as a garage or carport, choosing wood offers notable advantages.
First of all, let's talk ecology. Wood is a renewable and biodegradable material, making it a greener option compared to traditional materials like concrete or steel. Its life cycle has a lower carbon footprint, thus contributing to reducing the environmental impact of your project.
In terms of types of wood, you are spoiled for choice according to your needs and your budget. THE softwood such as pine or fir are often less expensive and resist bad weather. THE hardwood such as oak or beech offer superior durability and aesthetics. For increased resistance, you can opt for treated wood.
do not forget to check ecological certifications during your purchase. Labels like FSC (Forest Stewardship Council) ou PEFC (Program for the Endorsement of Forest Certification) guarantee that the wood comes from sustainably managed forests.
It is indeed necessary to pay attention to the origin and provenance of the wood, to limit the carbon impact. At Maisons SIC, the wood used is European and classified according to standard NF B 52-001 then sorted while respecting its singularities: number of nodes, diameters of the nodes, resin pockets, biological alterations. Moreover, at Maisons SIC, as soon as the wood is taken into our factory, it receives a fungicide treatment, and a colored treatment to be certain of its execution. And our extensive experience in the construction of wooden frame houses ensures the longevity of your project.
Wood is not only environmentally friendly, it is also aesthetically versatile, easily adapting to different architectural styles. Whether you are looking for a modern or traditional extension, wood can be worked to match the ambiance you wish to create.
Options for fitting out a wooden frame extension for your garage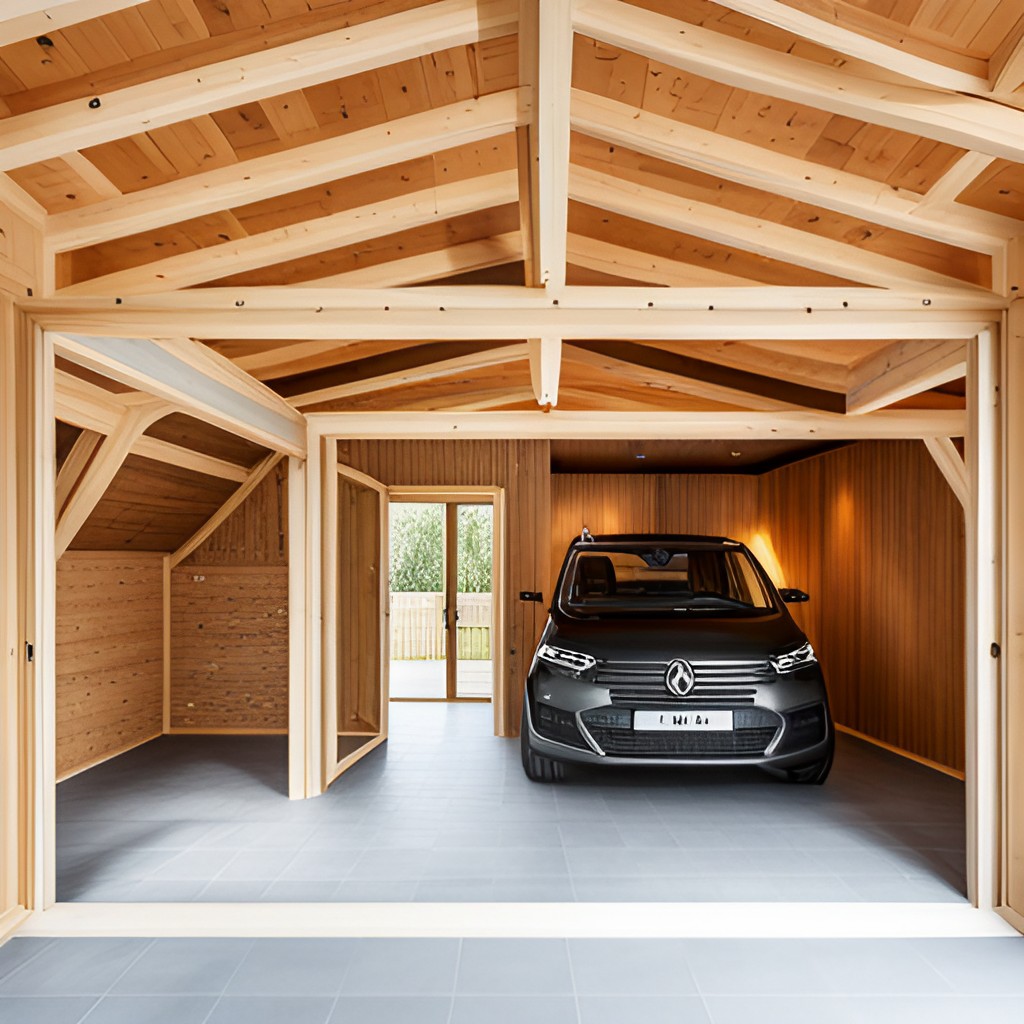 If you opt for a wooden frame garage extension, several layout options are available to you to create a versatile, functional and comfortable space. How to maximize the efficiency of building your new garage space? What should be the size and surface area of ​​your new garage? Which door to choose?
First, consider storage solutions. From wall shelves to storage cabinets, organization is key to maximizing available space. You can also install hooks or racks in the ceiling to hang seasonal equipment, like bikes or kayaks, to free up floor space.
do not forget electrical installations. If your garage is going to be used as a workshop or playroom, provide enough electrical outlets for all your needs. Adequate lighting is also essential, so consider ceiling spotlights or task lights above worktops.
Heating is another aspect that should not be overlooked, especially if you plan to use the space in winter. Solutions like electric heaters or underfloor heating can make your garage much more welcoming during the cold months.
If your budget allows, consider thermal and sound insulation of the extension. Not only will this make the space more comfortable, but it can also reduce your energy costs in the long run. To do this, using the right materials (cinder block, wood, others, etc.) and the right door can help a lot.
Regulations and permits for the construction of your wooden frame extension
Before you start building a wooden garage or carport, it is crucial to familiarize yourself with the regulations in force and the documents necessary to carry out your project, particularly from the town hall. It is important to remember to ask permission from the right people.
First of all, check if a building permit is required for the construction of your garage. In general, any new construction of more than 20 square meters requires a permit. For smaller structures, a simple prior declaration of work may be sufficient.
It is also essential to consult the Local Urban Planning Plan (PLU) of your municipality before starting any construction. This document details local planning rules and may contain restrictions regarding permitted materials, distances to property lines, and other criteria specific to your geographic area.
Don't forget to take into account insulation and safety standards for new construction, especially if you plan to use your garage for something other than parking. Standards such as RT 2012 or the future RE 2020 may apply to your project and require adjustments to your construction plan.
—
Calling a professional is often the best way to navigate this regulatory maze.
If you are looking for reliable, quality expertise for the construction of your wooden frame house, feel free to contact Maisons SIC. With their experience in building new homes, they will be able to guide you effectively through all stages of your project.