Formerly the prerogative of architects' residences, the flat-roofed house is now accessible to all. Immediately offering style to the house being built, the flat roof can even provide additional outdoor space by transforming into a roof terrace. SIC houses, builder of quality houses for 50 years in the Southwest, explains the (multiple) advantages and (small) disadvantages of a flat roof for your future home.
Flat Roof / Terrace: professional work in the construction of new homes
Perhaps even more than for the construction of a house with a sloping roof, it is absolutely essential to surround oneself with perfectly approved professionals when building a house with a flat roof / terrace.
For what ? Because this flat roof requires taking into account many technical aspects that only a professional can manage without unpleasant surprises (such as SIC houses which offer flat-roofed houses among others in the contemporary line and the elegance line of his house models).
A house with a not really flat roof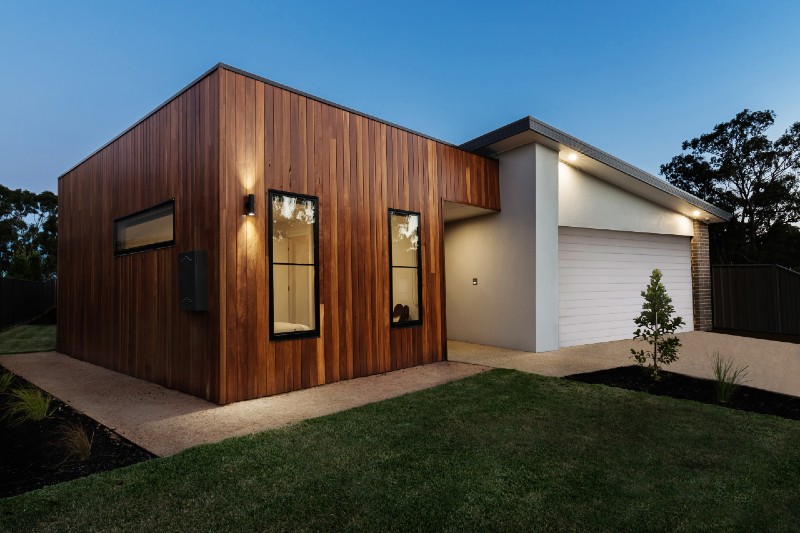 What is a flat roof? It is a flat roof, made up of a floor, a vapor barrier, thermal insulation, an EPDM waterproofing membrane to cover the insulation and openings as desired.
If it were really flat, the roof terrace would pose small water drainage problems. In effect, to properly evacuate rainwater, flat roofs must actually offer a slope of at least 1% inclination and a water drainage system in the lower part. Flat roofs therefore often have a small domed shape, which is not necessarily visible to the naked eye. And to create this slight inclination, only a professional can accompany you.
A flat roof with a good structure
Due to its lack of slope, the flat roof requires a very specific framework. But it is also necessary estimate as accurately as possible the weight that the structural slab will have to support. If you opt for a roof terrace, you have to think about the number of people who will be able to sit there, the furniture. If you live in a cold region, you have to think about the weight of the snow. And if you opt for a green roof, a garden roof, you have to think about the weight of the earth and the plants. A calculation that can only be made by a professional in the construction of houses with flat roofs.
Proper sealing of your flat roof
Building a flat roof requires working well on the realization of its waterproofing coating. And, once again, if you choose a roof terrace, you will have to push the thinking even further by protecting this sealing system from repeated shocks (frequent passage of people in the same place, chair legs, tables, etc.), which could damage the waterproof layer of the roof terrace, via coverings such as tiles, wood or synthetic materials.
Choose a flat-roof home builder in the southwest, like Maisons SIC
The choice of manufacturer is crucial. Opt for a professional offering a contract for the construction of an individual house (CCMI), as SIC Houses. It is essential that the construction of your home be strictly supervised, by a professional with a serious label such as Effinergie or NF HQE. Because realizing a terrace roof or a flat roof is a matter for professionals, equipped with a strong necessary experience.
The advantages of a single-family house with a flat roof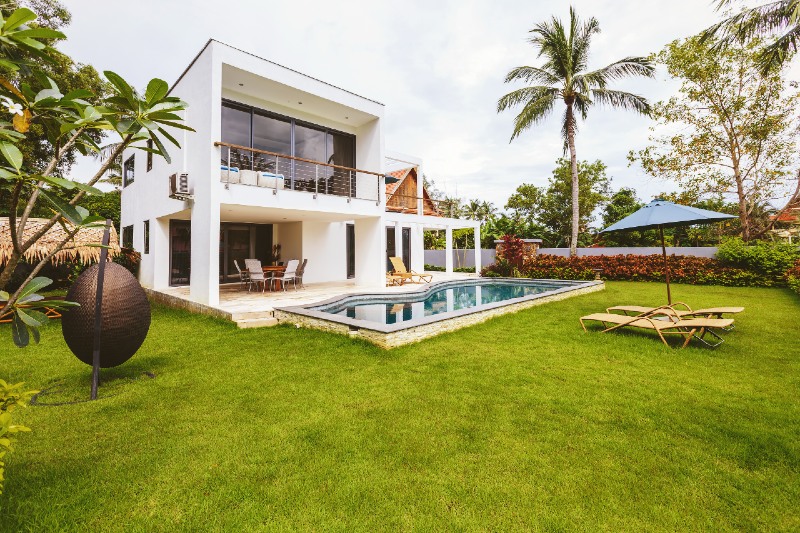 A more contemporary, more modern style
It's a fact, building a house with a flat roof means choose a house which looks very modern from the outside. Flat-roofed houses remain fairly atypical dwellings. But which, paradoxically, integrate even better into the landscape and into their environment than the houses with sloping roofs, with their large bay windows which open up the view.
Greater architectural freedom
By opting for a house with a flat roof, it is possible to modulate the spaces, by harmoniously mixing a large number of geometric shapes (square, triangle, rhombus, etc.). It is thus very easy to design "off-the-shoulder" volumes, like cubes that "cascade" without having any problems with roof connections.
Urban artist no living space will be "lost" because of the slope of the roof, like on a house with a pitched roof, since the ceiling is horizontal. Same advantage of square or rectangular spaces: the interior layout is easier and you don't have to call on custom-made to stick to irregular volumes.
A terrace for even more outdoor spaces
The development of a flat roof terrace is a cost that is reflected upstream because it will require better protection of the ground, to include access and to install guardrails to avoid any risk of falling. But having a roof terrace can be a real plus. Raised, your roof terraces (because you can have several) have permanent access to the sun and without any vis-à-vis. You can also allow private access to certain rooms in the house and create, for example, numerous independent terraces for your different bedrooms.
Even better, your roof terrace can be transformed into a green roof, which has advantages in all seasons, in particular ecological: in summer, your roof terrace with its plants and its earth offers significant thermal inertia and brings freshness inside. In winter, the roof garden restores the heat accumulated during sunny days. Savings in heating which can then prove to be significant!
A trend encouraged by the revision of local urban plans (Plu)
It is always essential to consult, before his plan to build a house with a flat roof, the PLU of his municipality to know the regulations in terms of roofs. Fewer and fewer municipalities do not authorize this type of architecture. More open to changes in the urban landscape, PLUs are now much more often in favor of flat roofs.
A roof just as strong as a pitched roof
Thanks to the evolution of materials (such as PVC membranes) and in particular thanks to the discontinuation of bitumen on flat roofs (which had a tendency to crack), the flat roof is now as strong as a pitched roof.
A flat roof for even more light in your new home
Cube houses with flat roofs often have large bay windows, which are easy to fit over perfectly square or rectangular spaces. It is also very easy to install roof windows on flat surfaces, to create skylights. There is therefore often many more opportunities to bring natural light into a flat-roofed home.
The small disadvantages of a flat roof / terrace when you have your house built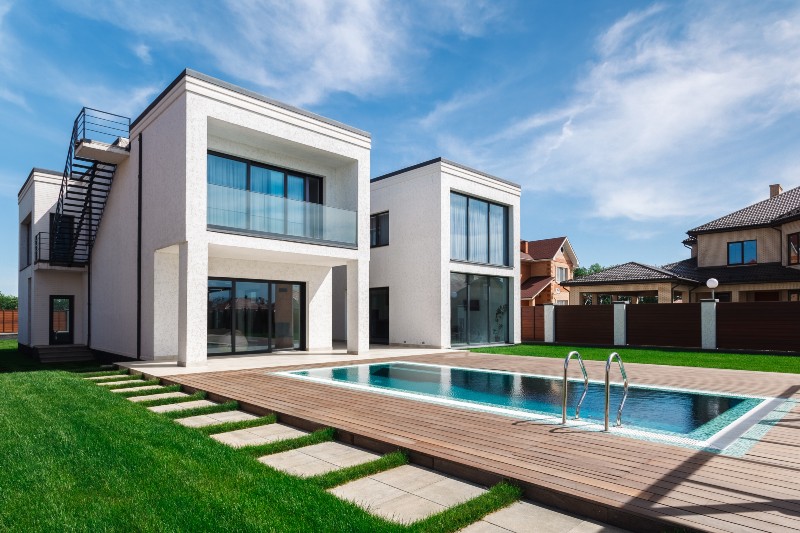 The slightly higher cost of the flat roof
Due to its construction constraints, the flat roof is more expensive than a pitched roof. Indeed, a flat roof in a house requires a suitable frame, high enough walls, a solid structural slab and a sealant. But the possible energy savings (and the lower need for maintenance compared to a tiled roof) can, in the long term, make up for this price difference.
Worse thermal performance for the flat roof
For an equivalent budget, the thermal performance of a pitched roof will be better than that of a flat roof. Because flat roof insulation is still more restrictive and less thick. But also because the "traditional" sloping roof allows thicker and therefore more efficient thermal insulation thanks to the attic.
But if you add a roof overhang to your flat roof, you will be able to limit the penetration of the sun in summer and favor it in winter, thus increasing the thermal performance of your house. Wind resistance is also reduced, which further limits heat loss.
The flat roof / terrace: unsuitable for certain regions of France
In Csome mountainous or very rainy regions, we must admit that the flat roof does not turn out to be the best solution. Always check with the new home construction professionals in your area to make the right choice of roofing.
—
Call on the professionals of Maisons SIC to build the new house that suits you, with a flat roof or a pitched roof, in the south-west and throughout France: contact us!