Building a detached house in Toulouse is a dream very popular with the French. But the pink city is not accessible to all budgets. deciding to build a new house around Toulouse only has advantages: a lower budget, larger land, a single-storey house, access to all amenities. Maisons SIC, builder of contemporary houses in Toulouse for 50 years, explains the advantages of moving away from the city.
Build a house near Toulouse to be next to a big city
Whether you choose to build your new home 5 km, 10 km or 20 km from Toulouse, you will be able to take advantage of the assets of this city.
For example, if you choose to build your house north of Toulouse, you will be able to take advantage of the accessibility of the A62 motorway, which will take you to town in a few minutes from towns such as Aucamville, Saint-Jory or Fronton.
The city of Toulouse has many advantages. This dynamic and attractive city is ideal for building a house in its surroundings.
Among its main attractions is its exceptional quality of life. Toulouse is regularly ranked among the most pleasant cities to live in France. It offers a very gentle living environment, thanks to its many parks and green spaces, its sunny climate (in the Top 10 of the sunniest French cities in France) and its friendly atmosphere.
For those who wish to settle there to work, the economy of Toulouse is flourishing: the city is a major economic center in the field of aeronautics, space and new technologies. It hosts many renowned companies such as Airbus, Thales and Safran, thus offering many job opportunities.
The cultural heritage and the local gastronomy are two other strengths of Toulouse. By calling on a builder from the Toulouse region, you give yourself access to prestigious places such as the Cité de l'Espace or the Musée des Augustins, to a large number of restaurants and local markets with a thousand flavors.
SIC houses is a builder of new houses established for many years in Haute Garonne and more specifically in Toulouse in The Salvetat Saint-Gilles and Noah. Visit one of our Maisons SIC agencies in Haute-Garonne or contact us .
Building your new house near a big city such as Toulouse, accompanied by a professional, such as shops, schools, hospitals, public transport, etc.
To read on the same subject:
The construction of a house around Toulouse for a larger plot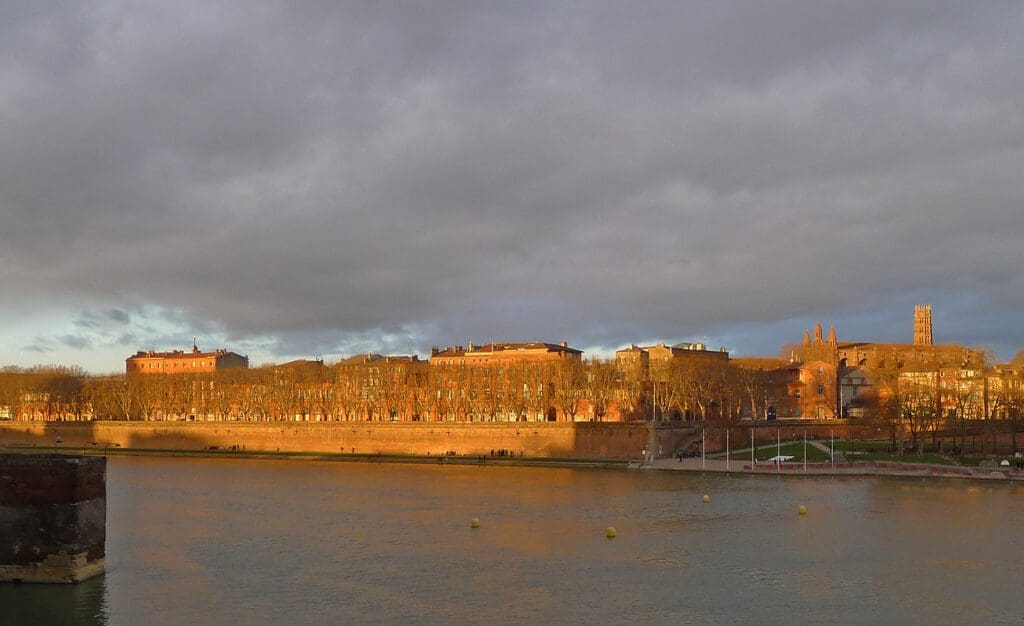 In town, the land offered for the construction of a new house is necessarily smaller. Choosing to build your house outside Toulouse therefore often allows you to have a larger plot.
In fact, the land available on the outskirts is often more spacious than in the city centre. This allows you to benefit from a larger garden, or even to install a swimming pool, a terrace or a vegetable garden.
A larger plot can also offer more privacy and tranquility, away from the hustle and bustle of the city. Depending on the geographical area chosen, the land can be up to two or three times larger than those in the city center, thus offering a real outdoor living space for the whole family.
To read on the same subject:
Building a single storey house near Toulouse, possible solution if you move away from the city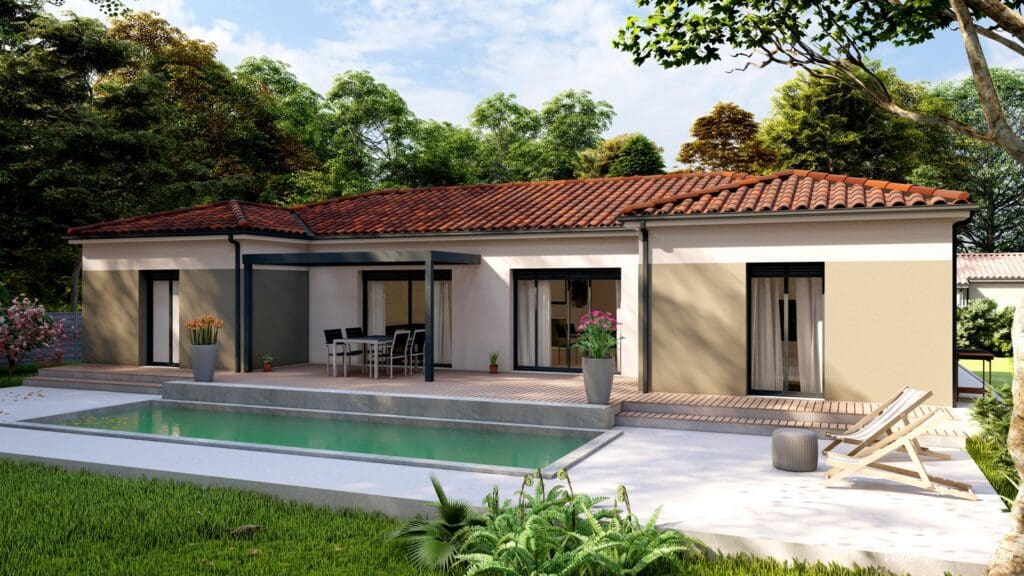 Choosing to have your house built outside Toulouse can allow you to afford a single-storey house. In the city, the Local Urbanism Plans (PLU) can slow down construction projects, the classified areas being very numerous. The requirements of architects of French Buildings can also limit the possibilities of construction.
In the countryside, on the contrary, it is easier to imagine a single-storey house project, due to the availability of larger plots and the absence of constraints linked to urban density. For dynamic seniors, the countryside can also offer interesting possibilities, with long residences to facilitate daily life.
To read on the same subject:
Choose to build your house near Toulouse to reduce your budget
Living in the countryside and choosing to build next to (and not in the centre) a city has another definite advantage: cost. The land available for building a house in the countryside is often less expensive than in town.
This price saved on the purchase of your plot will then allow you to think about a more ambitious project: a larger plot or an extra floor or swimming pool or a garage...
But be careful, when you decide to build a house near Toulouse, don't forget to find out beforehand about the distance from schools (schools, colleges, high schools), if you are with your family, the budget car to plan if you have to go often to town or the distance to the first shops around your land.
Where to build a house around Toulouse for cheap land?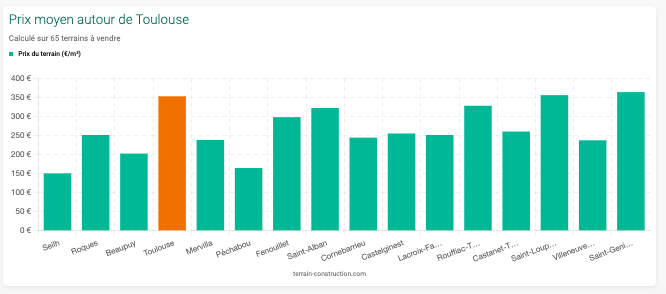 Land-construction is an interesting resource to know the villages around Toulouse where land is the least expensive. You should know that on average, the average prices per m2 of building land in Toulouse and around are as follows in April 2022 were: €247/m2 20 km from Toulouse, €309/m2 10 km from Toulouse , 399€/m2 for building land 5 km away.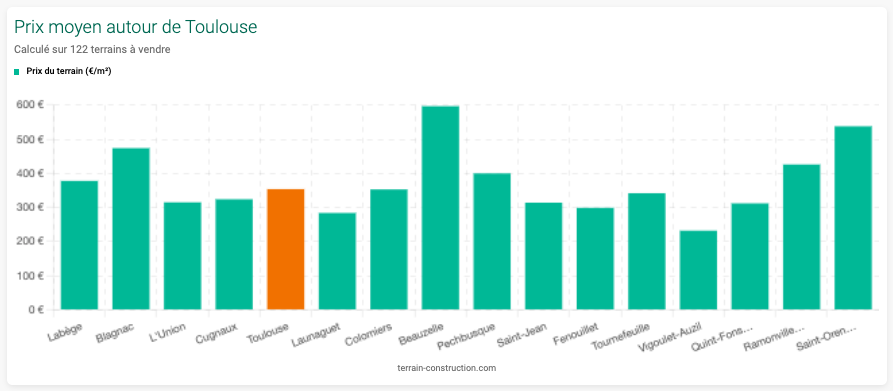 We then see that, among the towns and villages where to build a house around Toulouse, the most interesting are:
Vigoulet-Auzil (22 km)
Pechabou (20 km)
Seilh (16 km)
Launaguet (10 km)
To read on the same subject:
How to choose the right builder around Toulouse
It is essential to surround yourself with an experienced builder of individual houses who knows the region well, the construction processes, the local regulations and the specificities of the real estate market.
A local builder who is familiar with the specificities of Toulouse in terms of new home construction can offer you personalized support and technical expertise to guarantee the quality of the construction and respect the deadlines and budgets set.
In the south-west of France, SIC Houses are a reference builder, with more than 50 years of experience in the construction of individual houses in Toulouse and the surrounding area. Their know-how and their commitment to quality, safety and respect for the environment make them a wise choice for any new home construction project.
To read on the same subject: