Woman or man, everyone dreams of a dressing room to store all their clothes, shoes and fashion accessories. The construction of a new house is the perfect opportunity to afford this little taste of luxury, this extra room that you cannot improvise in an old house. But which dressing room to choose in your new home? What dimensions? Which equipment to choose? Where to place the dressing room in your house? So many questions to which SIC houses, a specialist in the construction of new homes, will help you answer.
Where should you arrange your dressing room when you are building your house?
When you already own a house or are looking for an old house, creating a dressing room on the existing one can pose many problems. But when you decide to build a new house (and call on, for example, Maisons SIC and its decoration experts whose showroom and all the storage options are on virtual tour HERE), creating a dressing room becomes almost child's play.
All the choices are then available to you to define where you will build the dream dressing room within your new home. We will simply have to think about this space before the construction, when the plans are validated.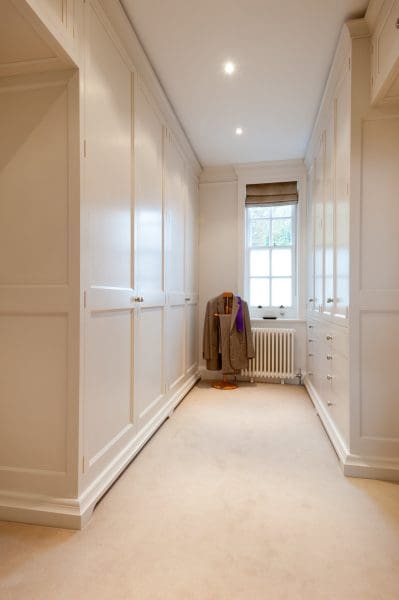 Choose whether or not to see your dressing room: in a closed room or not?
The great fashion in terms of dressing is now to see all your clothes and to be able to "exhibit" them as you display beautiful dishes in your dining room or kitchen. Wardrobes without doors or with glass doors are therefore increasingly popular. They also allow you to spend less time searching.
Install your dressing room a room entirely dedicated to him is a bit like "the king's choice". We can then create a real universe of storage, or even play on the decoration and put seats. Ideally, this room is located next to the master suite or bathroom.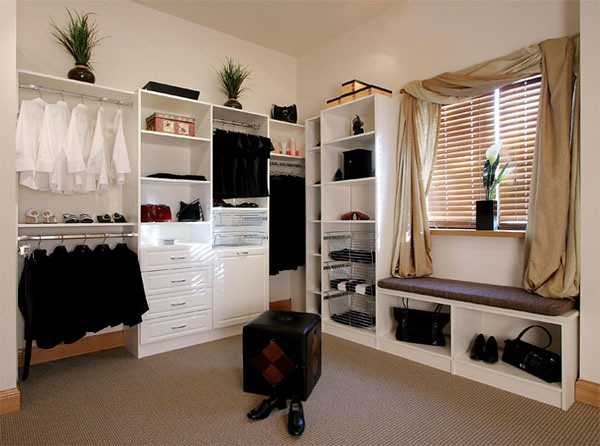 Bedroom rHowever, it is the place where you find the majority of dressing rooms, since it is often the place where you get dressed. A large bedroom can make it possible to install an open dressing room or with hinged doors on one, two or even three sections of wall, in a partition, in an angle... Or even above / behind the bed, as a "headboard " for perfectly optimized storage. But be careful not to overload it with visible storage, the bedroom should be a place of rest, it should not solicit the eye too much.
Un couloir, if it is wide enough, can also be installed as a dressing room on an entire wall or at the end of a corridor. This allows a great saving of space.
If you don't want to "sacrifice" space in a room for your dressing room and you have opted for the construction of a two-storey house, you can completely install your dressing room under a staircase, under a slope or in your attic.
What dimensions for a beautiful dressing room in your house?
The ideal way to create a beautiful mixed dressing room for a couple is to have an area of ​​5-6 m² available.
But there are other dimensions that you will have to take into account when you choose and build your dressing room:
At least 90 cm high for the wardrobe rod which accommodates trousers (1,20 m if they are not folded) and shirts.

At least 170 cm in height for a wardrobe for coats and dresses.

And 1 meter high for jackets.

The depth should be about 50 cm (60 cm if there are doors)

Remember to put a shelf every 30 cm.
The different styles of dressing rooms for your modern home

A linear, U-shaped or L-shaped dressing room?
Depending on the room you have chosen to install your dressing room, you will be able on 1, two or 3 sections of wall:
The linear dressing room: on a wall, in the cabin or not, is the easiest to create. If you have a large wall, you can put different modules on it (shelves, drawers, wardrobe). To be installed in a hallway or bedroom.
The L-shaped dressing room: it is installed on two sections of wall, side by side, in a larger space, therefore. It is generally also installed in an angle.
The U-shaped dressing room: it occupies three sections of wall, always side by side. It optimizes storage in a small room, for example.
The "models" of dressing rooms
When you have thought of all the technical aspects (where to put the ventilation grilles so that they are not hidden, put electrical outlets and think about the lighting, etc.), you will be able to choose your dressing room from among different models which are:
The cabin dressing room

: halfway between a simple wardrobe and a walk-in closet, the cabin walk-in closet is an oversized clothes closet that opens and can be entered. It generally arises on a single section of wall and is therefore linear.

The dressing room with sliding doors

: usually with two or three doors, this walk-in closet reduces the loss of space. It is ideal in a bedroom or hallway.

The wardrobe with hinged doors

: often better aligned and more stylish than sliding doors, hinged doors allow you to have the entire contents of the dressing room in front of you when you open it.

The bridge dressing room

: this is a walk-in wardrobe that replaces the headboard to provide storage all around your sleeping area

The dressing room without door

: very fashionable, it requires a large storage capacity because all its contents are permanently visible. Another option is then possible: the curtain which closes the dressing room with more lightness than doors.
Accessories, equipment, lighting, doors or curtains: how to arrange the dressing room of your new house?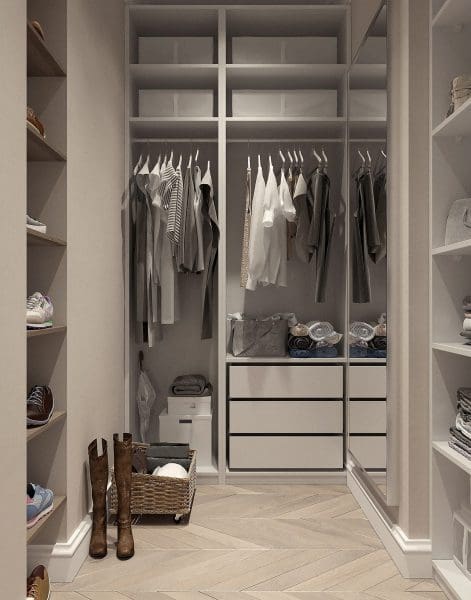 Almost "mandatory" equipment in a dressing room
Even if you dream of an innovative dressing room, certain elements remain essential to properly store all your clothes.
You will therefore have to rely on several wardrobes of different heights, shelves (which can be of different sizes, for more originality), drawers, shoe cabinets to Cases dedicated and a mirror to see each other afterwards can be a plus.
With regard to the layout, a small linear dressing room will consist of a wardrobe, a few shelves and one or two drawers.
A large U-shaped or L-shaped dressing room can be composed of a long wardrobe, a short wardrobe, a battery of drawers and several shelves, as well as a space dedicated to shoes.
The little extra things that make a dream dressing room
When you have the possibility of creating, in your new house for example, a room entirely dedicated to your dressing room, it then becomes a real living space. So we can find there a bench and soft armchairs for tryouts with friends. But also several mirrors. And even a computer or a connected television.
As for wardrobe accessories, sliding hanger rack allow you to see your clothes better and wrinkle them less.
Mediafixer drawer dividers are also a smart way to store your underwear, socks or accessories by category. THE shelf dividers are also acclaimed for avoiding unbalanced columns of clothing, in a "Marie Kondo" spirit. Shelves can also be transformed into decoration areas, opting for storage boxes of various materials and sizes.
How to light up your dressing room?
Because a dressing room can be deep and contain many corners, it is essential that it be perfectly lit. Especially if you don't have a natural light source or you have to go there when it's dark.
LED spotlights can then be placed or recessed just about anywhere for lighting that is both efficient and soft. Lighted rods can allow you to see more clearly in your wardrobes.
Also think about the lighting of the storage modules thanks to LED strips glued to the shelves or LED spotlights placed above the wardrobe corners.
A space to respect however: the 15 cm necessary between the bulbs and the clothes!
How to organize your home dressing room?
As we have seen, each storage element corresponds to a different category of clothing: wardrobes for dresses, shirts, trousers, jackets, skirts, drawers for accessories and underwear, shelves for sweaters and T-shirts. shirts. And baskets for jewelry and other little things.
For a perfectly optimized layout, plan a central space (90 cm by 90 cm) which allows you to access all the storage (drawers, hinged doors) without blocking access to this space. Think carefully about the spaces and opening directions of all the elements.
In height, rather store hats, beanies and you can store your bags, suitcases and your out-of-season clothes there (if you have space for an active part and a passive part).
Below, arrange your sweaters and your t-shirts (think of a shelf for casual clothes) then, even lower, your pants, dresses, skirts...
Finally, think about the space to also put your shoes with lockers or shelves to have the same rendering as in store.
—