When you start building a new house, you often want to afford those "little extras" you've always dreamed of. Like, for example, a beautiful outdoor kitchen, to share warm moments with your loved ones. But how and when to think about this garden kitchen, how to arrange it, how to choose between an outdoor kitchen in wood or stone... Maisons SIC, your builder of modern houses in the South-West and all of France, gives you some tips for creating the outdoor kitchen of your dreams.
Construction of a new house: how to create and design your garden kitchen, at the same time as your exteriors
We told you about it in this article on the steps to arrange your garden at the time of construction, it is essential to think carefully about your outdoor spaces from the start, with the builder of your house. Indeed, the garden is often a space that we do not take into account when building our house, which we think we can develop later.
How to choose the right location for your summer kitchen?
If you want to spend pleasant moments in your garden, it is necessary ton make the plan at the same time as those of your house, your garage, your accesses. To help you, Maisons Sic, your individual home builder will be able to give you a 3d simulation the sunshine of your land, but also shaded areas depending on the orientation of the house. Thus, you will be able to think about a living room / dining room / outdoor kitchen in peace, depending on the openings of your house but also depending on your swimming pool for example and the specificities of your land.
Another point to plan ahead : orientation of your summer kitchen. A south-facing outdoor kitchen can let you enjoy the sunshine longer. And you also need think about the prevailing winds, which could push the fumes from your barbecue, for example, towards living areas of your house or that of the neighbour. And depending on where your cooking space is, Avoid all plants around.
How to arrange and build your outdoor garden kitchen?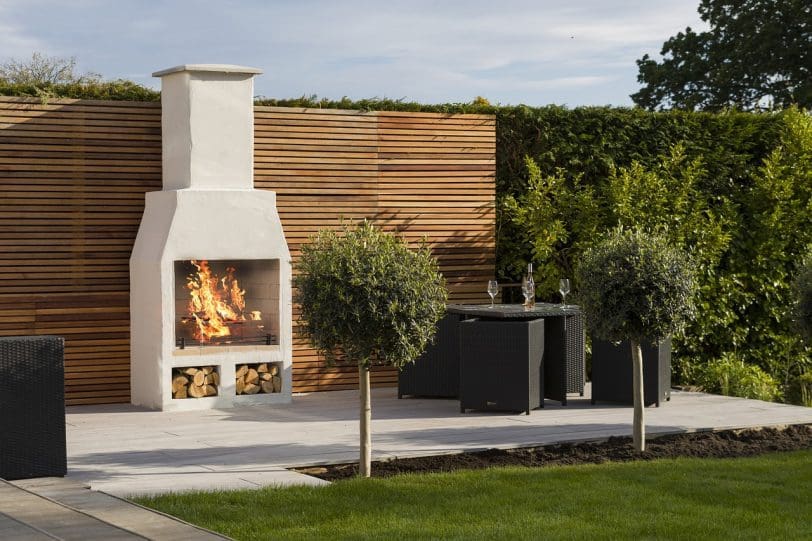 In order to benefit from it as often as possible, it is necessary that your outdoor kitchen is covered. In summer, this will allow you to protect yourself from the sun and when the weather is less clement, it can allow you to operate your barbecue even when it rains.
As explained in this consobrico article on the layout of an open summer kitchen, it is quite possible, when you have enough space to build a garden shed, a shed or a lean-to for its summer kitchen. It is important that the garden kitchen area is solid and protected from the weather, or even that it includes a closed space to store everything quickly in the event of sudden bad weather.
You can also put your garden kitchen on your terrace. When creating the plans for your new home, you can create an extra room, under a pergola for example, which will be "glued" to another living space, such as the veranda for example.
If your outdoor kitchen also contains a dining area, you will need to rely on a minimum area of ​​10 m².
The basic equipment of an outdoor kitchen
Even if the outdoor kitchen is often smaller and less equipped than your indoor kitchen, it is advisable to have the minimum equipment. So think ahead of the how you will connect this kitchen to water, as well as electricity. If a sink is not necessarily necessary, it is very practical for preparing meals outdoors, washing vegetables or even for washing dishes.
Always take into account any other amenities that you would have planned, such as a swimming pool, a terrace or a veranda. Your outdoor kitchen being an additional room to your house, it must also have a fairly flat floor to be able to place all the elements on it in a balanced way.
What furniture to choose for your outdoor summer kitchen?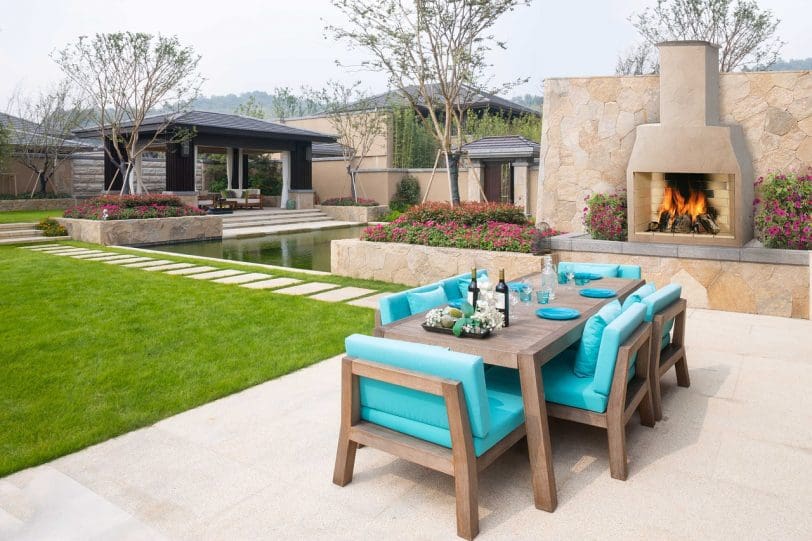 The furniture to choose is much the same as for a kitchen inside your home. Think about practicality and create a real work plan in your garden kitchen, with storage furniture that will allow you to store dishes and avoid going back and forth with your interior. You can also think of a sideboard that will allow you to place the food as it cooks.
Le barbecue can be chosen nomadic or built "in the hard" according to the surface you have. If you have a shelter nearby, an additional small fridge can help you save space and always have cold drinks, for example.
A work plan or large garden table, furniture with storage, are to be provided to avoid transporting the dishes from the Food as well as the dishes. Storage for the equipment for the barbecue, charcoal, a broom are also to be expected.
You can also think about equipping yourself with a large dining table, armchairs, a few high chairs if you have a bar. It is important to choose furniture that is particularly made for the outdoors, in materials that are particularly resistant to bad weather. Folding furniture can also save space.
Opt for an outdoor wooden kitchen, in your garden, for a cozy little corner
The wooden summer kitchen is one of the big trends of the moment. This material brings warmth to the decoration of your garden kitchen. but it is also a material that resists very well to the vagaries of the weather, if it is maintained well.
So you can choose an oak worktop for optimal durability. When choosing your other furniture (storage, table, chairs, etc.), certain types of wood such as ash, bamboo, beech (and therefore oak) are ideally suited to outdoor use and have little fear of humidity.
For even more charm, you can build an arbor, a patio or a wooden pergola raw or painted white for example, on which you can run climbing plants. A covered outdoor kitchen will allow you to enjoy it all year round.
The stone garden kitchen: the advantage of durability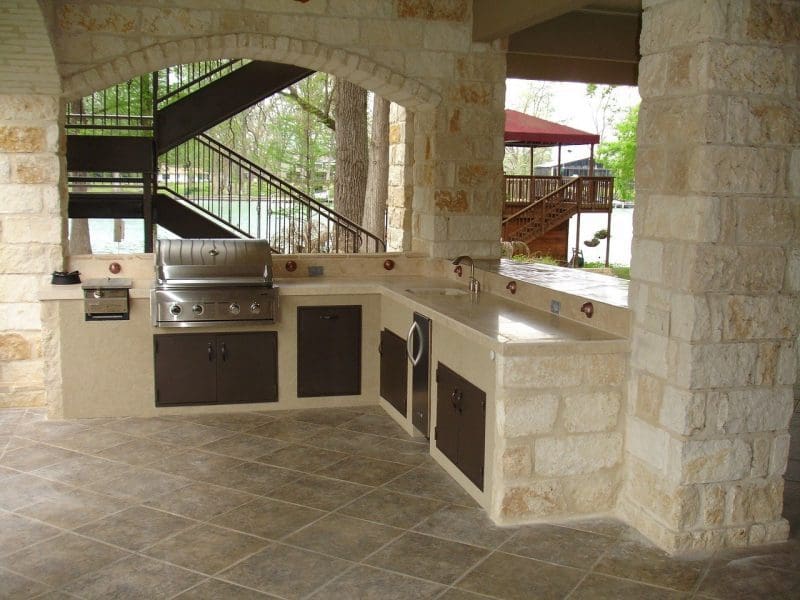 A made-to-measure garden kitchen, made of stone, truly offers you an extra space that will remain in place for many years and that you can fully arrange according to your tastes. Sometimes equipped with a hood, a bread oven or a pizza oven, outdoor stone barbecues can be made to measure.