When you build a new house, you inevitably very quickly ask yourself the question of decoration and interior design. There are so many decorative trends that one can feel a little lost. Maisons SIC, your builder of new individual homes, focuses on a fashion from across the Atlantic: the farmhouse style.
Where does the farmhouse style come from?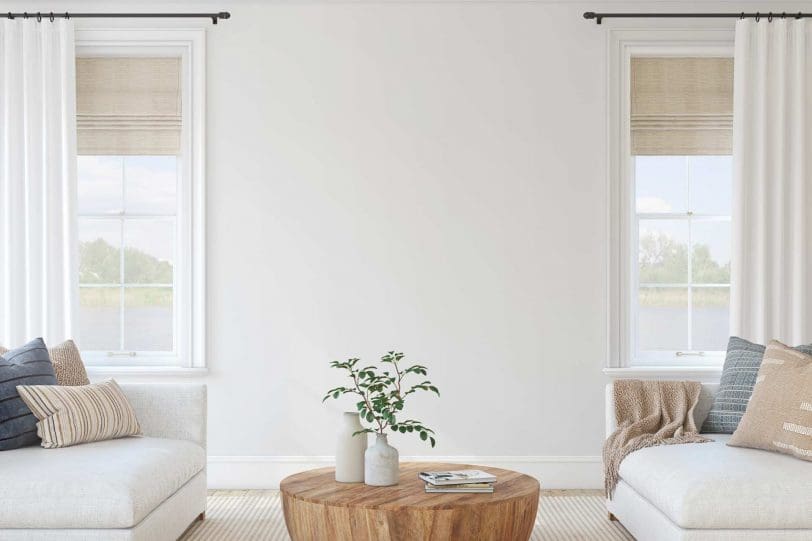 If the farmhouse style comes to us from the United States, it is in truth inspired by… our old Europe! Indeed, as explained by the Hunker design site "The origin of the farmhouse style comes from European farmhouses of the XNUMXth and XNUMXth centuries. Homes were often cozy and comfortable to provide farmers with a well-deserved rest after a long day's work. The movement then spread to the United States during its colonial years."
Also according to the Hunker site, this style has really enjoyed great success with the decorating TV show Fixer Upper (Total Renovation in French), started in 2013. Mix between rustic style and "shabby chic", the farmhouse decoration must be vintage (even if it means artificially aging the furniture and decorative elements), imbued with an elegant but comfortable aesthetic, with a touch of industrial and modernity (especially in all the household appliances).
A new house with a farmhouse style is aa practical, friendly home, with that cozy touch which offers a warm and reassuring appearance to your interior.
Putting the kitchen at the center of your new home
In the farmhouse style (close to the country house or country style), the kitchen is the centerpiece of the house. If our European houses are much smaller than American houses, it is still possible to apply some principles of this "farmhouse" decoration to our kitchens.
We necessarily choose a huge central islandWhere raw and light wood is very present (for storage, for example) but also concrete and quartz, for the worktop. For an "English cottage" effect, you can opt for white wooden kitchen units with wrought iron door handles for example. For the credenza, you can opt for a faux aged white brick wall or pretty little tiles. Shelves can also be in raw wood, always very light, carried by pretty stylized black cast iron brackets.
Household appliances are often chosen from ranges reminiscent of the ovens and kitchen pianos of yesteryear. But with all of today's technologies. Because in the farmhouse style, we like mix the practical side of modernity with the reassuring side of furniture of yesteryear.
As for tables and seats, the farmhouse style likes furniture to be old. You can then choose an old round table repainted in white or a large mottled wooden table. Here, the beauty of old furniture rlies in their marks of time (wear, veins, knots, etc.) For a rustic, relaxing and nostalgic look.
White, wood and "aged"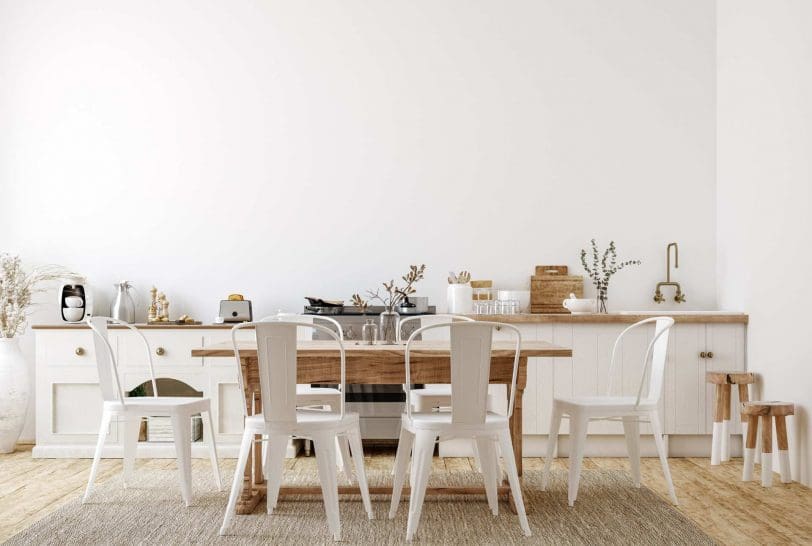 Wanting to be close to a farmhouse style, the farmhouse style favors the presence of beams in the centerpieces of the house: living room, dining room, kitchen... On the floor, we choose floating parquet, if possible with a raw wood look, once again.
White is everywhere in farmhouse decoration. In painting on furniture, parquet or even the paneling on the walls. The other shades used must always be very soft such as off-white, cream, pale grays, pastel blues, for ever more charm and delicacy.
One of the specificities of the farmhouse style is the aged ("distressed") aspect of all the decorative elements. For this, American decorators often choose to repaint sometimes new furniture with "chalk paint" (chalk paint), which they then sand for an aged appearance.
Natural materials and soft colors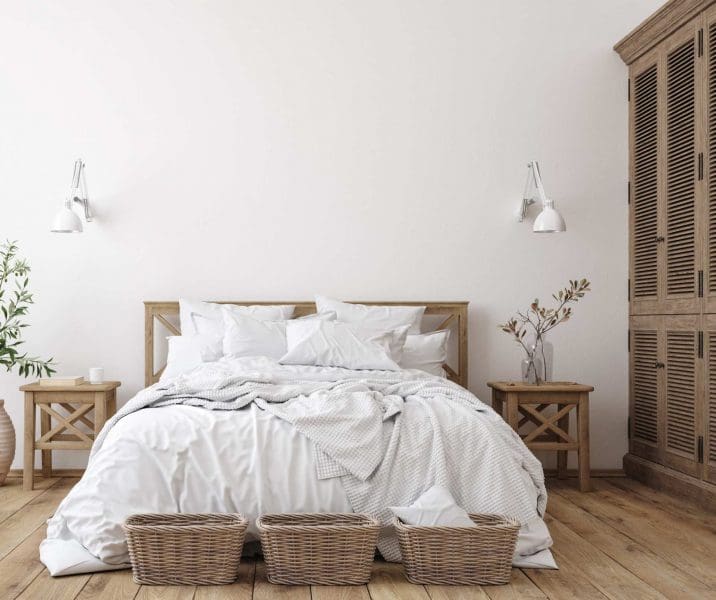 Mediafixer textiles chosen also have to have this "natural" side with materials such as linen or cotton. Always in soft colors like beige, gray, navy blue and all pastels. These fairly neutral shades give a "timeless" side to a decoration that could have been there forever.
In the living room, we multiply the throws, blankets, fur cushions or sheepskin rugs for an ever more cozy and cocooning effect.
As for bed linen, here we borrow more from the "shabby chic" side with fleece quilts, floral wallpapers or liberty sheets. If white remains in order, it is possible here to afford a little more color with pale pinks and a few touches of red.
Mediafixer natural fibers are also very present in fixtures (in wicker, bamboo or rattan for example), the tapis (in sisal or jute) but also in the accumulation of baskets everywhere in the house (as a cache pot for example), for a slightly "cluttered" effect.
A mix of industrial and nostalgic in the living rooms of your new home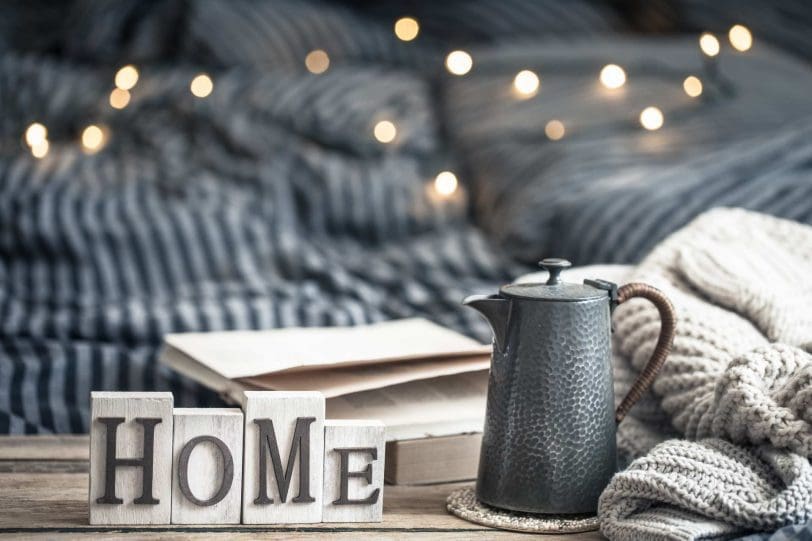 Industrial is also one of the key elements of farmhouse decoration. For example, we will put deci-beyond old metal decorative elements like an iron pot or an old mirror in an industrial style. One can for example put in the living room a large table in wood and metal. Or put in a bedroom, a bathroom, an entrance, an aged metal locker cabinet. Black iron seating around a large solid wood table can provide a very homey look to your dining room.
As for the accumulation of objects, we do not mix industrial and vintage. For example, you can choose small ceramic or glass pots that are all different and put them all together in the kitchen for a pantry effect of yesteryear. Where to choose old metal signs, XXL clocks in black metal with a sleek design and place them on the wall.
On the lighting side, it is possible to alternate styles. By choosing a very large wooden chandelier to light up the large dining room table, for example. And opt for an accumulation of different industrial black metal pendant lights for the kitchen.
—
For all your new and individual home construction projects, SIC habitat is there to support you. CONTACT US: https://sic-habitat.com/