In a constantly changing world, extending your home appears to be a clever response to our growing needs for space and comfort. The wooden frame is becoming more and more attractive, and rightly so: it combines the warmth of tradition and the efficiency of modernity, aesthetics and durability while meeting contemporary requirements. And who better than SIC houses, builder of individual houses for over 50 years, to guide you and share valuable advice on extensions?
Have a wooden house extension built to meet your various needs
Additional living space, a new challenge: the need for expansion
Your space needs evolve as your life changes. A family that grows with the arrival of a new child can quickly feel cramped.
Likewise, the decision towelcoming an elderly parent often requires rethinking the organization of the home to provide a suitable and comfortable space.
With the rise of teleworking, the need to have a home office also becomes preponderant, allowing you to work efficiently without disrupting family daily life.
And some may also consider make a new space profitable by creating a studio or annex to rent, thus generating an additional source of income.
In all these scenarios, a wooden house extension offers a flexible and aesthetic solution to meet these changing needs, while enhancing your real estate assets.
How an extension can transform your home living experience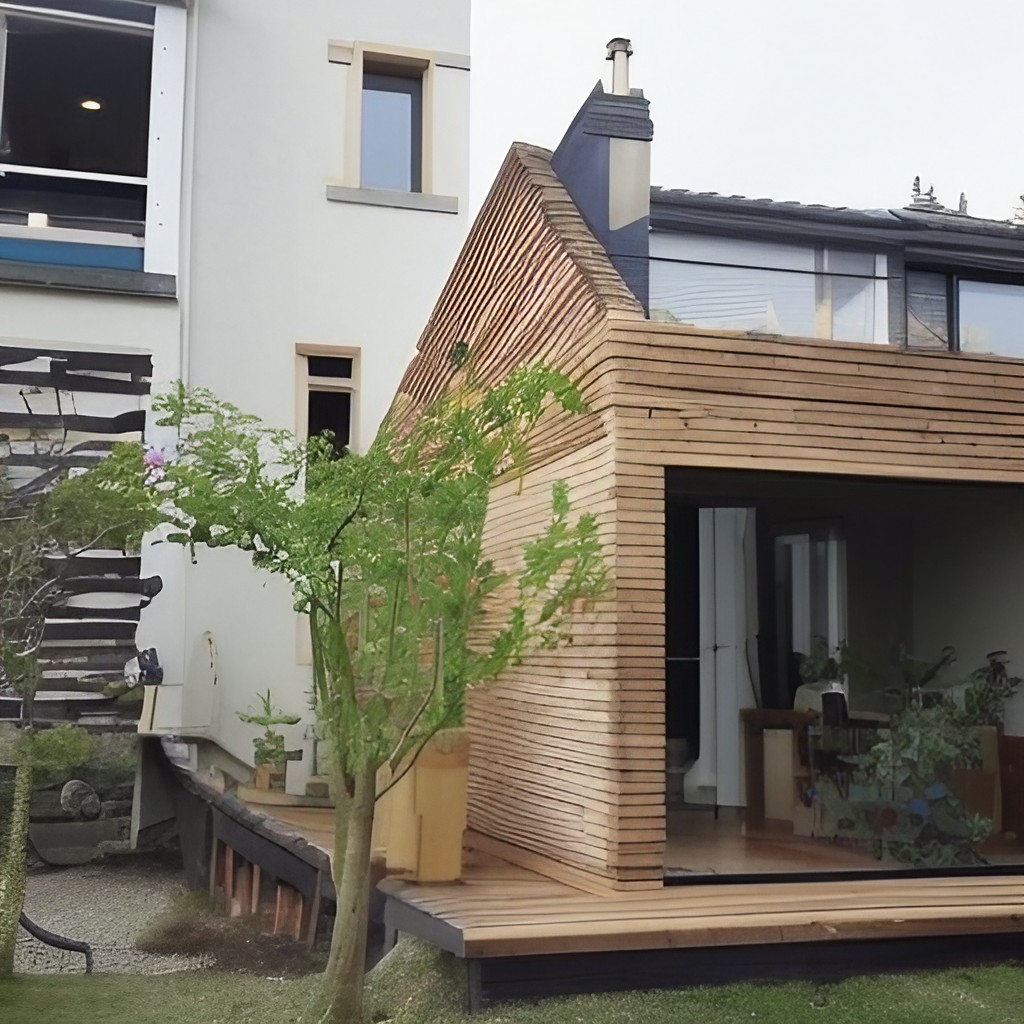 Imagine a space that opens up, breathes and gives you a breath of fresh air!
A wooden frame house extension is not a simple addition of square meters, it is a revolution in your daily life. It redesigns the contours of your living space, optimizes brightness and modifies circulation within the home.
Whether it is a canopy inviting nature inside, with a creative workshop or enlarged family cocoon, each expansion tells a unique story. It's a chance to rethink, rearrange and revitalize your home, radically transforming your domestic experience.
Return on investment of a wooden extension: real estate valuation and quality of life
Investing in a wooden extension is not only a way to expand your living space, it is also a wise choice in terms of real estate valuation. Wooden constructions are currently very popular for their durable, eco-responsible nature and their natural aesthetic. Thus, by opting for a wooden extension, you considerably increase the market value of your property.
At the same time, the quality of life offered is invaluable. Wood, a noble and living material, offers a warm and soothing atmosphere, promoting the well-being of its occupants. This feeling of comfort translates into a brighter space, better thermal and sound insulation, and harmony with the surrounding nature.
Beyond the financial benefit during a possible resale, the wooden extension is an investment in daily well-being, guaranteeing peaceful and pleasant moments in the heart of your extended home.
The multiple advantages of a wooden frame house extension
When we talk about the dream of extending our house, the wooden frame is now obvious to many of us. Far from being a passing fad, this construction method has proven its value and its multiple advantages. Let's dive into the world of wooden extensions to discover all their advantages.
Ecological benefits: sustainable construction and cleaner construction sites
Starting a wooden frame extension means firstly making a gesture for the planet. The wood is a renewable resource and its processing requires less energy than other building materials. Its carbon footprint is therefore reduced.
But it's not just that: timber construction sites are generally cleaner and less noisy. Less waste, less nuisance, and speed of execution which minimizes the overall environmental impact. So, opting for wood means choosing an ecologically responsible approach while having a positive impact on the environment.
Aesthetic advantages: the timeless beauty of wood
Beyond the practical advantages, wood offers incomparable aesthetics.
It holds a timeless beauty that lends warmth and elegance to any space. The natural shades of wood, whether light or dark, offer a variety of tones that blend harmoniously with all types of environments. With time, the wood ages and gains character, thus adding a living dimension to your extension, which will evolve with you and your family.
Urban artist its natural appearance allows you to elegantly merge the old and the new, guaranteeing aesthetic continuity.
Energy saving: superior thermal insulation
One of the most tangible advantages of a wooden frame extension lies in its energy performance.
Wood is a excellent natural insulator, far superior to traditional materials. In winter, it retains heat, reducing heating needs. In summer, it regulates the interior temperature, providing welcome freshness.
In the long term, this results in a significant reduction in energy bills. It is an investment which, beyond its ecological dimension, is also economical. By adopting a wooden extension, we offer ourselves the luxury of optimal thermal comfort all year round.
Architectural flexibility: adapting to all styles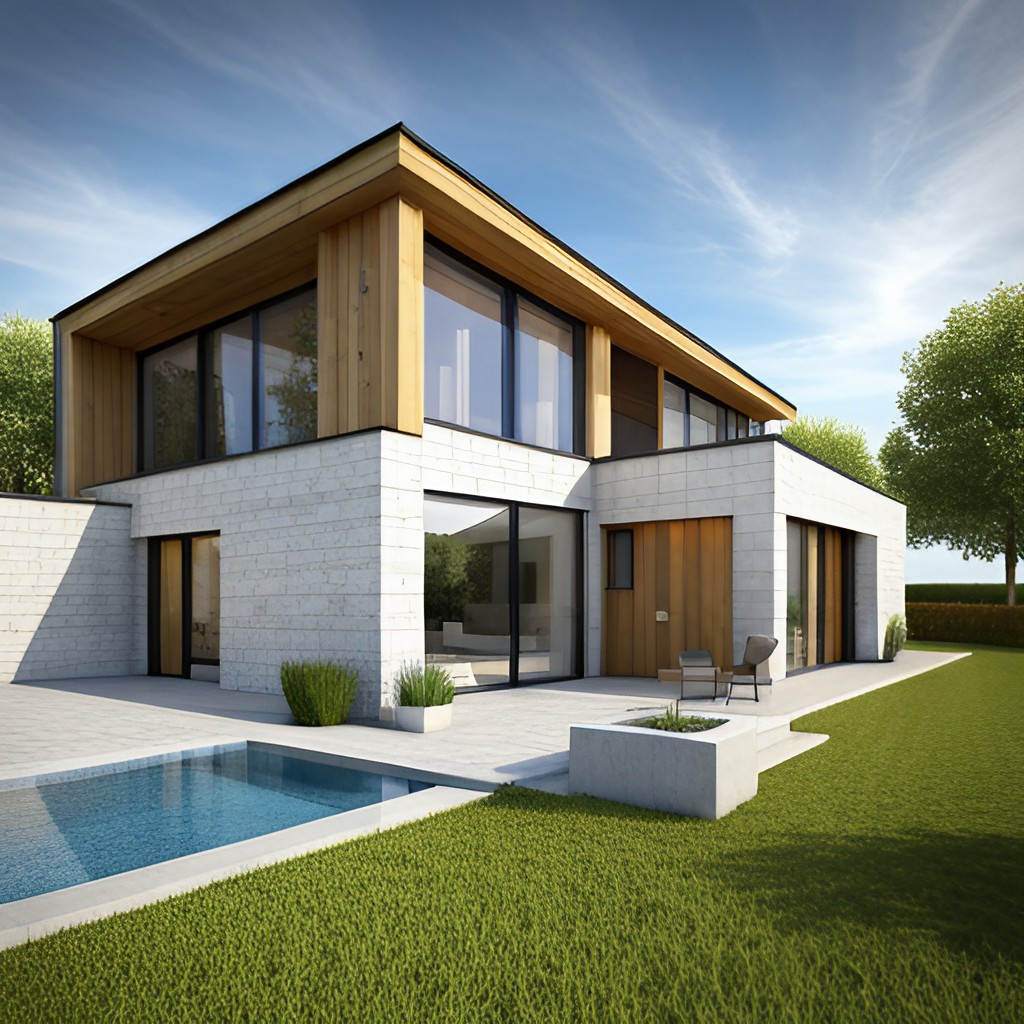 Last but not least, the wooden frame offers phenomenal architectural freedom. That you wish a contemporary extension with large bay windows or a more traditional expansion in harmony with the existing style, the wood bends to all your desires.
Its lightness and resistance make it possible to design bold structures, open and bright spaces, and personalized designs.
It also offers the possibility ofeasily integrate changes or adjustments, thus ensuring that your project perfectly matches your aspirations.
Prepare your house extension project
Expanding your house by opting for a wooden frame extension is a decision that must be carefully considered. This represents an investment both financially and emotionally. To ensure your project is a complete success, here are some key elements to consider.
1. Which wood to choose for your house extension?
The choice of wood is essential to guarantee the durability and aesthetics of your extension. Each species of wood has its particularities:
The pine : often used for construction in Europe, it offers good weather resistance and has a warm color.
The Oak : very resistant, it is ideal for structures requiring great strength.
The Cedar : recognized for its natural resistance to insects and rot, it is also appreciated for its beautiful color which evolves over time.
It is essential to contact a professional, such as SIC houses, to determine the species best suited to your project and your region.
2. How to ensure the best insulation for the extension of your wooden house?
Insulation is a crucial part of an extension. Good insulation will not only guarantee optimal thermal comfort, but also considerable energy savings. For your wooden extension, consider:
Thermal insulation : the use of materials such as rock wool or wood wool will ensure temperature regulation throughout the year.
sound insulation : if your home is close to a noisy area, opt for quality acoustic insulators.
3. How to think about the plan for your house extension?
The design of the plan is a stage where imagination and pragmatism must collaborate. Here are a few tips :
Assess your needs : First of all, determine the purpose of your extension. Is it a work space, an extra bedroom or a living room?
Integrate natural light : position windows and bay windows wisely to make the most of outside light.
Think about traffic : make sure the extension fits harmoniously into the current layout of your home, facilitating circulation between rooms.
4. Wooden extension for flat roof house or addition of a single storey room?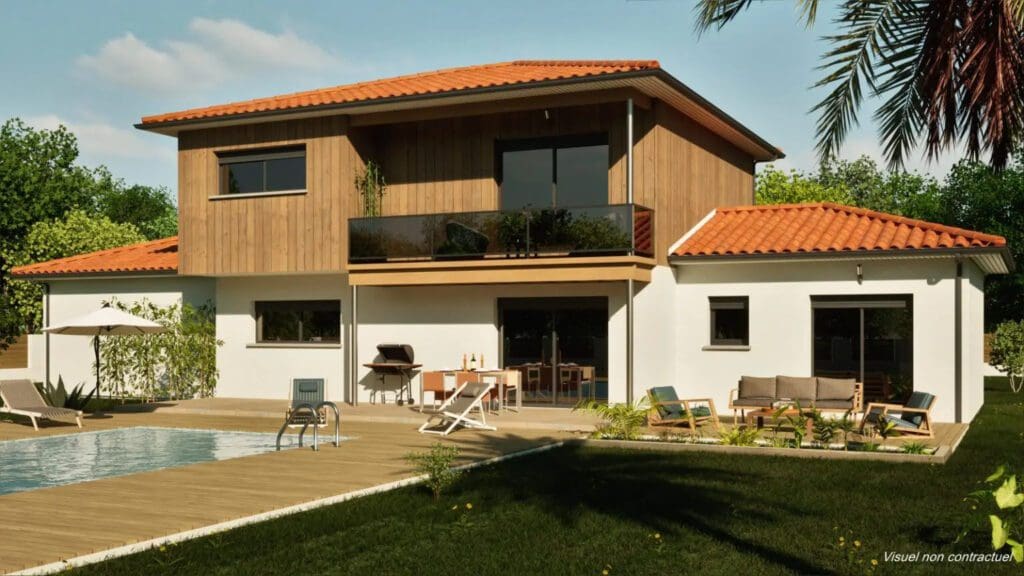 The structure of your extension will largely depend on your aesthetic preferences, but also architectural and urban constraints.
Elevation on flat roof house : it offers a contemporary look and can even allow the creation of a terrace or a roof garden.
Single storey room : this option is ideal for those who want continuity with their existing home or for accessibility reasons.
5. What is the cost of a wooden house extension?
The question of budget is often the thorniest. The cost of a wooden extension depends on multiple factors:
The added surface : Naturally, the larger the extension, the more it will cost.
The type of wood chosen : some species, such as oak, can be more expensive than others.
Finishes : depending on whether you opt for basic or high-end finishes, the cost will vary.
Technical constraints: sloping terrain or unstable ground may result in additional costs.
It is strongly recommended to request several quotes from professionals to have a precise idea of ​​the budget to allocate.
Use, for example, real professionals from Maisons SIC !