The Maisons Sic welcome you to one of the 17 branches in the South-West of France or in its office in Paris.
Make an appointment and discover the properties on offer by going directly to your agency's page.
Maisons SIC, builder of individual houses in the South-West
For more than 50 years, Maisons Sic has been building for all budgets and all audiences new homes in the Southwest. Our professional and experienced teams support each client from A to Z to a tailor-made South-West house construction project.
Building your own house in the South West has many advantages, in particular thanks to the richness and diversity of the region. The Southwest, with its mild climate, offers an idyllic living environment.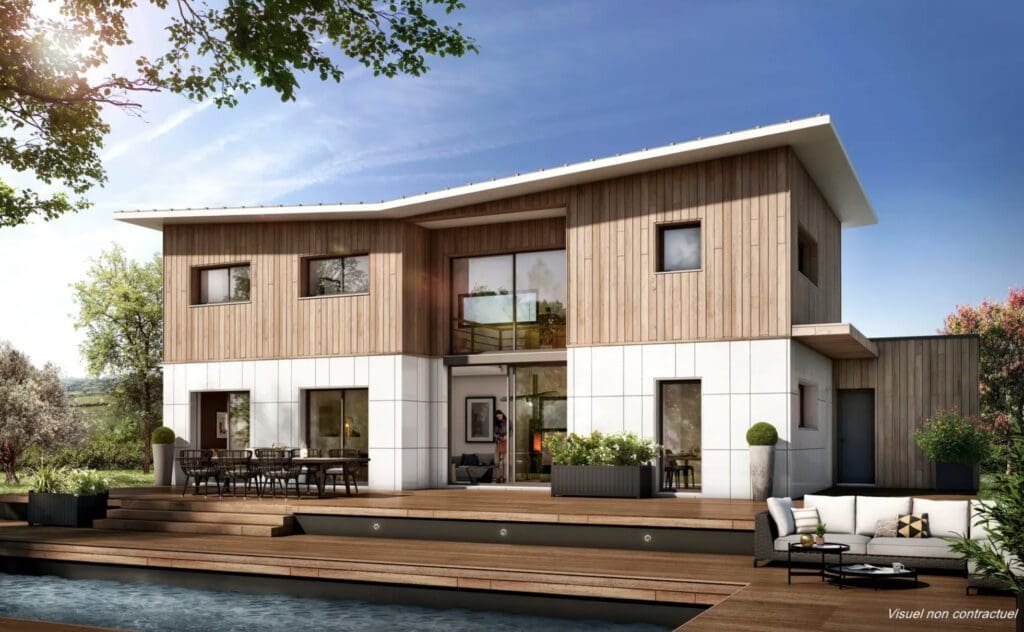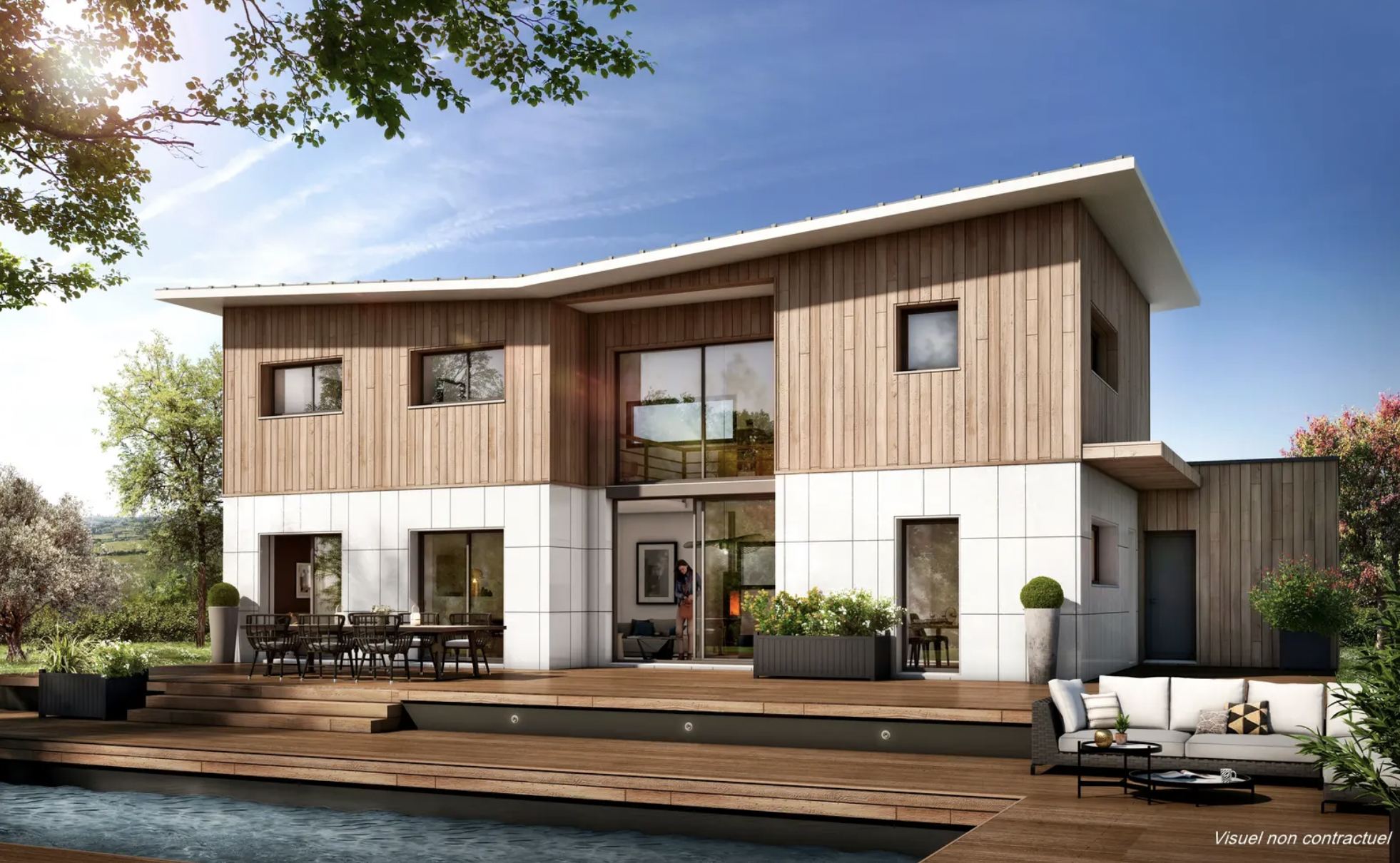 The Southwest is renowned for its cultural and gastronomic heritage. Calling on a new home builder in the Southwest means offering yourself the possibility of a peaceful life, while having access to a variety of leisure and activities.
Whether it's the vineyards, the Atlantic beaches, the Pyrenees mountains, or the cities of art and history, there is always something to discover. In short, building in the South-West means combining quality and a relaxed way of life.
Want to know more about building your house in the South West?
Why build a house in the South West?
The Southwest is a dynamic region, offering an exceptional quality of life, but that's not all. Proximity to major cities such as Bordeaux et Toulouse makes this region particularly attractive. These cities offer modern infrastructure, a rich cultural life and are major economic hubs.
Bordeaux and Toulouse are moreover dynamic employment pools, which is a major asset for those wishing to build their home in the South West. Whether you are in the digital sector, aeronautics, wine, or health, many professional opportunities are available to you.
The health offer in the South West is also very comprehensive. Large cities have renowned hospitals and clinics, with recognized specialists in their field, and many health professionals are also present in rural areas.
In terms of transport, the South-West is very well served. Train and bus networks allow easy travel throughout the region. The airports of Bordeaux and Toulouse offer flights to many destinations in France and abroad and the presence of several motorways facilitates travel by car.
Building a house in the Southwest means choosing a dynamic and accessible region, which offers an ideal living environment, both professionally and personally. Opting for a south-west home builder ensures that you live at your best in a region full of opportunities.
Building in the Southwest to make a rental investment
The Southwest lends itself particularly well to rental investment thanks to its economic and demographic dynamics. Maisons SIC, builder of houses in the South-West for 50 years, is a partner of choice to support you in your project.
The Maisons SIC teams offer a complete follow-up, from the choice of land to the design of the house, including compliance with the standards in force. Drawing on their experience, they are able to advise you on optimize the return on your investment.
With Maisons SIC, you have the assurance of a quality construction, durable and adapted to the rental market of the South-West.
Maisons SIC, builder of individual houses in the South-West
Founded 50 years ago, Maisons SIC is a family business that has built a solid reputation in the South West. It has been forged, over the decades, expertise in the construction of individual houses, continuously adapting to new trends and habitat requirements.
Need an estimate for the construction of your house in the South West?
A South West construction company with 50 years of experience
Maisons SIC is above all a team dedicated to the success of your home construction project in the Southwest. Our construction teams, made up of building experts, ensure the meticulous completion of each house.
We offer personalized financial support, thanks to our trusted partners. Our sales representatives, based in our 17 agencies in the South-West et our office in Paris, create custom homes that meet your expectations.
Our exclusive kitchen and bathroom showrooms and our Technical Achievement Test Center (CERT) in Tonneins (47) allow viewing and testing of equipment before installation. For those who cannot travel, we exclusively offer virtual tours of our showrooms.
A South-West construction company that offers you all the guarantees
The guarantee of delivery at the agreed price and time assures you the realization of your house under the conditions initially defined. No more unpleasant surprises, with Maisons SIC, your project is in good hands.
The guarantee of perfect completion and ten-year guarantee secure your investment. For one year after delivery, all anomalies will be corrected. And for 10 years, you are covered in the event of damage that compromises the solidity of the house.
SIC Homes also offers deposit refund guarantee. In the event of non-completion of the site, your deposit will be refunded to you. It is an additional guarantee of serenity.
The biennial guarantee, meanwhile, covers equipment that can be dissociated from construction for two years. With Maisons SIC, every detail counts.
Finally, thanks to work damage insurance, you are protected in the event of a disaster affecting the solidity of your home. Calling on Maisons SIC means choosing a south-west house builder who offers you all the guarantees for your construction project.
Your wooden house builder in the South West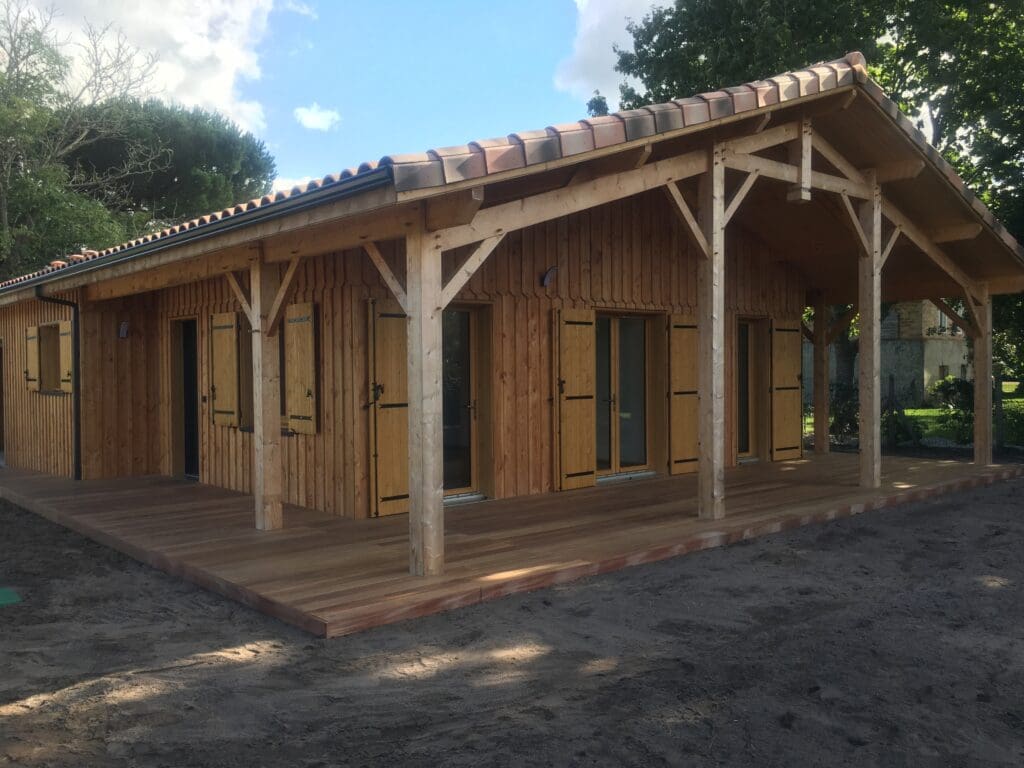 Maisons SIC, your wooden house builder in the South-West, combines its traditional know-how with the advantages of this natural and durable material. Wood construction offers many advantages, and our expertise ensures optimal realization of your project.
Call a builder South West specializing in timber frame houses.
A wooden house is distinguished by its energy performance. With Maisons SIC, benefit from a careful design that maximizes thermal insulation, for optimal comfort and significant energy savings.
Otherwise, wood construction is fast and environmentally friendly. At Maisons SIC, we have mastered this technique perfectly, guaranteeing efficient and environmentally friendly implementation.
Finally, wood offers a warm and authentic aesthetic. Our teams of architects rely on this material to create unique and harmonious designs, in perfect harmony with your lifestyle.
With Maisons SIC, opt for the construction of a wooden house in the South-West that combines respect for the environment, energy efficiency and aesthetics, for a habitat that suits you.
Discover our different types of detached houses in Sud-Ouest

traditional houses
Classic charm with steep roofs, traditional materials and elegant architectural elements. Traditional homes offer a modern design with clean lines, large windows and open spaces.

Two-storey houses
Convenient multi-level space distribution and design flexibility. Houses with convertible attics allow for future extension.

Ecological houses
They incorporate sustainable features to reduce the carbon footprint. Maisons SIC also offers custom-made houses adapted to the specific needs of clients and evolutionary houses that adapt to life changes.
Which city for the construction of your house in the South West?
You don't know which city to choose to start building your new home? Maisons SIC presents some key towns in the South-West and their main assets:
Agen : Dynamic city with a rich historical and cultural heritage, known for its famous prune.
Albi : City listed as a UNESCO World Heritage Site, famous for its cathedral and the Toulouse-Lautrec Museum.
Also : Historic town in the heart of Gascony, known for its cathedral and its pousterles.
Bordeaux : UNESCO World Heritage, exceptional architecture, great vineyards, and cultural liveliness. The city offers a high quality of life.
Langon : Peaceful town with a rural appeal. Near the Garonne and the Sauternes vineyards, ideal for a quiet life.
Libourne : Charming wine town, ideal for wine lovers. The attractiveness of the Dordogne and a flourishing economy make it a wise choice.
Marmande : Known for its succulent tomatoes and its rich medieval heritage. Perfect for a peaceful and agricultural life.
Mont-de-Marsan : Home to three rivers, lush green spaces and numerous cultural festivals. Perfect for nature and culture lovers.
Montauban : City of art and history, with a rich architecture and a sweet southern life.
Pau (FR) : Panoramic view of the Pyrenees, rich in history and heritage. Ideal for those looking for a peaceful life.
Tarbes : Easy access to the mountains for outdoor activities, a great cultural diversity with many festivals.
Tonneins : Quiet town with spectacular views of the Garonne, offers a soothing quality of life.
Toulouse : The "Pink City" seduces with its dynamism, its historical heritage, and its lively technological scene. Ideal for young professionals and families.
Villeneuve-sur-Lot : Located between the Lot and the bastide, offers a combination of natural and architectural beauty.
The agencies of your home builder Sud Ouest
house builder 33, house builder 09, house builder 12, house builder 16, house builder 17, house builder 24, house builder 31, house builder 32, house builder 40, house builder 46, house builder 47, house builder 64, house builder 65, home builder 81, home builder 82, find SIC houses in the agency closest to your future new home: