If you have decided to build a detached house with a small bathroom, this does not mean that this living room cannot have everything from a big one. Indeed, tips for storage, decoration, lighting, tiling, layout of your small bathroom can make it functional and visually larger. The Maisons SIC teams, who support you in all stages of the construction of your new home, give you their best advice.
Why furnish your small bathroom with a shower rather than a bathtub?
Maisons SIC, builder of individual houses in New Aquitaine and Midi-Pyrénées, provides you with a whole team of decoration and fittings who know how to give you the best advice on all the rooms of the house.
As can be seen within the interactive showroom in our Exhibition HallDirected by the VR Interactive company, many choices of furniture, colors, materials are possible to furnish your living room, your bedrooms, your kitchen or your bathroom. To help you see more clearly in the layout of a small bathroom (as she did with her tips for planning a small kitchen), Patricia Castillo, director of the interior design and decoration advice team, gives all her tips.
Which shower model for a small bathroom?
To begin, we will talk here more about a shower room than a bathroom. Indeed, it is quite complex to fit a bathtub, even a small one or a shoe, into a bathroom of 2 or 4 m2. Therefore, in a small shower room, priority is given to a shower. As for the model, Patricia Castillo explains: "the walk-in shower remains fashionable but we are coming back much more to the built-in shower tray, which is flush, like a walk-in shower, but which allows for much easier maintenance because it does not has no gasket. And as we return to sleek bathrooms, a shower tray is less loaded than a walk-in shower. We then choose it, for more authenticity, in slate, stone effects…"
Glass walls and small niches…
Always to open the small room to the maximum, we will avoid choosing only tiled and blackout walls for our shower and we will prefer glazed walls or industrial style, such as workshop canopies for example, very fashionable.
Also, "in the showers, if the design allows it, one or more niches can be created in the partition in order to put the toiletries there and thus avoid adding anything extra (such as iron shelves) in a small shower."
Tile colors and size: the right choices to "enlarge" a small bathroom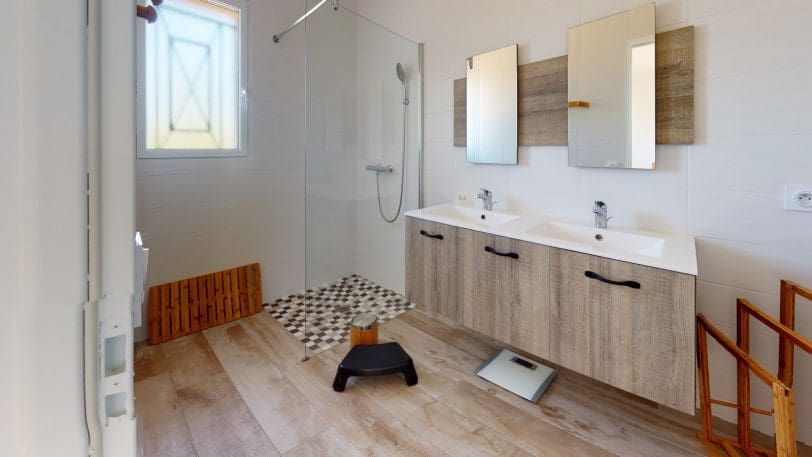 To enlarge a small bathroom, there are some tips for the colors used. We know, the light colours reflect light and give a feeling of space. To enlarge your pond, we will therefore rather opt for white tiles or beige paint. For an even stronger visual effect, you can also opt for a dark floor and light walls. On the wall, a clear and shiny tile will better reflect the light. And for the little "trick" from Patricia Castillo: "at wall tile level, to give depth and volume to the room, we try to work on the widest part of the wall and stay on lighter walls on the other parts."
XXL tiles on the walls and parquet effect on the floor
A trend that is taking hold and making bathrooms more welcoming is parquet effect tiling, whose format is also very suitable for bathrooms. You can find them in all colors (from raw wood effect to gray via white or black) and taking up the patterns of all types of wood.
But to truly enlarge a shower room, Patricia Castillo's advice is to opt "downright for very large format tiles, so that there are very few joints in the floor and this naturally enlarges the volume of the room." Same advice for the walls: " the important thing to visually enlarge a room is to have a large format wall tile. The larger the format, the more it will enlarge the room. If you put a 20×40, you will have a smaller room visually than if you put 30×60 or 28×80, on the wall as on the floor. We are always afraid in a small room, wrongly, to put large format. If there's more cutting, rendering at the end changes the room completely for you."
Arrange your small bathroom with lightness: the choice of furniture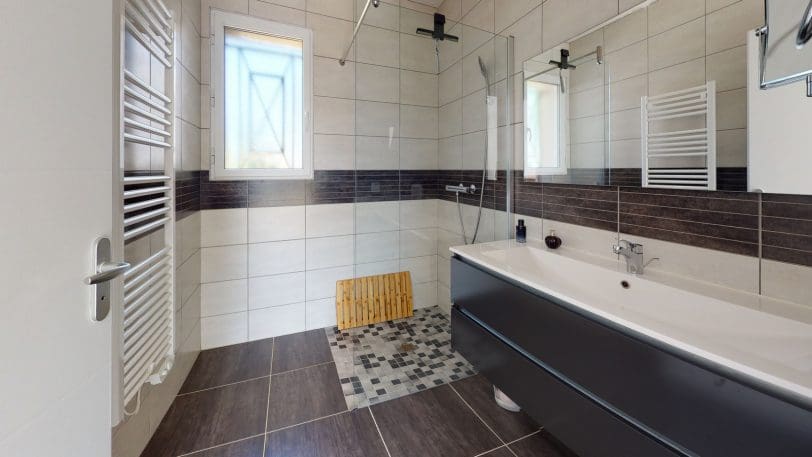 Another trick to make a small shower room seem bigger: free up floor space. To do this, we ban freestanding furniture and opt instead for hanging furniture which gives more lightness to the room (and which also makes it much easier to maintain). For example, prefer a suspended vanity unit rather than a washbasin. You can also choose open shelves (which must always be kept tidy, however, to avoid cluttering the room) and, for example, a long tall unit with a glass front that reflects light. Thin storage columns of different sizes, to be placed in the corners, can make it possible to lose no space.
Remember to save space on a wall for a towel dryer, which will not take up much space and is very practical in a bathroom.
At the level of the basins, as Patricia Castillo points out: "we will be on a molded top, which takes up less space than free-standing basins and which will allow smaller pieces of furniture to be placed underneath. "
Finally, instead of a classic door, choose a hanging, sliding or pocket door which will save you a lot of space for passage.
Play with lighting to provide more space in your small bathroom
Light is another of your great allies when you have a small bathroom. For this, "it is better to work with spotlights integrated into the ceiling than lighting on a mirror. it brings a much more natural light. And good lighting is going to make the room a lot bigger than just one light on the mirror." And another piece of advice:at the level of the mirrors, we come back a lot to the small glass cupboards like our grandparents had, which allow us to have additional storage. "
—
Meet the professional teams of Maisons SIC to manage the construction of your new home from A to Z: www.sic-habitat.com/contact/