do it ideal house plan don't improvise. First step of a project new house construction, this is the moment when the project begins to take shape and finally materializes. The space should match your needs, wants and budget. Beyond the arrangement of rooms and surface, shape andorientation of the house, you have to know how to adapt to today's way of life without forgetting the needs of tomorrow. Your builder accompanies you throughout and helps you not to forget these 14 essential points.
Take inventory of your furniture
Rather than starting from an empty page, take inspiration from your current home. What you like and what you don't like. Take into account your furniture and equipment that you want to keep or enhance. This will help you determine the dimensions and spaces needed to best integrate them into your future home.
Discover on this WikiHow page, how to draw a scale plan
The ideal house plan is inspired by your lifestyle
A tailor-made house plan is directly inspired by your daily life. Objective: to guarantee the well-being of everyone by allowing everyone to live at their own pace without disturbing the other occupants. To establish the House plan, builder is inspired by the small habits of each one. If one of the inhabitants works at night, spaces to prepare without waking the family will be provided. Likewise for a person telecommuting, theoffice space must be particularly well thought out.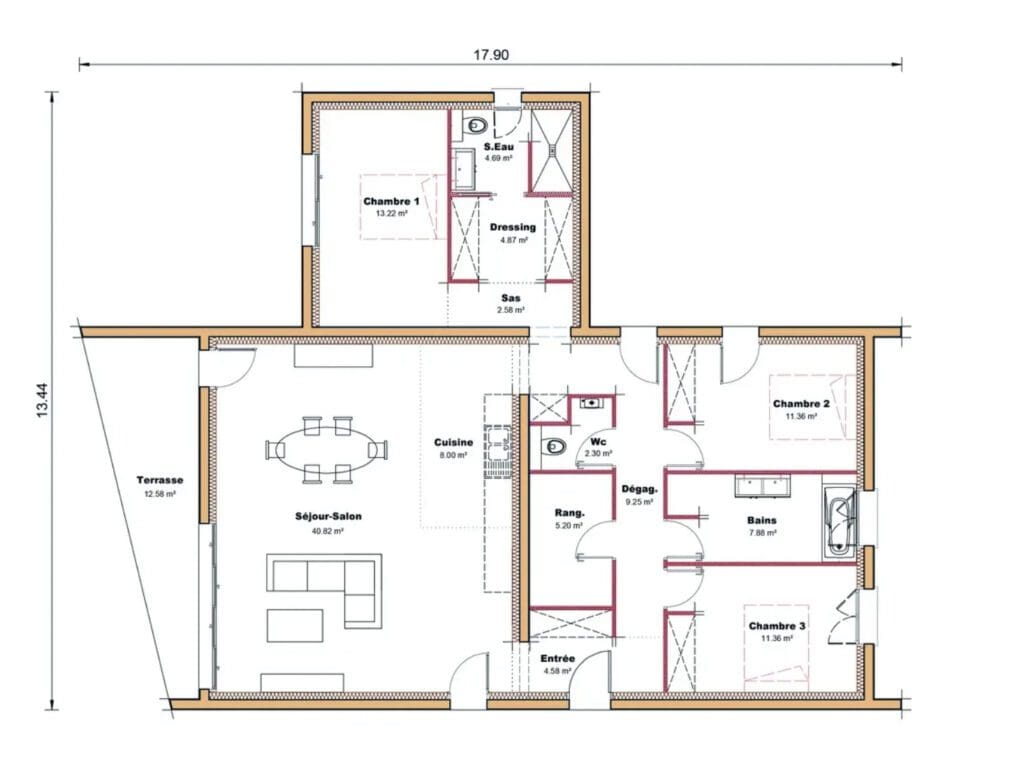 Match desire and budget
Carefully assess how much square footage you need based on your family, activities and comfort. Identify your priorities and wishes for your new home. Would you like a big kitchen, a large living room, a gym, a cathedral ceiling, a spacious garden…? Make a list of your desires to guide the plan design. Avoiding unnecessarily large or too small spaces. Before you jump into designing the plan, determine your overall budget. This will allow your builder to help you sort out what is feasible or not. The latter will guide you in your choices, materials, finishes, equipment and chouse design to match your dream and your financial constraints.
Plan an evolving new house plan
Build your house, it also means anticipating the future. The arrival of future children, or on the contrary their departure, aging are all parameters to be taken into consideration when drawing up the plan of your house. Why not imagine modular spaces or versatile? THE House plan can provide a part that can be divided at little cost to be rented. Of the convertible attic can offer a new room to be fitted out later, and we can also anticipate the building an extension.
Choose between a two-storey or single-storey house
This choice is both a question of taste, budget and the land. It will profoundly change the way spaces are designed. THE two-storey houses more easily delineate each other's areas. They require careful study of thestair location to limit wasted space. The plan of single-storey houses may seem simpler to achieve, but it must ensure that the day and night areas are well articulated without spreading out too much.
To help you choose, read the article: Building in the Southwest: a two-storey or single-storey house?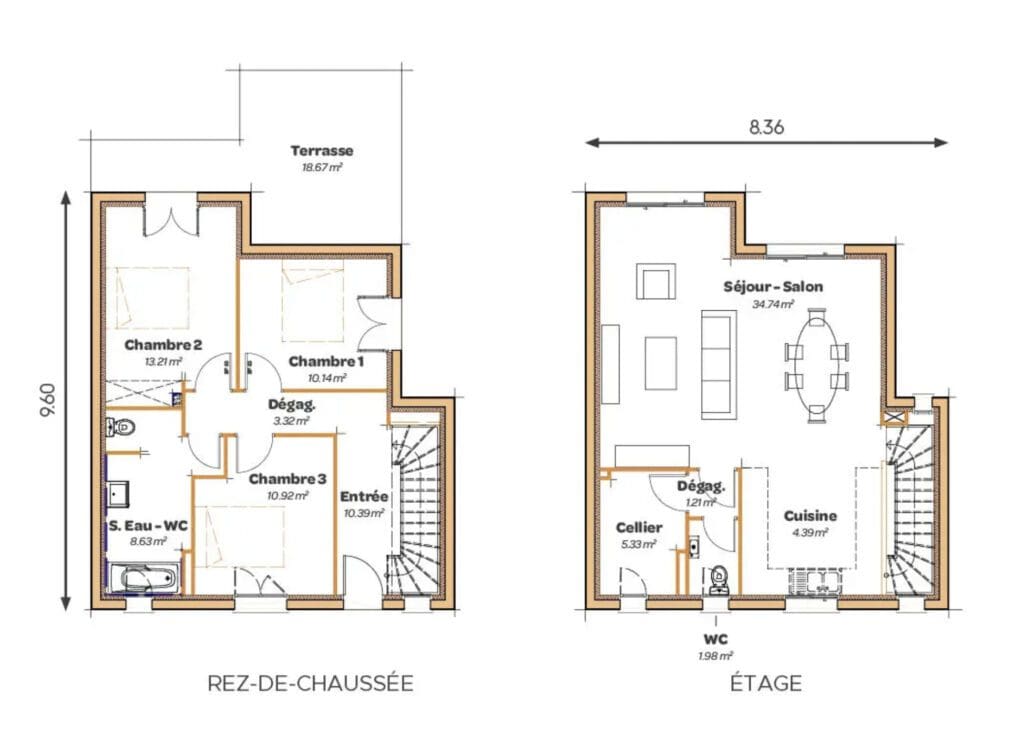 House plan: start with the living room
The living-dining room is the central space of the house. The paths, both interior and exterior, must be made around it. Make sure it's large enough to accommodate your family and guests comfortably. Consider the placement of doors and windows to maximize natural light and facilitate circulation. Nearby will be the kitchen, the entrance, and the corridors leading to the bedrooms.
To learn more, read the article: How to properly arrange your living room (rectangular, long, with dining room, TV room, with fireplace, with covered kitchen)?
House plan: how to place the sleeping areas?
Set rooms for each family member. Think about size, privacy and storage needs. If possible, consider additional bedrooms for guests or for future use. Separate sleeping areas from living spaces to reduce noise and preserve privacy. Place the bedrooms close to each other. This makes it easy to create a couloir common or an access space. If you have a master bedroom, or a parental suite, it is wise to place it away from the other bedrooms to guarantee maximum privacy. Try to place sleeping areas away from potential noise sources.
To go further, read our article: Should I opt for the parental suite?
How many bathrooms to plan?
If possible, assign a attached bathroom to each bedroom or share a bathroom between two bedrooms. This adds a touch of convenience and comfort for the occupants. If a bathroom is enough, it is generally considered that a large bathroom and a Bathroom provide significant comfort for most homes.
New house: where to place the toilet?
The main toilets must be easily identifiable and accessible to all. Located between the day area and the sleeping area, they must not directly overlook the living rooms to guarantee privacy. Today have two toilets in a house is fairly standard. We will then provide one per sleeping area. In two-storey house, they will often be placed one above the other so as not to multiply evacuations.
Plan of new house: How to place the toilet?
Have enough storage and annexes
Incorporate adequate storage spaces into your house plan. Under the stairs, at the end of a hallway..., take advantage of any wasted space to create cupboards, built-in shelves or clever storage solutions. Provide at least one closet per bedroom and others in the hallway. A large dressing room in the master suite is also appreciable. These locations will help you maintain order and optimize the use of space.
Also think of the garage and cellar which are essential spaces. They will allow you to save space in the kitchen and also serve as a workshop or laundry room.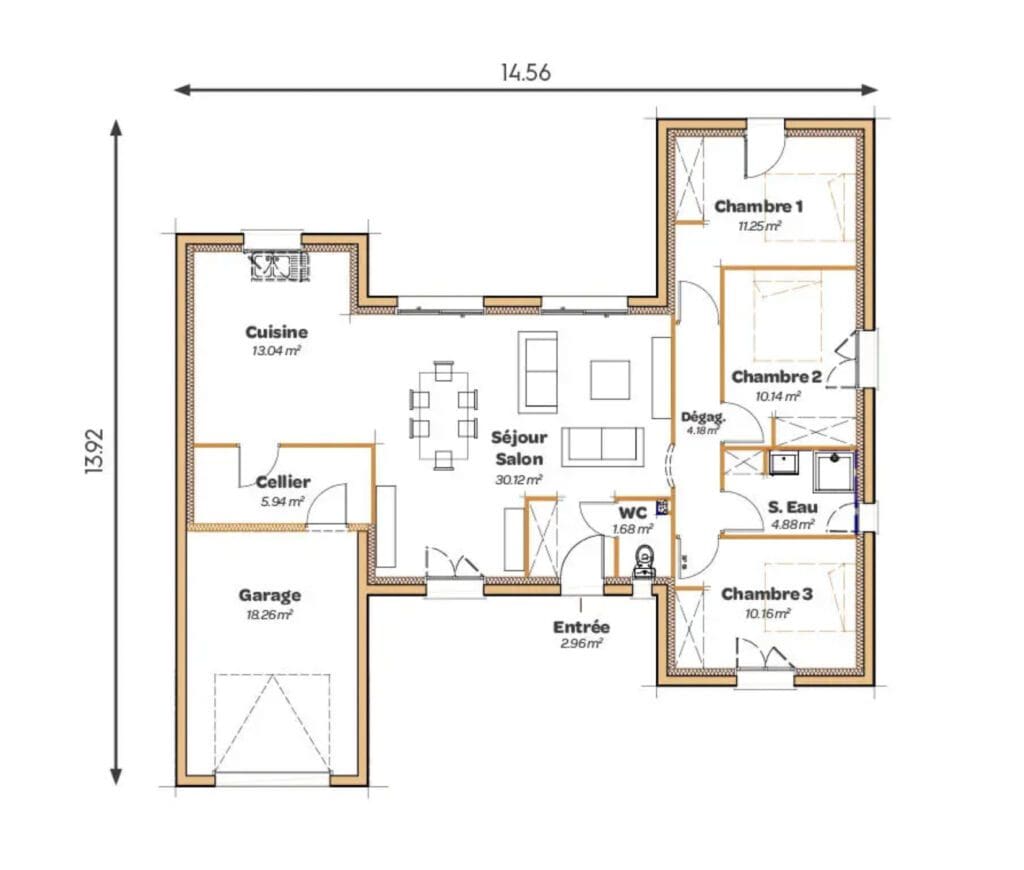 Provide an office space
If you work from home or need a space dedicated to your professional activities, consider integrating a functional office in your house plan. It can be in a dedicated room that can also serve as a guest bedroom, or in a cleverly placed alcove, in the living room, in the entrance hall or in a bedroom. Make sure it provides enough calm and focus.
To go further read the article: Designing an office in your new home: the 6 steps
Provide places to relax
If you like to entertain, plan one or more specific spaces to entertain family and friends. Whether it's a games room, an entertainment room or a friendly outdoor space, provide places to relax and socialize.
House plan: the kitchen a centerpiece
Today, the kitchen is the heart of the home. Think carefully about its layout, and don't skimp on the cupboards. Also consider how you use it. Would you like to include a dining area? Do you prefer an open, closed kitchen or a combination of the two? THE open kitchens promote conviviality and circulation, while the closed kitchens offer a clearer separation with the other living spaces.
Learn more about this subject with the article: What kitchen in a new house?
The plan of the house to be built must adapt to the terrain
Your new house plan will be strongly inspired by the the land where the house will be. It will be the latter who will determine theorientation of your house and therefore the location of the windows and Windows This is essential to benefit from optimal sunshine and therefore reduced energy bills. the objective is also to offer a beautiful panorama on the outside. Place your openings also according to the views they open to the outside.
Making a plan is an important step. Do not hesitate to take your time. Get inspired by house models existing and meet the teams Sic houses to create your personalized plan. We are fortunate to have a design office and draftsmen within the company who verify and validate the wishes of each client.