A modern house plan must not neglect the water features. The bathroom is an essential part which can be the source of tension between residents. You have to know how to place it and design it so that it meets the needs of the family and guests but also the new house budget. One or several bathrooms ? We take stock of the strengths and constraints of the different solutions in order to create a harmonious and functional home.
Have it built: the 4 advantages of a unique bathroom
Do we really need two bathrooms in a house?
Today, needs and habits have evolved, and build a second bathroom no longer seems like a luxury. This is relatively common when doing build his house. However, it has not always been this way, and we live very well without a second bathroom. You just need to learn to share time and space. Usual for those who live in an apartment, a single bathroom is very sufficient for the needs of a small family or an individual household.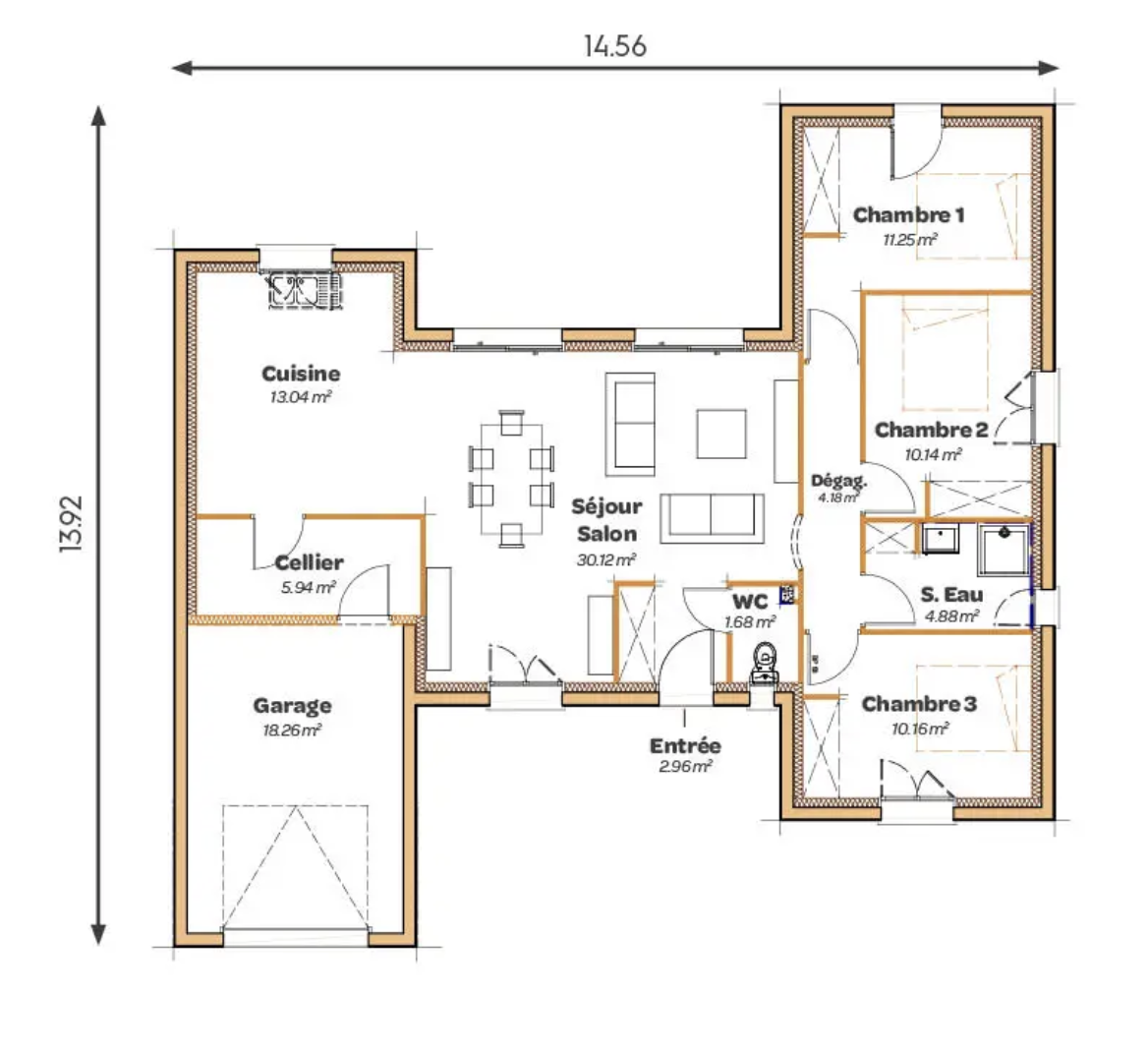 The single bathroom is more economical
Adding a bathroom Additional cost can be costly due to costs of plumbing, tiling, sanitary fixtures, etc. Some families, looking for how build at lower cost, prefer to devote this budget to other positions if they believe thatonly one bathroom is sufficient for their needs.
Just one bathroom for an eco-friendly home
Limiting your consumption is the basis of ecology. A single bathroom thus saves resources in terms of materials and decoration. Furthermore, it is thus easier to place the bathroom near the water heater in order to avoid heat loss through the pipes.
Just one bathroom to save space
Even if the bathroom fits into only a few square meters, it takes up space which can be allocated to cupboards or larger bedroom volumes. Likewise, a single bathroom will provide more ease of arrangement because, this technical part requiring the passage of networks (hot water, cold water and waste water evacuation), can be difficult to integrate.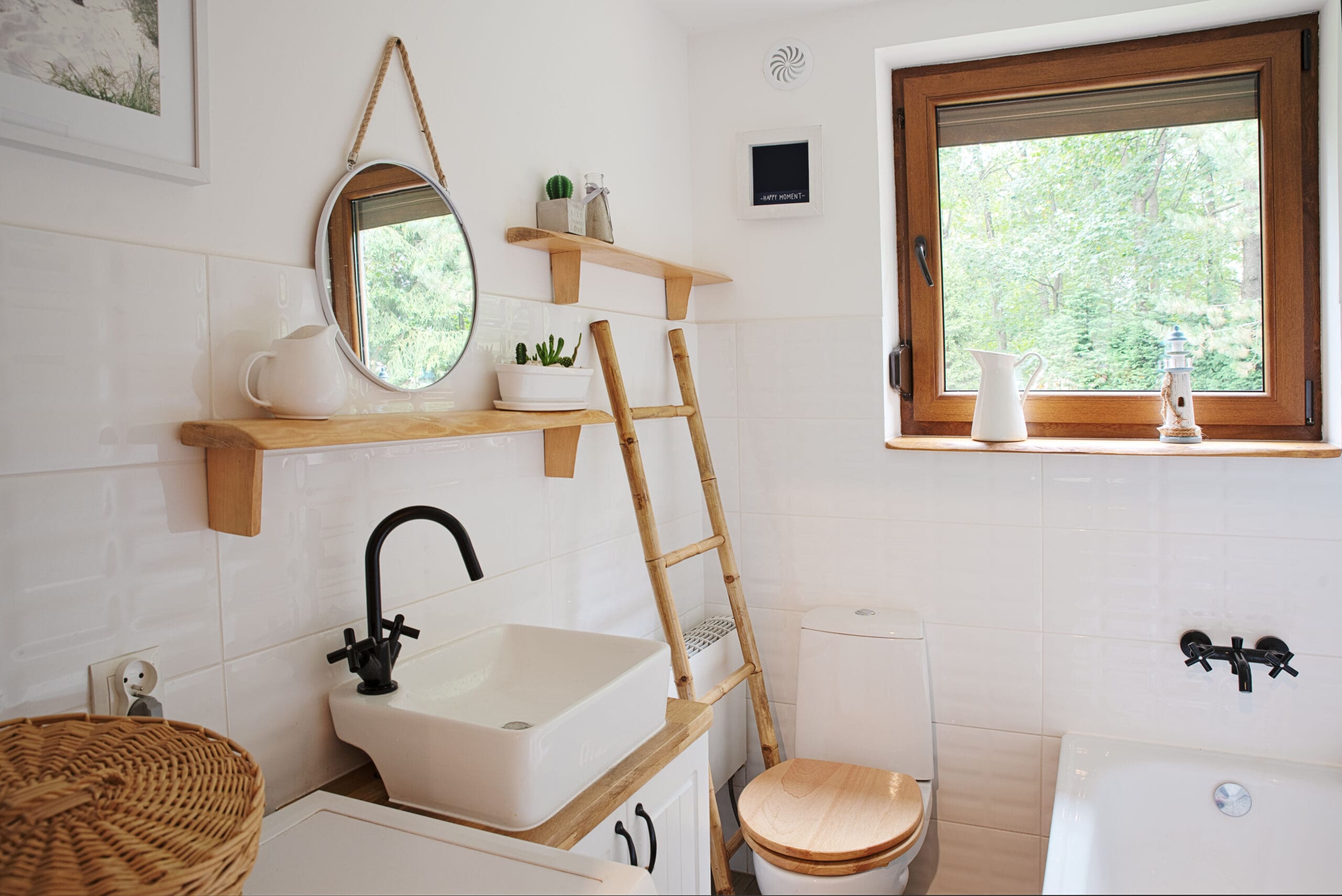 Bathroom, what does new construction cost?
Le price of development work of a complete bathroom is estimated between 6000 and 7000 €, depending on the materials and equipment chosen. Coatings, sanitary facilities, taps, but also plumbing work, represent a significant part of the new house budget. Prices per square meter are therefore between €700 and €1200/m². Of course, the larger the bathroom and the more amenities it includes, the more it will cost. Therefore, this budget should be taken into consideration when choosing between one and two bathrooms.
Two bathrooms from how many people
Generally, it is considered that two bathrooms suitable for a family of four. One bathroom being reserved for parents, and the second for children and guests. But there are no real rules in this area and everything also depends on the house size and its configuration. It is obvious that in a house intended to accommodate a lot of people, or a very large one, it is more comfortable to benefit from a second bathroom.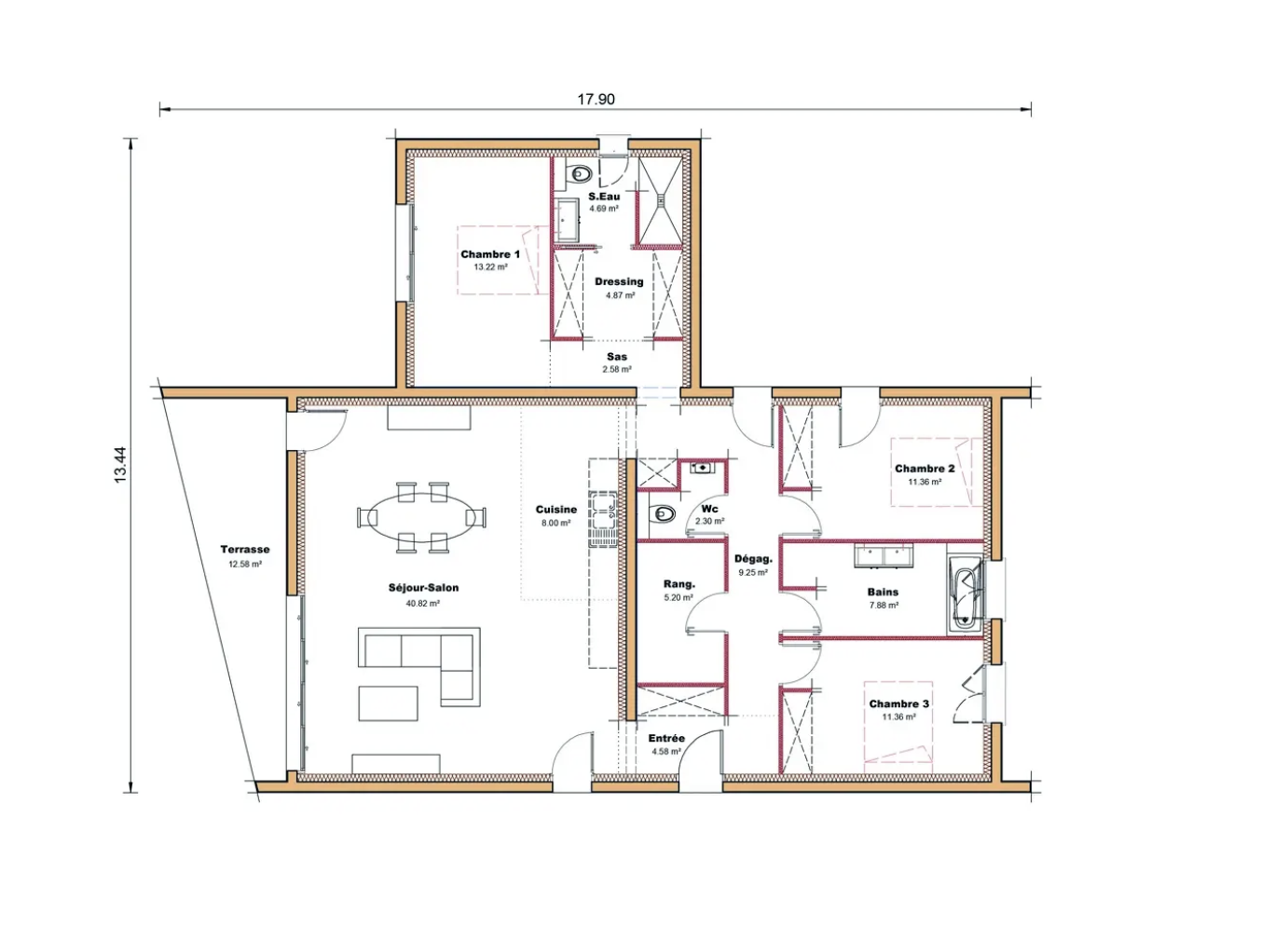 Three reasons to have two bathrooms in a new house
Win time
In the morning and evening, the bathroom can be a source of conflict. Two bathrooms save time in the morning as multiple people can use the facilities health at the same time. This can reduce stress and restlessness in the house.
Gain comfort
Beyond being a purely functional place, the bathroom is increasingly seen as a room dedicated to relaxation. Music, hot water, equipment balneotherapy..., it then offers moments to oneself, hardly compatible with sharing space and agitation. A second bathroom allows a family of four moments of well-being without compromising the functionality of the house.
Welcoming guests
If a unique bathroom suits a well-organized family, things change when you have people over at home. An additional bathroom will provide the necessary space to accommodate your guests' toiletries and also preserve your privacy.
Increase resale value
The need for a second bathroom may arise over time and changes. If one second Bathroom is planned from the start, it is therefore easier and less expensive for future residents than to create it from scratch by bringing the networks to the right location. A house with two bathrooms is often more attractive to potential buyers, which can increase the resale value of the property.
Modern and secure house plan
A second bathroom brings together the water points of the different sleeping areas when they are far from each other. Useful in a single storey house, this configuration secures the two-storey house by avoiding the constant use of stairs. THE current building rules require accessible shower areas. Essential for the house to adapt to the evolution of the family and the different ages of life, the bathroom on the ground floor perhaps accessible to disabled people, that is to say being adapted to people with reduced mobility or having problems with loss of autonomy.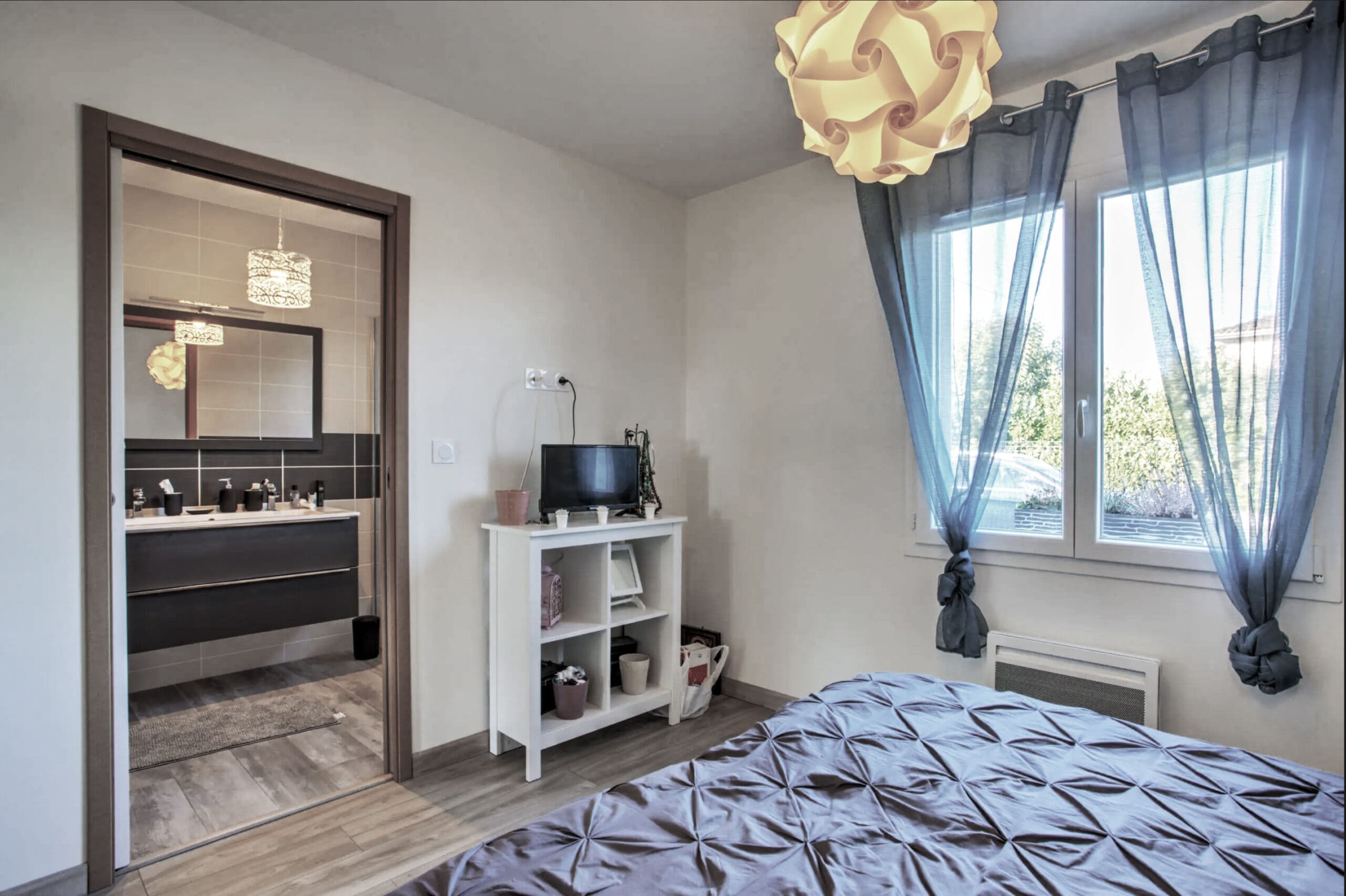 Modern house plan: which bathroom model to choose?
Opt for the parental suite
La parental suite this is the big trend in bathrooms and many new house models proposes it. It offers parents a completely private space away from family hustle and bustle.
Find out more with the article " House plan: should we opt for the parental suite? »
What is a powder room?
Create a Bathroom in addition to the bathroom, is often offered by builders. Generally smaller, the bathroom is equipped with a shower when a bathroom includes a bathtub. The bathroom thus becomes the functional room for quickly getting ready when the second is mainly intended for well-being. A good option that meets the different needs and desires of the occupants of the house.
How to design the family bathroom
Just one bathroom doesn't have to mean discomfort. Well designed, it can also preserve everyone's privacy. It can thus be arranged in several parts cleverly isolating the bath, shower, sinks and possibly toilets in order to provide the much-needed privacy in the shared bathroom.
To go further, read our article on the new home bathroom fittings.
Family bathroom, watch out for materials
Glass doors in the Italian shower, offer a great feeling of space, but sometimes you want a little privacy in your shower, especially when the bathroom is shared. Even if it's not trendy, opaque walls, or a shower in a recess allows you to better share space.
Separate toilet or in the bathroom?
When you opt for a unique bathroom, it is in any case better to plan Separate WC. More than four people. 2 toilets are always more comfortable, especially in two-storey houses. To save space, you can provide a separate toilet for family and guests and possibly a toilet in the second bathroom.
To complete this article consult " New house plan: How to place the WC?«