The construction of your house is a major project which deserves particular attention in the choice of its plan. Why not opt ​​for a rectangular house plan? Maisons SIC, expert for 50 years in the construction of houses in the South-West, highly recommends this option for its versatility and optimization of space. In this article, we will reveal to you the 5 main advantages of a rectangular house plan, which could be the key to a house that perfectly meets your expectations.
Small surface area, big potential: the 60 m2 rectangular house plan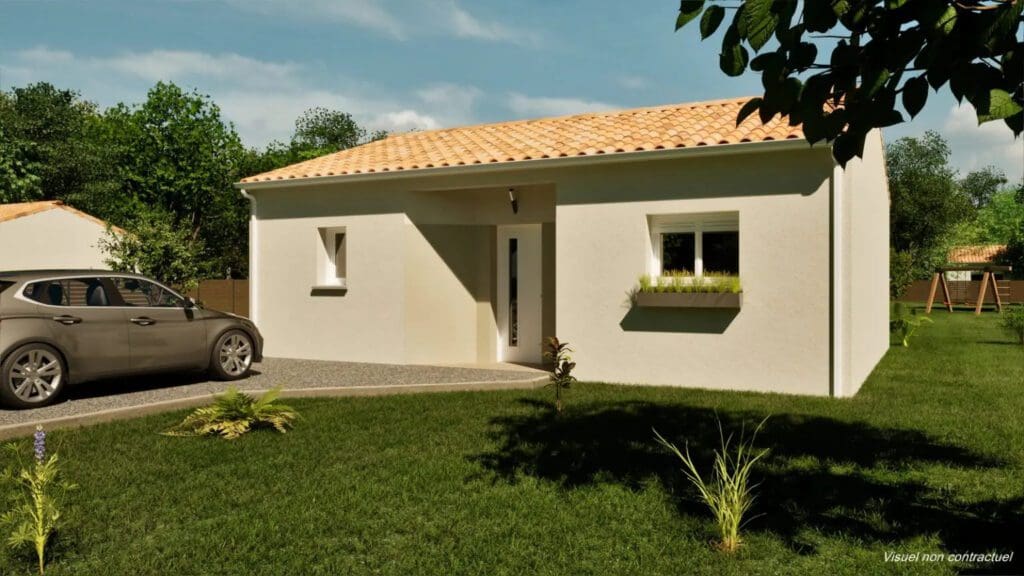 Don't be fooled by the reduced surface area of ​​60 m2. A well-thought-out rectangular house plan reveals enormous potential. The rectangular shape offers optimal use of space. Indeed, it promotes a fluid layout of rooms, minimizing wasted spaces such as corridors.
Let's take a concrete example: a rectangular house plan can perfectly integrate a kitchen open to the living room. This configuration maximizes brightness, giving a feeling of larger space.
Urban artist a judicious arrangement of rooms, such as placing the bedroom far from noise areas, ensures optimal comfort despite the small surface area.
Thus, a 60 m2 rectangular house plan can be the perfect choice for a functional and comfortable home, for a young couple, first-time buyers, for example.
The good thermal performance of rectangular houses
The thermal performance of a new rectangular house is a major asset. This simple shape of house allows minimize heat loss, thus promoting a significant energy saving. Good thermal insulation in walls, floors and roofs reduces energy loss, lowering electricity and gas bills.
Good thermal performance also means increased comfort in all seasons. In winter, it preserves heat inside, while in summer, it prevents outside heat from infiltrating the house, which helps maintain a pleasant interior temperature.
In addition, a well-insulated house is respectful of the environment because it reduces greenhouse gas emissions, contributing to the global effort against global warming.
Finally, she increases the value of the property, making thermal efficiency a profitable investment in the long term.
Focus on the rectangular two-story house plan: exploit verticality
A rectangular two-story house plan offers optimal use of space, versatility of layout and infinite customization. Indeed, the exploitation of verticality allows to increase the living space without encroaching on the outdoor space. This is particularly advantageous for narrow lots or in urban settings, where floor space is at a premium.
The architecture of a rectangular two-story house is characterized by its ability to exploit verticality. This intelligent design allows maximize the living space on a limited plot of land. So you can enjoy a comfortable living space without sacrificing the beauty and functionality of your garden or yard.
Rectangular two-story houses also have the advantage of effectively separate living spaces. Common rooms, such as the living room and kitchen, can be located on the ground floor, while bedrooms and bathrooms are located upstairs. This guarantees greater privacy and limits noise pollution.
Finally, with a rectangular two-story house, you can enjoy a clear view from the bedrooms or upstairs office. This is a real plus for enjoying the South-West landscape, and it brings real added value to your property.
100m2 rectangular house plan: when space meets style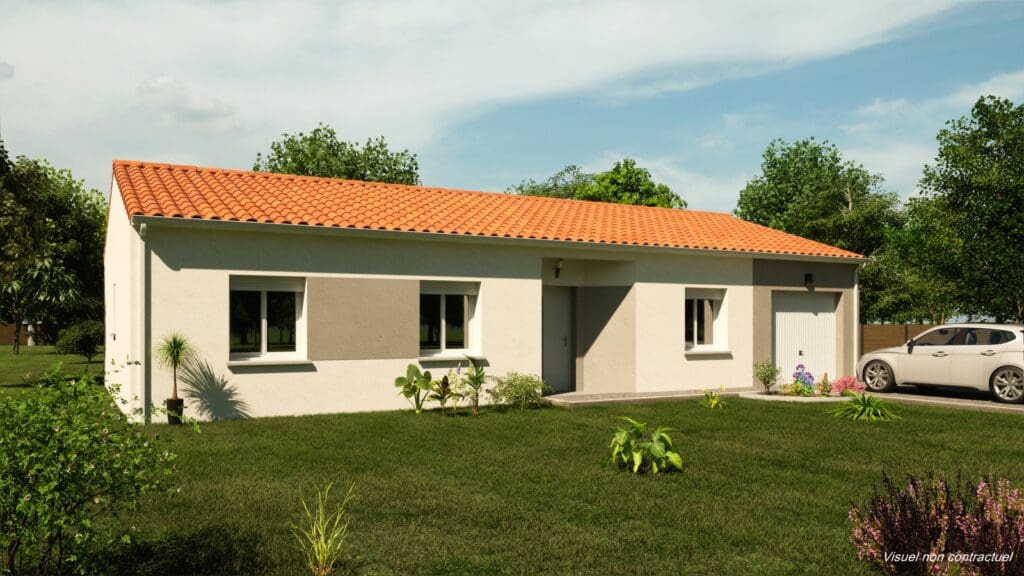 When you are planning to build a new house, a 100m2 rectangular house plan can be the ideal option for reconcile space and style. With such a surface area, you have the opportunity toarrange the rooms optimally and create true harmony in your living space.
The advantage of a rectangular house lies in its flexibility of layout. Whether you want to favor a large open living room, several spacious bedrooms or a kitchen with a central island, everything is possible. This simple and elegant shape also lends itself to all styles, from the most modern to the most rustic.
In addition, a rectangular plan makes it possible to optimize the orientation of the house for make the most of natural light. It is an undeniable asset for creating a bright, warm and welcoming interior. energy efficient.
Building a rectangular house of 100m2 means choosing a home that is practical, aesthetic and respectful of the environment.
A home for the whole family: the rectangular house plan with four bedrooms
PERFORMANCE MODEL 02 CLASSIC 102M²
A welcoming and functional home is essential for any family, and a rectangular house plan with four bedrooms can meet these needs perfectly. This type of plan offers a harmonious living space, while guaranteeing the privacy of each member of the family.
The layout of the rooms in a rectangular house plan allows for a natural separation between living spaces and sleeping spaces. With four bedrooms, you can easily dedicate a room to each member of the family, while retaining an additional bedroom for guests, or to convert it into an office or games room.
In addition, a rectangular plan optimizes space, which makes it possible to add additional features such as a dressing room, an adjoining bathroom, or even a reading corner. With a four bedroom rectangular house plan, you can create a place to live that reflects the style and needs of your family.
Elegance and comfort in large format: the 120 m2 rectangular house plan
The 120 m2 rectangular house is the perfect embodiment of elegance and comfort in large format. By opting for this configuration, you not only choose generous living space, but also a design that combines aesthetics and functionality.
The main advantage of a rectangular house plan of this size is the possibility of setting up spacious and bright rooms. Whether it's a large kitchen open to a dining room, an inviting living room or comfortable bedrooms, each space can be designed to suit your needs and tastes.
In addition, a rectangular plan allows to optimize the distribution of parts and circulation inside the house. Whether you want a master suite with dressing room, a library or a work space, everything is possible. With a rectangular house of 120 m2, you are guaranteed incomparable comfort and careful aesthetics, to make your house a reflection of your lifestyle.
Frequently Asked Questions About Rectangular House Plans
What are the advantages of a rectangular house plan?
A rectangular house plan offers great flexibility in the arrangement of rooms and allows maximum optimization of space. It is perfect for various architectural styles, from modern to traditional.
Is a rectangular house suitable for a small plot of land?
Absolutely, the effectiveness of a rectangular plan lies in its ability to maximize the living space on a limited plot of land. In addition, by opting for a two-story plan, you can double the surface area without increasing the footprint.
Can I have open space in a rectangular plan?
Yes, a rectangular plan lends itself very well to open spaces, such as open plan kitchens, living rooms and dining rooms, while still retaining areas of privacy for bedrooms and offices.
Is the rectangular house plan suitable for large families?
Certainly. Rectangular plans can easily accommodate multiple bedrooms, bathrooms, and even recreational spaces like a games room or home theater.
—
To build your rectangular house, contact the professionals at Maisons SIC.