The greatest care is given to the bathroom in a new house. More than a functional room, it is also a place of relaxation and well-being. Faucets, shower trays, bathtubs, furniture, manufacturers have been able to transform equipment to combine aesthetics, comfort and economy.
Choosing bathroom furniture in a new home
Furniture suitable for use
Furnishing your bathroom comes down to answering two questions: Who and what is this bathroom intended for? In a new house, the family bathroom is spacious, functional with space and storage for everyone. The second bathroom, more easily used as an extra, will only have the bare necessities. At an angle, or shallow, the furniture here will aim to save as much space as possible.
In the spacious and family bathrooms, the double washbasin is essential. For more practicality, we consider a large vanity unit under the sink to accommodate the towels and a storage column nearby to avoid clutter on the sink counter.
The more practical drawers allow you to make the most of storage.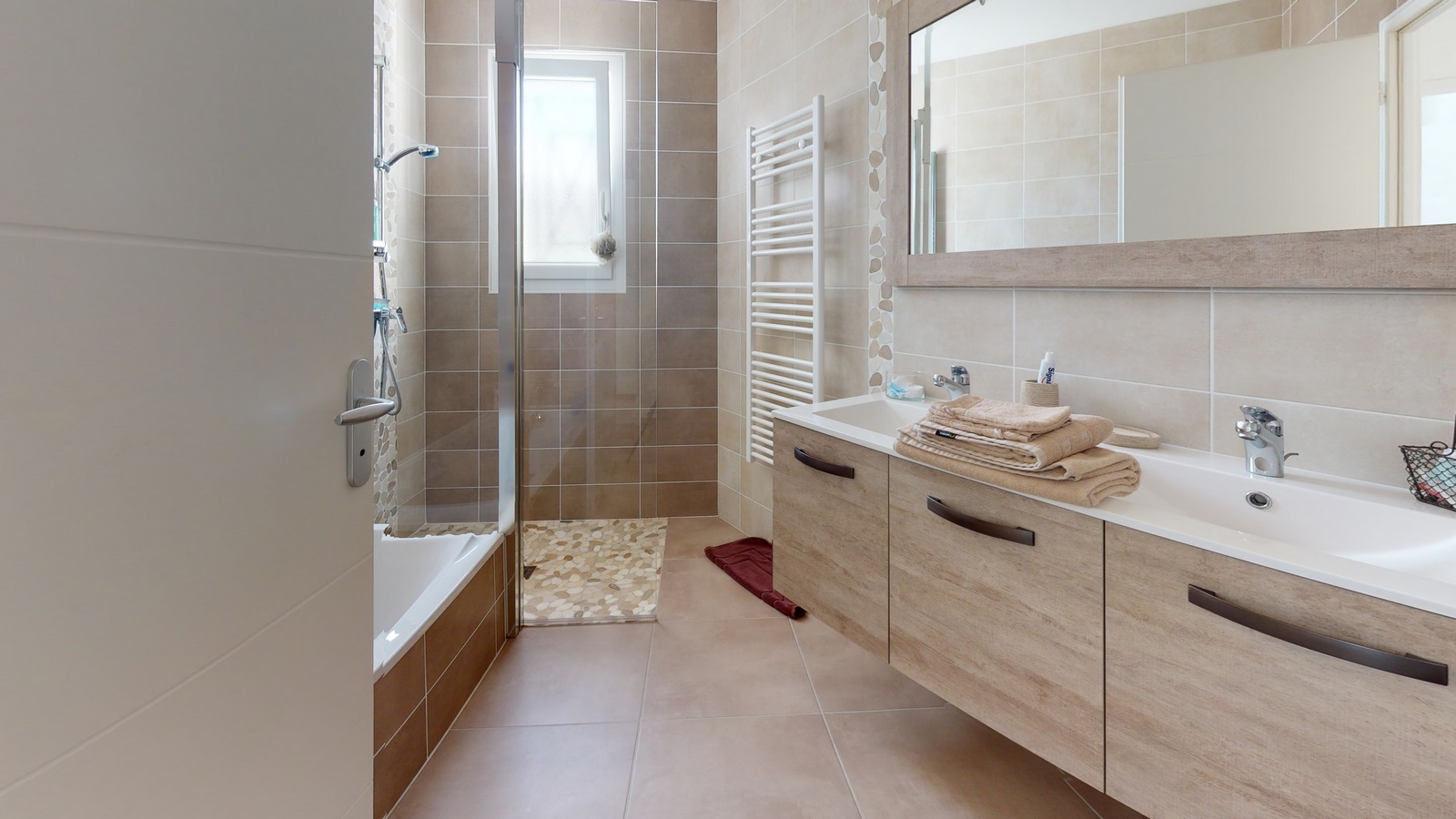 Adapting to occupants in the bathroom in a new house
When you build your house, the ideal is to choose suspended furniture. The absence of feet facilitates cleaning to guarantee perfect hygiene. Another advantage, you can choose the height at which they will be hung. This is how the piece of furniture adapts to you and not the other way around.
A suspended basin is also suitable for people with reduced mobility. It will be easier to pass a wheelchair or place a chair near the sink.
Choose a washbasin or a washbasin?
Are you more classic or retro? Today, the washbasin to be placed on the countertop is very trendy in new homes. It brings a touch of modernity to interiors, but be careful with maintenance, which is done both inside and outside.
As for the classic washbasin, it can be presented on a column for its timeless side. The pedestal washbasin is now revisited by manufacturers for a contemporary effect. You can also opt for a washbasin that is found as suspended for an airy and minimalist bathroom. The simplest being naturally the vanity unit which offers great ease of maintenance.
In an extra bathroom, the washbasin, a small sink will be ideal.
Ceramic, glass, synthetic resin or natural stone, washbasins come in many styles and materials. The choice will be above all a matter of taste and budget.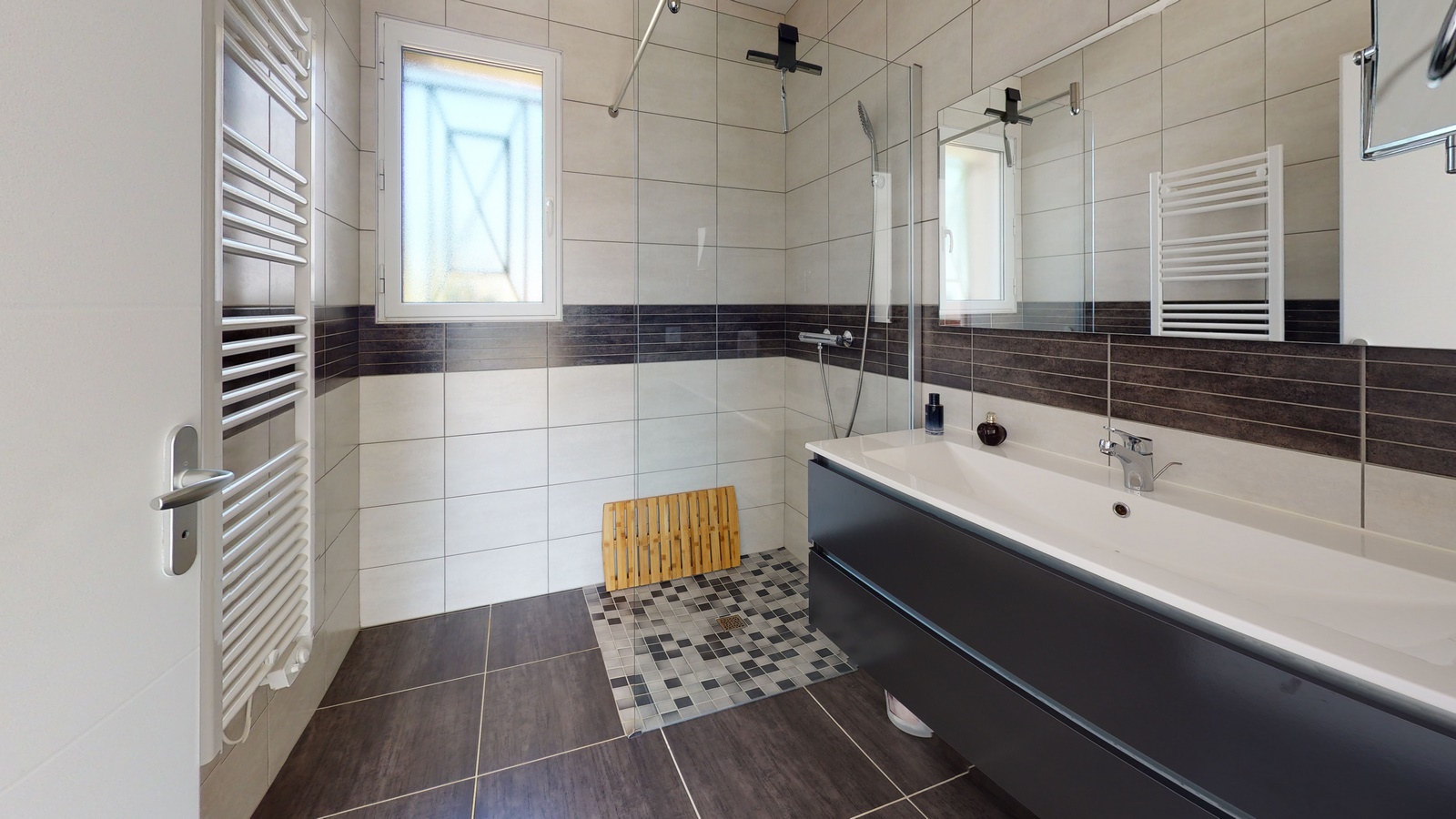 To help and inspire you, Maisons SIC provides a interactive showroom in our Exhibition Hall, produced by the company Interactive VR. In a few clicks, you can explore some examples of bathroom layouts, but also wide ranges of tiles, storage and sanitary elements.
What taps for my bathroom in a new house?
To avoid splashing and restrictive maintenance, it is better to choose a faucet adapted to your sink. Today, the majority of homes are equipped with mixer taps. More practical than the traditional mixers, they have only one lever to regulate the temperature and the flow. The result is faster water adjustment and, as a result, water savings and electricity. For even more savings and safety, opt for models with a flow limiter aerator and an anti-scalding system.
More technological, but also more hygienic, infrared faucets are suitable for the safety of children and people with loss of autonomy. Automatic thanks to an integrated sensor, they detect the presence of your hands to turn the water on or off.
Choose a bath, shower or both
Find your bathtub model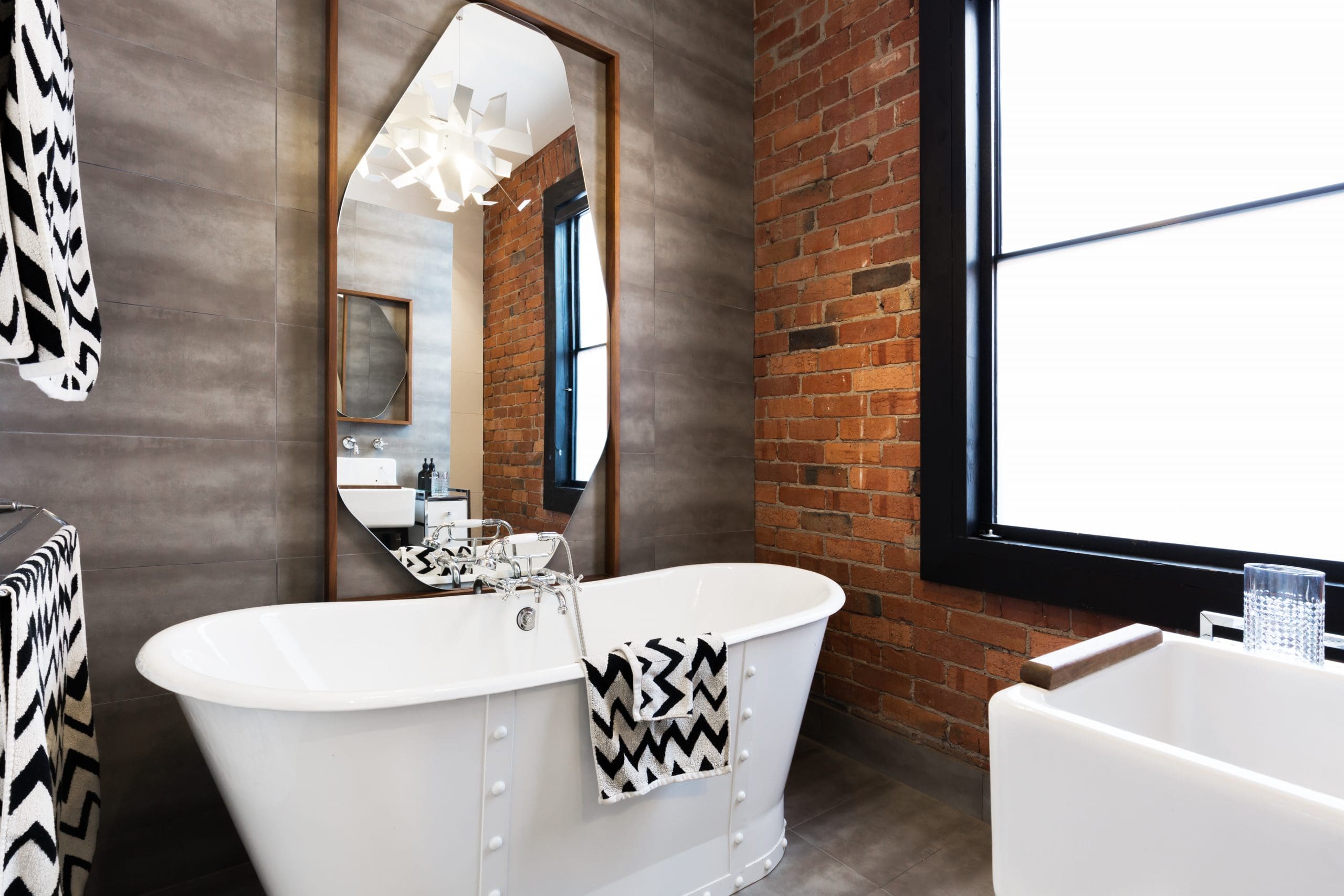 The advantages of the bathtub in a new house
Considered more dangerous than the shower for the elderly, and less economical in water, the bathtub is nevertheless a two-in-one piece of equipment which allows appreciable moments of relaxation.
Regarding water savings and safety, it all depends on the model chosen. If you anticipate aging, there are indeed tubs with built-in doors, seats, and handles. To save water, prefer smaller models, and opt for short showers on a daily basis.
Choose your bathtub shape
As with sinks, shapes and designs are varied. Corner or straight bath, they can be integrated into the bathroom thanks to fronts to be tiled.
With claw feet for retro trends, or with a sleek shape, the freestanding bathtub offers more fantasy and modernity. Object in its own right, it can be placed against a wall or in the center of the room for an ultra-trendy bathroom.
Which faucet for the bathtub in my bathroom in a new house?
The tub's water supply is usually placed on its rim. You may also prefer a wall power supply. The built-in faucet frees up the edges of the bathtub, makes cleaning easier and is suitable for refined environments. Finally, for freestanding bathtubs, a tap on feet is possible. This original solution deserves to have been thought out from the design of the bathroom to provide the supply through the floor at the desired location.
See our article: Scandinavian, Industrial, Country: 3 styles of kitchens and bathrooms for your individual home
Find your shower model
The advantages of the shower in a new house
A shower is a huge space saver in a home. Ideal in the guest bathroom, it can also be installed in addition to the bathtub. Synonymous with saving time in the morning, the shower also saves water. Thus, it only consumes between 30 and 80 liters of water when it takes 150 to 200 liters for a bath.
Plus, it's best suited for older people who may have difficulty stepping over the edge of the tub. The installation of a seat in the shower is also possible and relatively simple to perform. From now on walk-in showers are strongly encouraged see mandatory in new homes.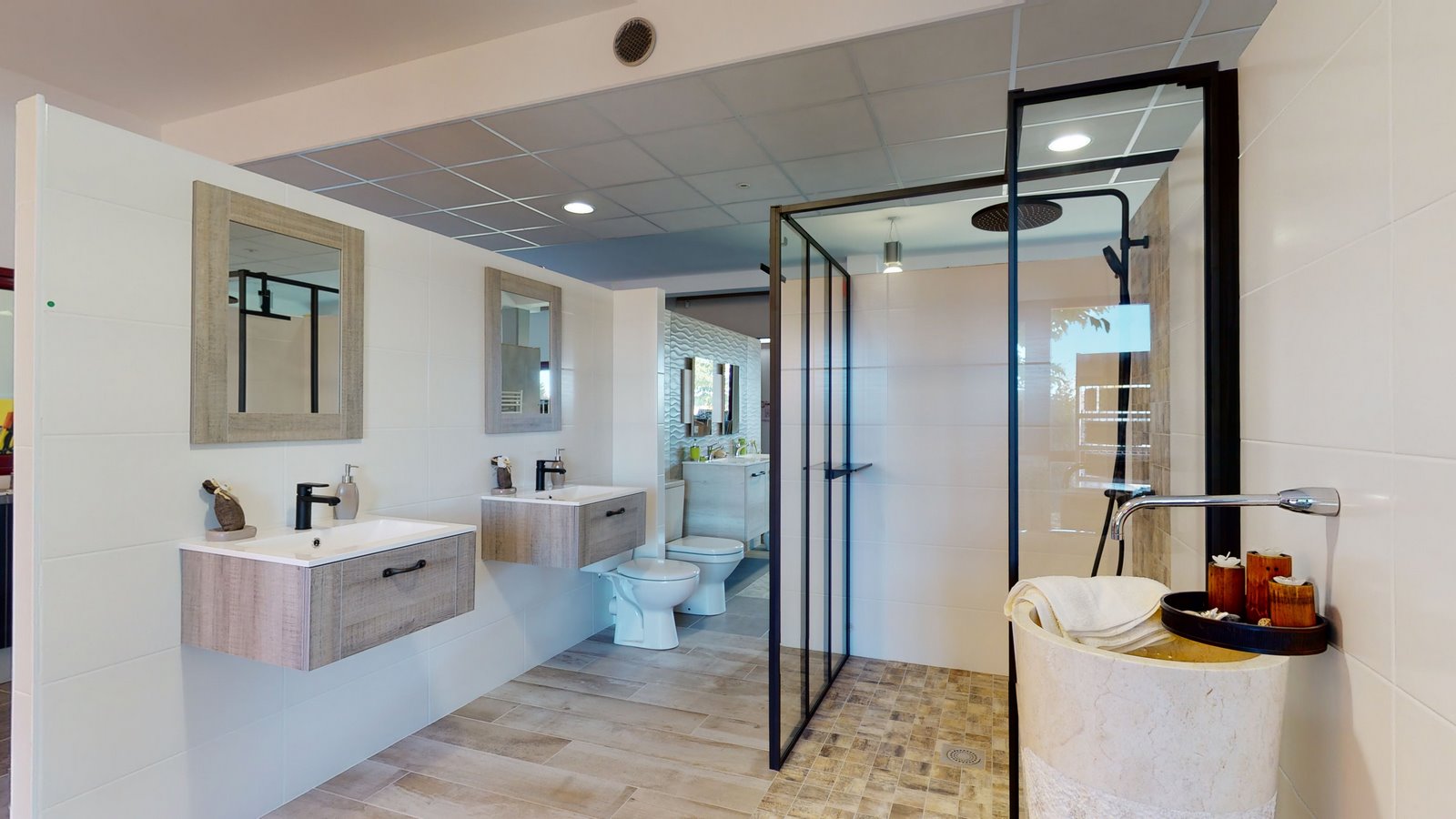 Any kind of arrangement
In our homes, the showers are now design and secure. The fashion is for flat shower trays and walk-in showers which facilitate access and avoid accidents. At an angle, on a wall or concealed between three niche walls, the showers can be enlarged and freely composed. The walls are solid or transparent for more brightness.
A suitable faucet
Basically, the faucet is equipped with a shower head and a bar to suspend it. Today, however, we frequently encounter shower columns that also offer a high fixed showerhead. It is sometimes rain skies that provide comfort and relaxation. Finally, it is also possible to equip yourself with a hydromassage column which also has massage nozzles.
What materials should be favored for the bathroom in a new house?
when choosing your new home bathroom fittings, it is so that they last a long time. sinks, bathtubs, showers, sanitary equipment is available in a multitude of materials.
Composite materials are ubiquitous today because they are cheap and offer a very wide range of shapes and colors. They have other advantages such as their lightness and the absence of a cold sensation to the touch. But not all synthetic materials are created equal. The acrylic frequently used for bathtubs is a relatively flexible material and can scratch and deteriorate over time. Others made from resins are much more resistant and can be self-supporting. Both ceramic and enamelled cast iron remain timeless materials in the bathroom. Durable and resistant, they are very easy to maintain and offer an incomparable impression of cleanliness. In basins, glass is in great demand for its elegance. A material that will suit careful people because traces of limestone are quickly visible. Natural stone, travertine marble, are quality materials, durable, very resistant but also more expensive.