Defining the size of the rooms in the new house is one of the first steps when making build his house. You have to know how to adapt to your needs in order to discern where you can gain some precious square meters and distribute them better throughout the house. The layout and size of the House's rooms will have a significant impact on your daily life and the functionality of your home. Take the time to think about your needs, lifestyle and preferences before making any final decisions. In this article, we will guide you in choosing the ideal room size in your new home.
Size of rooms in the house, what does the law say?
The law defines minimum surfaces below which one cannot rent accommodation or even build. The characteristics of a Decent housing are thus defined by the decree n° 2002-120 of January 30, 2002.
Concretely, you must at least have a main piece with a living area of 9 square meters and a ceiling height at least equal to 2,20 meters, i.e. a living space at least equal to 20 cubic meters.
The construction code imposes additional conditions on new housing depending on the number of people living in the household. There minimum surface area for a house is 30 m2 for new construction. This increases depending on the number of rooms as well as the number of occupants.
According to the article R156-1 of the Construction and Housing Code applicable to new housing, the habitable surface area and volume of a dwelling must be 14 m2 and at least 33 m3 per inhabitant for the first four inhabitants and at least 10 m2 and 23 m3 per additional inhabitant beyond the fourth.
Size of rooms in the house: knowing how to assess your needs
It is not always easy to assess your needs. First, determine the number and ages of people who will live in the house, in the short, medium and long term. This will help you determine the number of rooms and their size necessary for everyone's comfort. Do you have specific needs when it comes to leisure or working from home? If you need a home office or a recreation room, be sure to include this space in your calculations. What are your hobbies and hobbies? If you have a large collection of books, vinyls or collectibles, provide adequate storage space (bookcases, bulky furniture, etc.) in the desired room. Finally, if you plan to frequently host guests, be sure to plan a spacious living room or an guest room comfortable.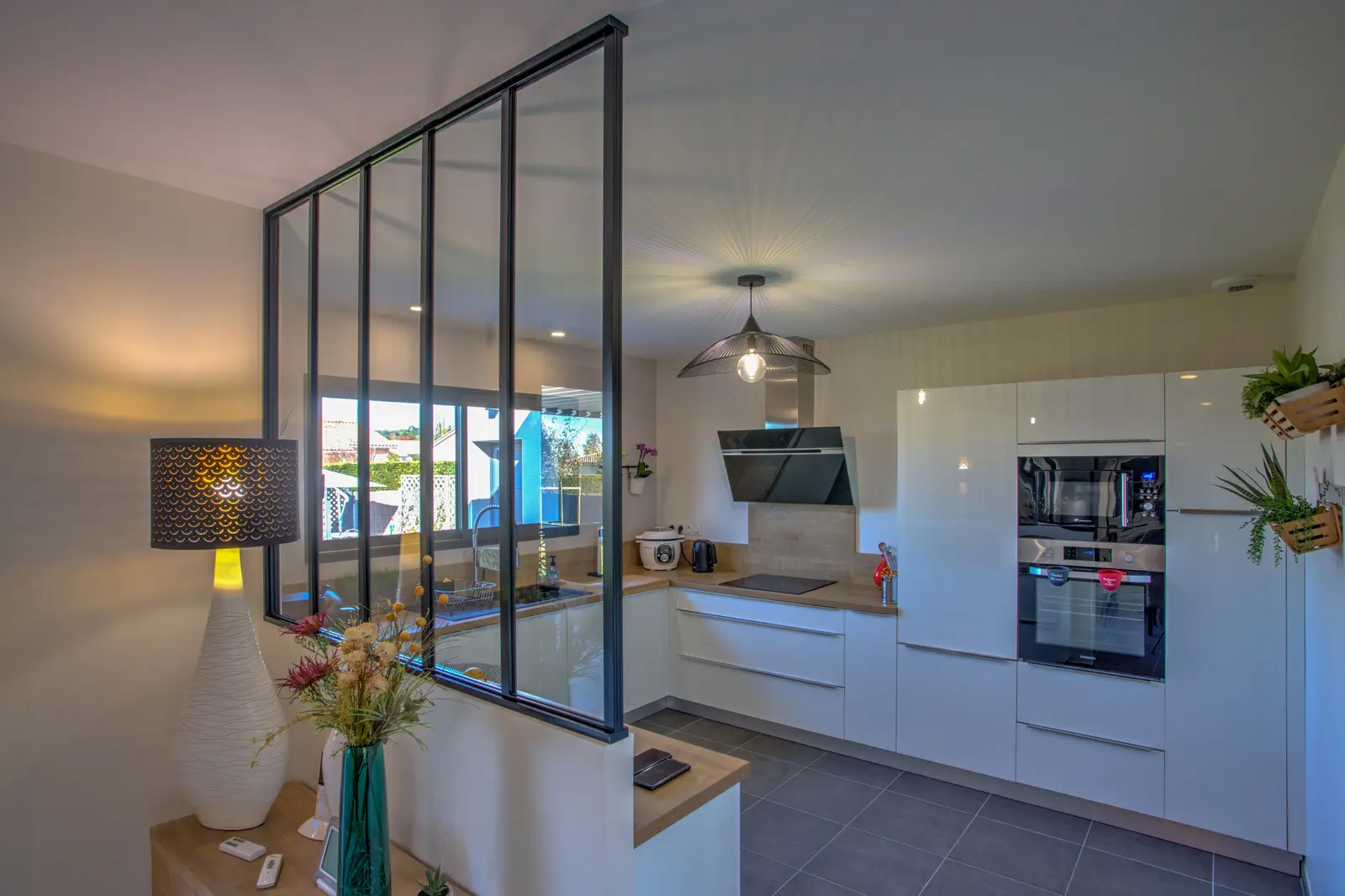 What size kitchen should you plan for in a new house?
It is generally believed that the minimum surface area for the kitchen by new house is 8 m2. A surface that allows ample space for cooking and a large number of storage spaces. Today, however, the kitchen has become the heart of the home. The borders with the living room dining room fades to offer a large living room airy and open. The space allocated to the kitchen itself thus increases and more often approaches 12 m2 to 15m2. This additional surface area is often taken from the living room without it losing the feeling of volume associated with it.
There really isn't a right size for a kitchen. It all depends on your lifestyle, the household appliances you have and the dishes to store. Always more clever, the kitchen is designed with your builder who will help you develop the most elegant layouts best suited to your needs in a minimum of space.
Open, closed kitchen, L-shaped or U-shaped kitchen, our article " What kitchen in a new house? », will help you choose between the different types of existing kitchens.
What size for your living/dining room?
A place for meeting, living, resting, etc., the living room is a mixed room which concentrates all activities. In turn living room, dining room, TV area, desk, music studio…, it must be designed according to its current furniture and its way of living on a daily basis. Each activity zone must be perfectly delimited, taking into account the temporality of the activities. Too much space is not always advantageous, especially when there are only two of you living in the house all year round. No need to plan a gigantic dining room table when large meals are limited to special occasions. The trend today is towards cocoon lounges, smaller than before. In 25 to 30 m2, each zone has its function. The sofas move closer together around the chimney and television for warm moments of life.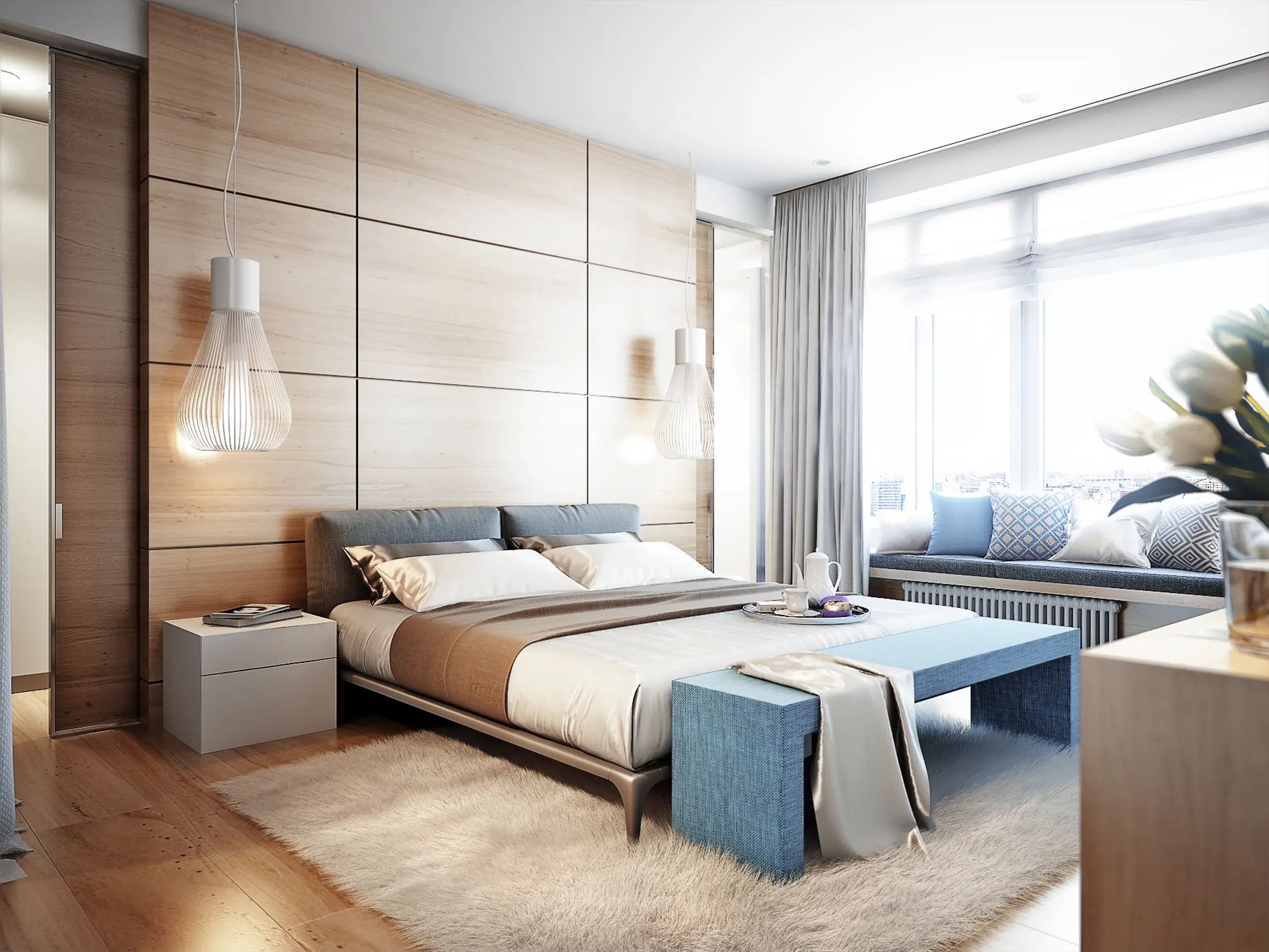 House plan: what size for the bedrooms?
Even if we only stay awake for a short time, the bedroom is the room in which we spend the most time (8 to 10 hours) per day. Its size should therefore not be neglected, because its volume strongly influences the indoor air quality and thus our sleep and our health. It is generally estimated that a bedroom for a child can at least measure 9 m2 (2,7m × 3,40 m), when we plan at least 12 m2 (4 mx 3 m) for a parental room. The size depends on the number of people who will share the room, but also on how busy it is. Thus the rooms of the inhabitants will be larger than the guest room. to do the room plan, It is also necessary to take into account the possible need for a workspace or a reading corner and also furniture and personal objects to integrate.
New house: What is the minimum size for the bathroom?
To place a Italian shower, a sink, storage and being able to meet each other on a daily basis, 3 square meters are well suited. But this surface which is adapted to the bathroom by parental suite for example, will be a little tight on a daily basis for a family of four who must share the place at the same time. Everything will depend on the number of bathrooms you want, the number of people for whom they will be intended and the uses that will be allocated to this space. Thus a minimum of 5 m2 is to be expected for a family bathroom for 4 people with bathtub. Likewise the presence of the bathroom or a corner utility room will obviously have to be taken into consideration. It is also necessary to provide a little more space to adapt to PMR standards (people with reduced mobility).
To go further, read our article " How to optimize the layout of a small bathroom in your new and individual house? ».
What size toilet in a new house
There is no standard size for toilet. The generally accepted minimum size is 1,40 m in length and 70 cm in width, i.e. a surface area of ​​approximately 1 m2. However, a slightly larger surface area is recommended for greater comfort. The key is to think carefully about the opening so that you can move easily and safely. Consider the intended use of the toilet. Is this a Main WC for the guests? An extra toilet for a guest bedroom, or a toilet in a parental suite ? You then need to plan for additional features, such as an integrated sink or storage shelves. Many pieces of equipment save space, such as integrated flush toilets (wall-hung toilets).
Our article " New house plan: How to place the toilet ? », will allow you to know more about the design of toilets.
What is the minimum storage space?
According to the regulations, the storage area must represent at least 0,3% of the size of the housing. Big or small, your home can never have too much closet space. The more there are integrated storage in housing, the easier the home is to arrange on a daily basis. So this is not where we need to save space. In the corridors, under a staircase, a corner of the room, the individual house builder knows how to take advantage of every square meter to limit wasted space. Objective: a built-in cupboard in each bedroom to free up floor space and make the most of the volume for decoration and well-being. The storage goes up to the ceiling because the key word of home builder is optimization.
Choosing the size of the rooms in your new home is an important step in creating your ideal living space. Your Maisons Sic builder in the South-West will help you optimize each room in order to find the ideal compromise between your desires, your needs and your budget. A well-designed, custom builder's home is the best way to enjoy every space and truly feel at home.