Kitchen tiles have always had their place in interior decoration. But, sometimes eclipsed by more "noble" materials (like wood) or more innovative (like waxed concrete), kitchen tiles are making a comeback with new trends: the XX format, new models (like zellige or terrazzo), new textures (wood effect, concrete, stone, etc.). Discover with Maisons SIC, builder of new houses for 50 years, all the trends to choose the tiles for your kitchen, for the walls, the splashbacks and for the floors.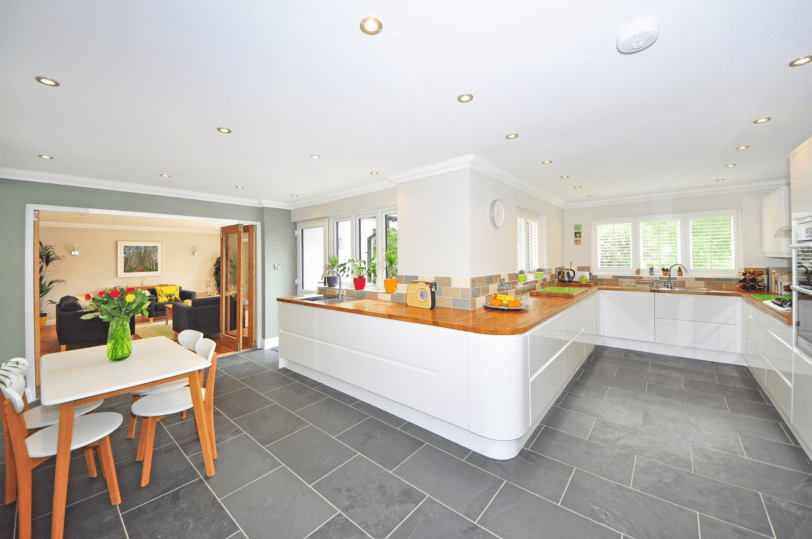 Kitchen floors and walls: dare an XXL tile to enlarge
One of the big trends of 2022, for the kitchen as for all other rooms, is tiling. By choosing large tiles (in 80x80cm, 150x150cm, 240x120cm or 120x60cm format), you allow your living room to gain in elegance.
Another great advantage: a large tiling is easier to maintain because it limits the number of joints.
As explained by Patricia Castillo, director of the interior design team at Maisons SIC, XXL tiling also helps to enlarge a kitchen: "We are always afraid in a small room, wrongly, to put in a large format. If there is more cutting, rendering at the end completely changes the room for you. To visually enlarge a room such as a kitchen, on the wall or on the floor, try very large tiles, the effect is guaranteed."
And this XXL tile can also be placed on the walls of a kitchen, also offering more space to the room and great ease of maintenance.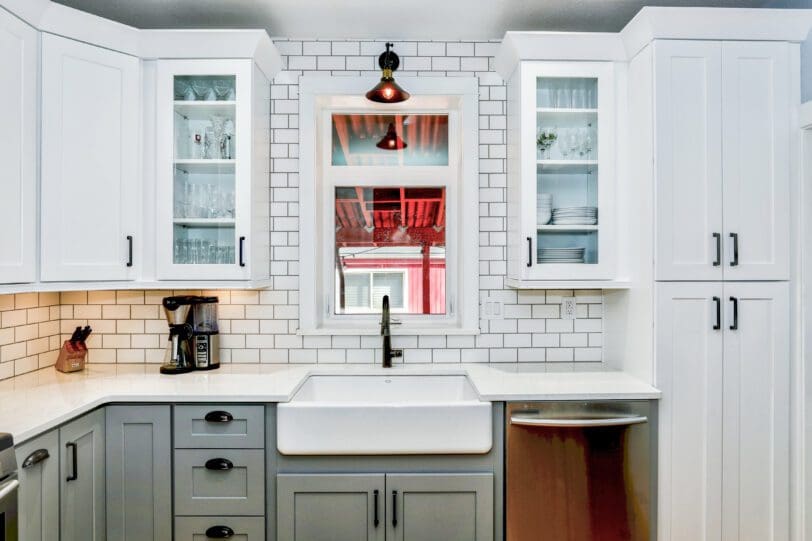 Tile trends for kitchen splashbacks: zellige, cement tiles, subway tiles, sandstone, etc.
The splashback of a kitchen is a decorative element of the kitchen which also has a very useful function: to protect the walls from possible cooking splashes. This space between the worktop, the hobs and the wall units can be dressed in different materials.
One of the most popular materials for a kitchen splashback is tiling. Easy to maintain, it also allows maximum personalization of the decorative aspect. Thus, one can choose different types of tiling. And among the most "trendy" kitchen tiles in 2022 are zeliige, cement tiles, subway tiles and porcelain stoneware. Each of these tiling models has its own characteristics:
The zellige

is a small tile of Moroccan origin, square or rectangular in shape. These clay-based tesserae, colored or white, have a layer of enamel that makes them very shiny and allows them to bring a unique shine and luminosity to any room. Pearly, it then reflects the light with a rare elegance and its enamel gives it non-porous characteristics which make it insensitive to chemicals or acids, abrasion and heat.

Cement tiles:

these medium-sized square tiles, reminiscent of old tiles, are often chosen primarily for their aesthetics: geometric, black and white or colored patterns, with arabesques, oriental-inspired prints or rosettes. But ceramic tiling also has technical advantages since, if it is robust and durable.

subway tiles

: this white, beveled and rectangular arrelage, very characteristic of the Parisian metro, is a small eccentricity that we find for a few years in kitchens and bathrooms. White but easy to maintain because smooth and without roughness, the subway tile offers light to your splashback and a little touch of originality.

Porcelain stoneware

: porcelain stoneware is a material from the ceramic family, frequently used to make tiles. It is a mixture of solid minerals such as clay, quartz, feldspar or silica, which then offer it a resistance to chemicals (and natural products such as white vinegar), to heat. Non-porous, porcelain stoneware has a matte, slightly rough finish reminiscent of the look of "real" stone.
New materials for your kitchen: terrazzo, brick…
Directly arrived from Italy, the terrace is all the rage in bathrooms and kitchens, for kitchen splashbacks and worktops. It is the material of choice for lovers of fantasy: an always different assembly of colored debris and cement, it gives a boost to the kitchen and adapts to both a contemporary style and a vintage style.
The brick that we have seen above all in the living rooms of large New York lofts is making an appearance in kitchens with the return of the "industrial" trend. With its urban and warm side, the brick splashback takes up a whole section of the kitchen wall or adds a little touch of authenticity above the worktop. The red brick will therefore warm up the kitchen and is a very solid material.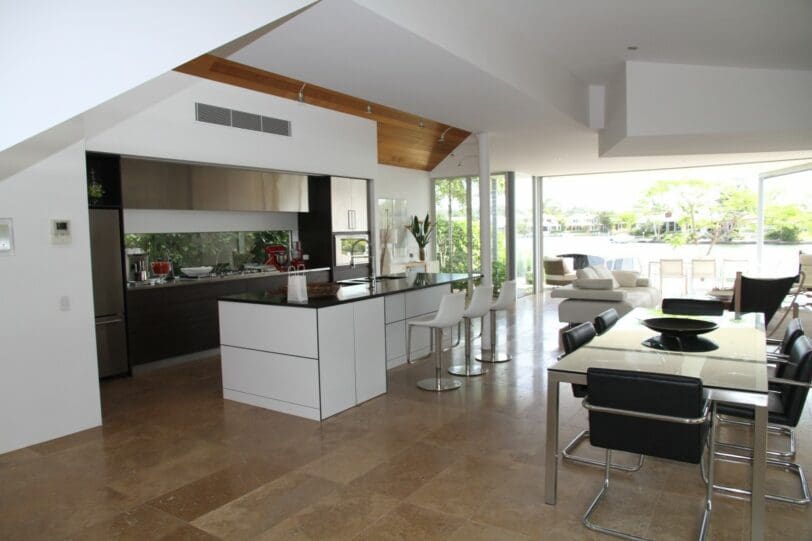 When tiling imitates natural materials: the effects of wood, stone, metal, concrete...
This is one of the great trends in kitchen tiling (but also for all other living rooms): tiling is becoming a chameleon and new technologies allow you to offer all the effects, thanks to a high-end imitation. .
We can therefore now imitate all materials with tiling. You can then choose a wood effect of all sizes for the most amazing floating parquet effect. The tiling on your kitchen floor can also take the form and material of cement, polished concrete, terrazzo, rough stone or even marble. Today, we can even afford an "oxidized metal" effect for a very industrial decor.